Back to top
17 Top Santorini Foods and the Best Restaurants to Enjoy Them
Santorini is known for a lot of things, and world-class cuisine is one of them.
But what makes Santorini's food so curiously delicious?
As with anything else in life, it all begins at the source.
Santorini has a very distinct microclimate, with bountiful winds and very little rainfall throughout the year.
Coupled with the region's nutrient-rich volcanic soil, it's no wonder Santorini produces some of the most unique crops on the planet.
From cherry tomatoes to capers to white eggplants, the island has no shortage of private fields that house a wide range of fruits and vegetables growing in peace.
The flavor of Santorini's organically grown fruit and vegetables is something that stays with you long after you leave the island.
Here are a few of the top Santorini foods that we implore you to order during your time on the island, along with suggestions on where to enjoy them.
So, without further ado, let's explore 17 of the most authentic Santorini dishes you need to know about.
1. Chloro Cheese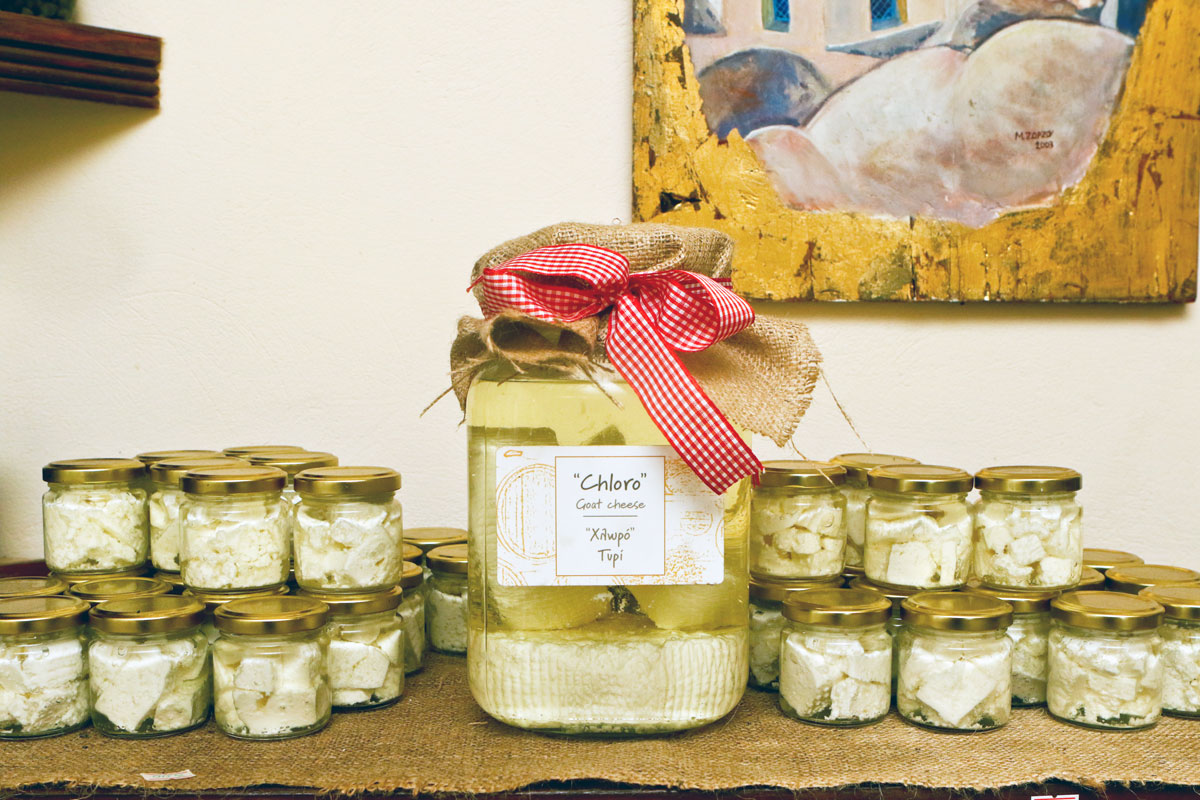 The traditional local cheese of Santorini is called "Chlorotiri", produced from goat's or sheep's milk in very small quantities by local producers.
It is deliciously creamy and slightly sour, and you'll undoubtedly find it served with at least meal of three somewhere while you're in Santorini!
Chlorophyll is typically spread on slices of bread or mixed into a salad. A must-try! This local cheese variety is of very limited production, and you won't find it anywhere else in Greece.
2. Local Sausages
You haven't experienced Santorini until you've tasted one of their local sausage delicacies.
Typically, the older sausages are cut it into small pieces, then fried with pork fat for a few minutes and placed into various clay dishes.
The finest chefs in Santorini know that the sausage should not protrude above the oil. When frozen, the fat is boiled off and kept whole for as long as it takes until it is consumed. A delicious experience you won't soon forget.
3. Sfougato (Local Omelet)
The "sponge cake" of Santorini is our omelets with fried potatoes!
But beyond this classic staple on the island, the inhabitants of the island make their sponge in many different ways, according to the locals of the area.
We have spungato with fried potatoes and fried dry onion, with pumpkin, with lard, or even with Santorini's famous sausages.
In the past, they were also made with small wild game birds like barkanades and blackbirds, with chloro (traditional goat cheese), or even with "kabunes" from the tender central stem of the onion.
4. Fava Beans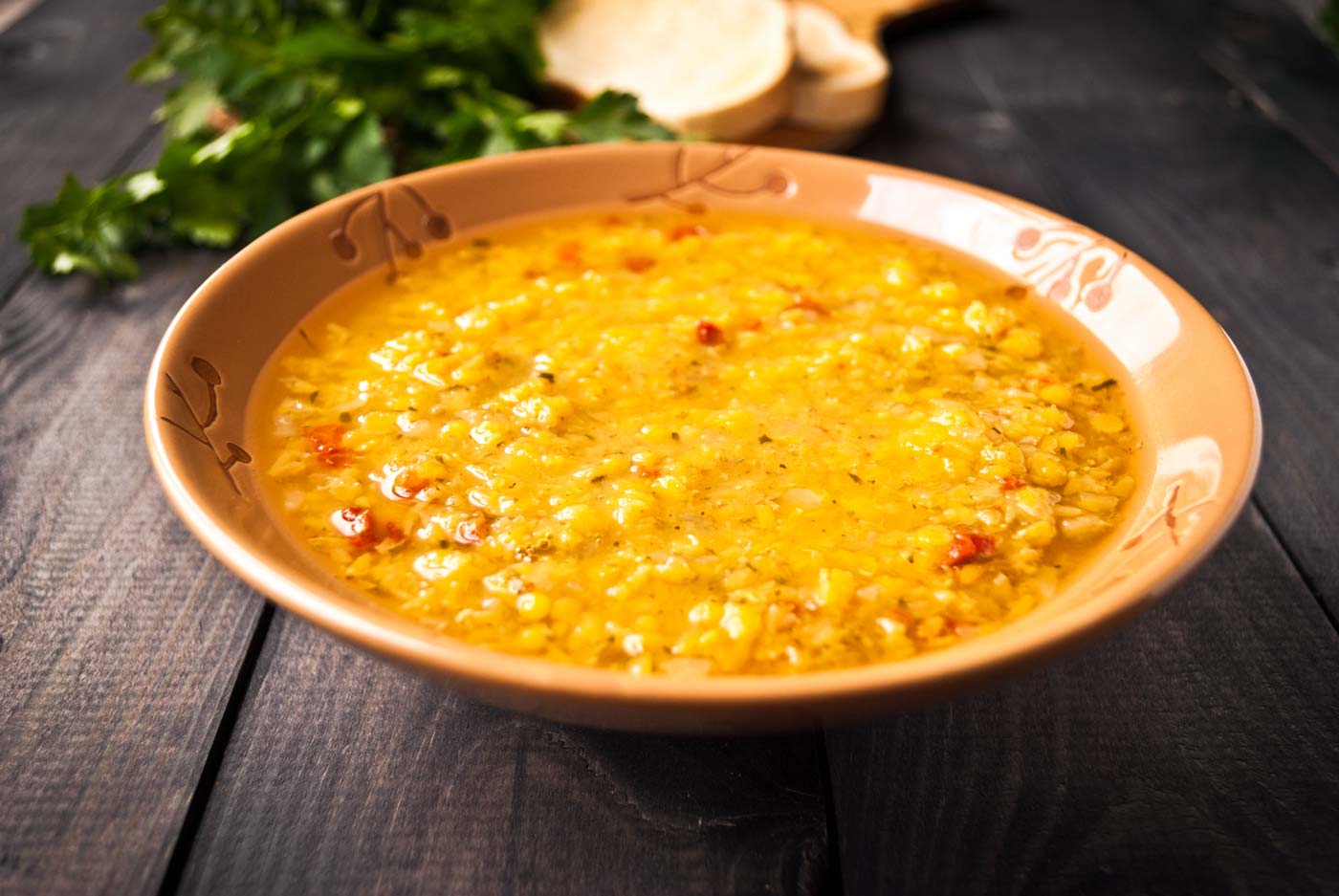 A staple in almost every Santorini household, Fava Beans are eaten all around the world – but you'll be hard-pressed to find any that taste as good as they do in Santorini.
Fava is a traditional Greek delicacy – a tantalization concoction of yellow dried fava beans, extra virgin olive oil, garlic, onion, and lemon.
The flavors of Santorini are impossible to miss in a dish like this, which has been cultivated in Santorini for over 3,500 years.
5. Sun-Dried Octopus
Santorini's oceans are a platter of delight for seafood lovers from all around the world, and octopus is one of the region's most cherished delicacies.
But not just any octopus – it must be left to dry in the sun for a day to get the tenderized texture Santorini is so famous for.
From there, the sun-dried octopus is ready to be grilled over hot coals.
6. White Eggplants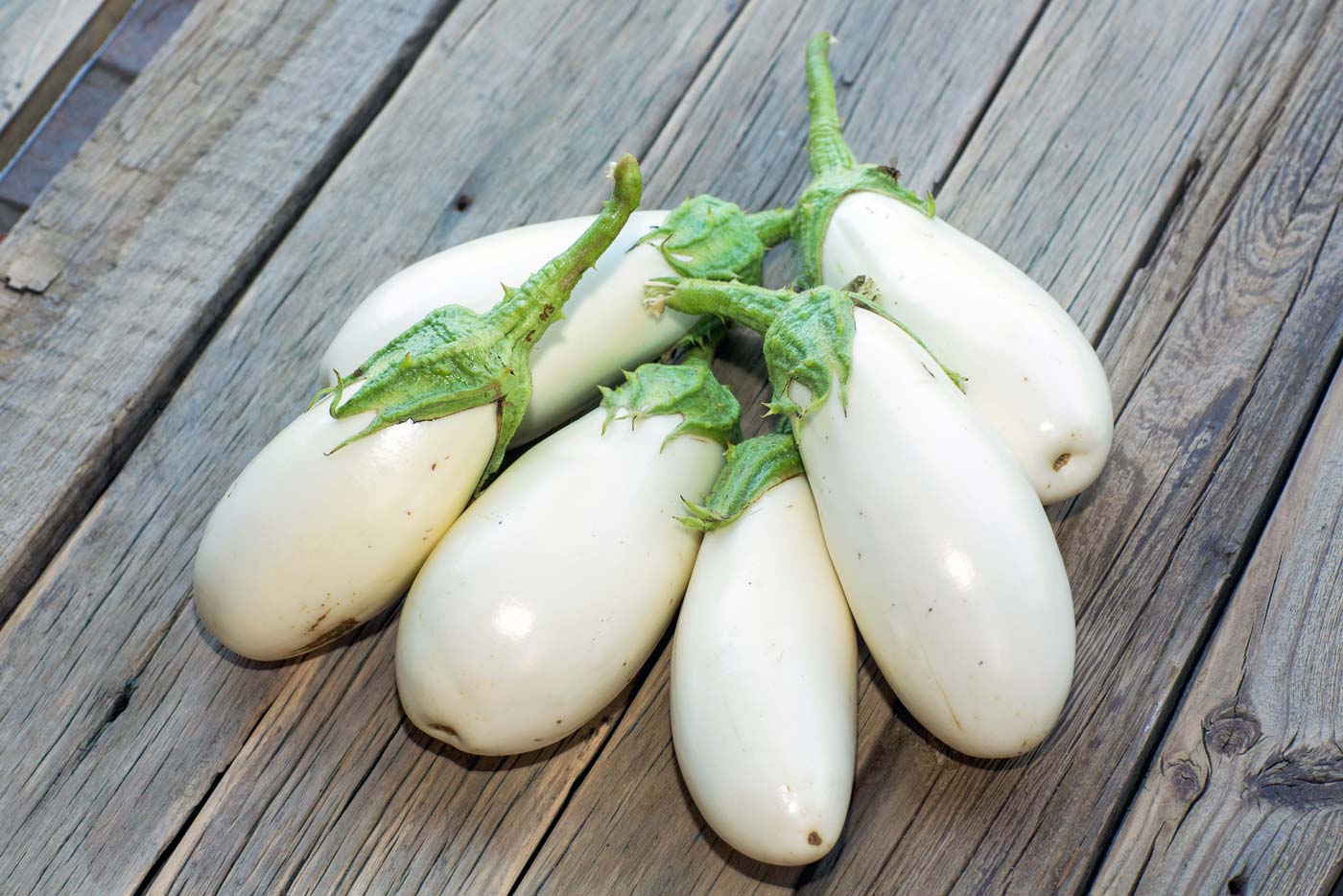 Another popular Santorini dish, white eggplants are a sweet, juicy, and downright delicious local delicacy adored by chefs and foodies worldwide.
Santorini's white aubergines thrive in the region's rich volcanic soil, with a warm climate that sees them flourish every single year.
Santorini's white eggplants are generously sized and offer a uniquely savory sweet taste you won't find anywhere else in the world.
In fact, this particular aubergine is so adored in Greece, it's the region's second most famous type of eggplant.
There are no seeds, it doesn't absorb oil, it's simple to cook, and it makes the perfect snack accompanied by a good glass of true Santorinian wine.
7. Spectacular Wine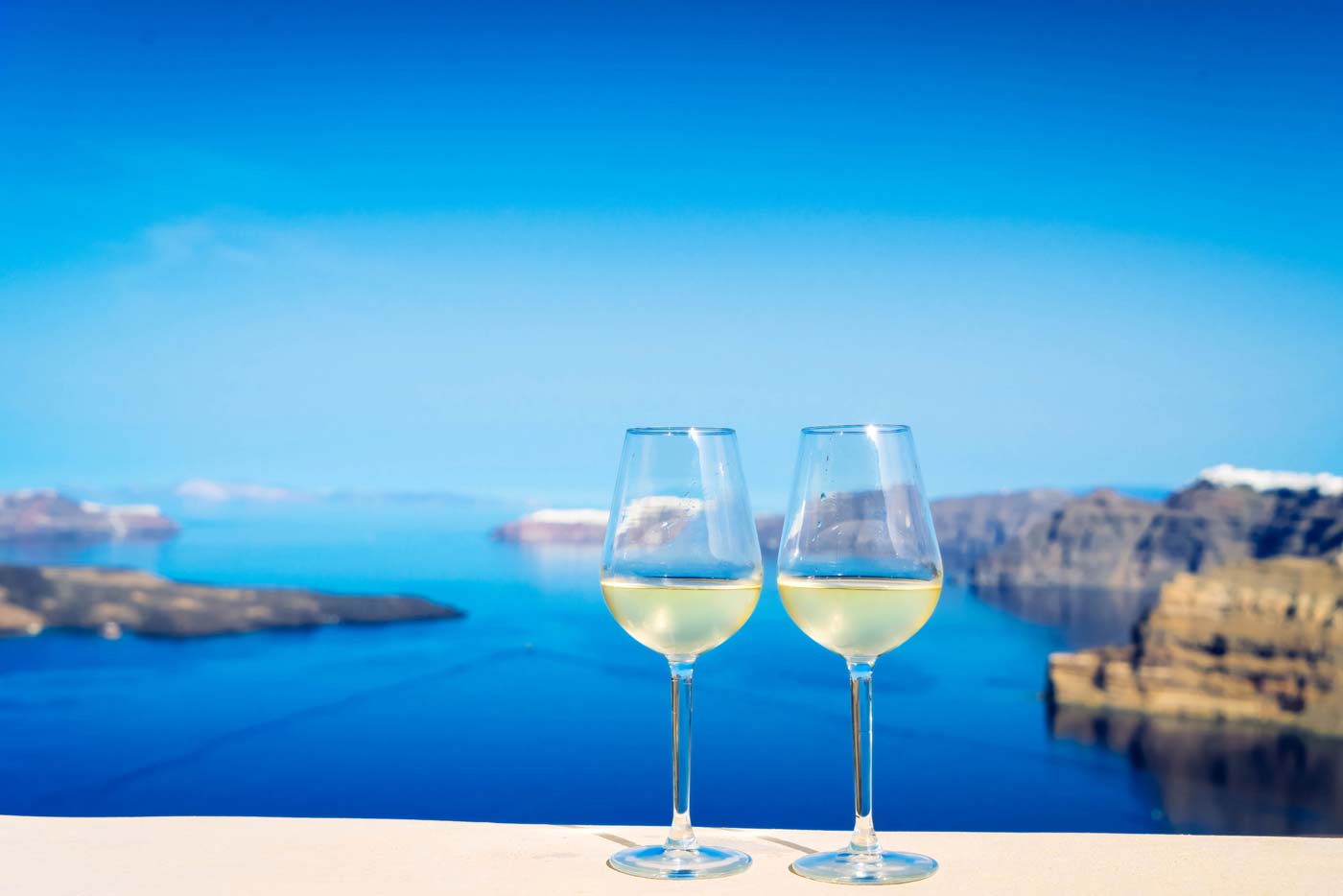 While wine isn't exactly a food, it does come from one – so it counts in our books!
Santorini is home to some of the oldest vineyards in the world, harvesting grapes that produce a rainbow of wines exclusive to Santorini.
While it's not difficult to find good wine in Santorini, we do have a few of our preferred drinking holes.
Try these ones out for size:
8. Tomato Κeftedes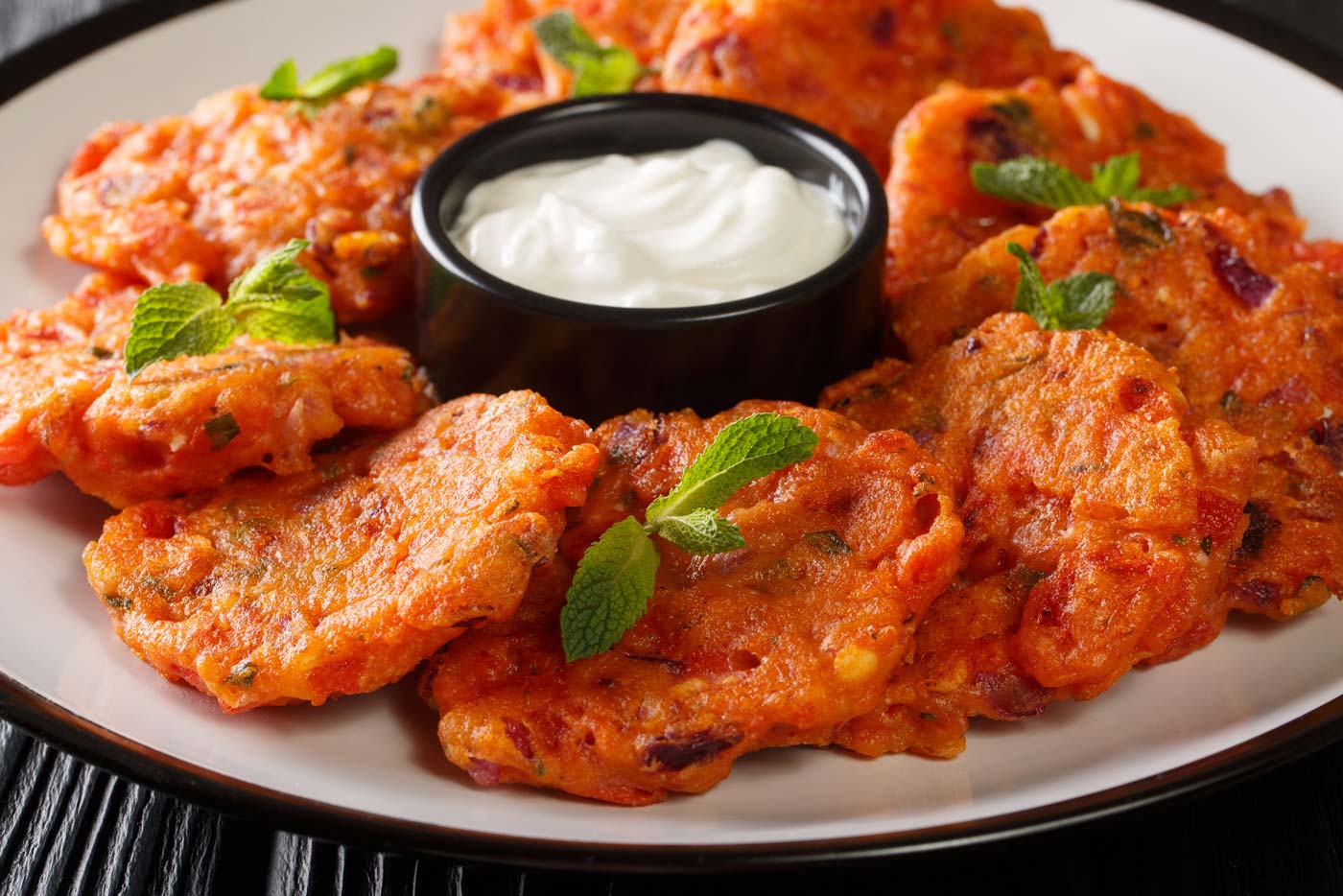 Otherwise known as tomato fritters, this authentic, popular Santorini dish is just as delicious as it looks.
A curious concoction of in-season tomatoes, onion, zucchini, and herbs, Tomato Keftedes is basically the poster child of Santorini cuisine.
You definitely won't want to get on your plane back home without a stomach full of this unique Greek vegetable-based dish. It's surprisingly delicious for something so simple, bursting with clean ingredients.
9. Saganaki
Another appetizer that's just as scrumptious as it looks (if not more).
Bursting with fresh, oozing cheese good enough for a magazine spread, Saganaki is the perfect blend of salty and sweet.
It's quick to cook for hungry restaurant patrons, and strikes the perfect balance between crispy golden-brown crust and a gooey interior.
A top Santorini food you definitely won't soon forget.
10. Moussaka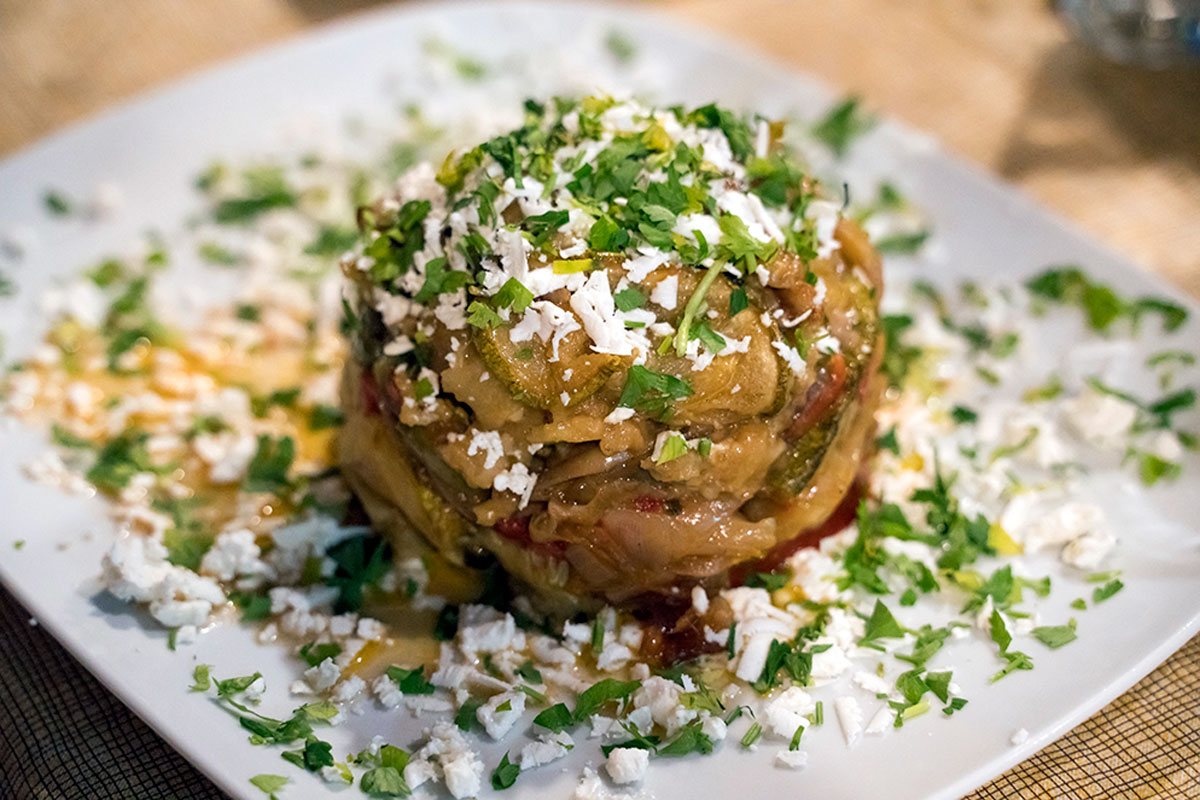 Commonly hailed as the "Greek Lasagna", Moussaka is a traditional Greek dish featuring mouth-watering layers of eggplant, ground beef, potato, and a creamy bechamel source to bring everything together.
However, in true Santorini style, we do things a little differently.
Instead of making our moussaka with minced meat, here, it is famously made with a concoction of vegetables including eggplant, zucchini, potatoes, onions, and tomatoes. A feast for the eyes and the tummy.
11. Souvlaki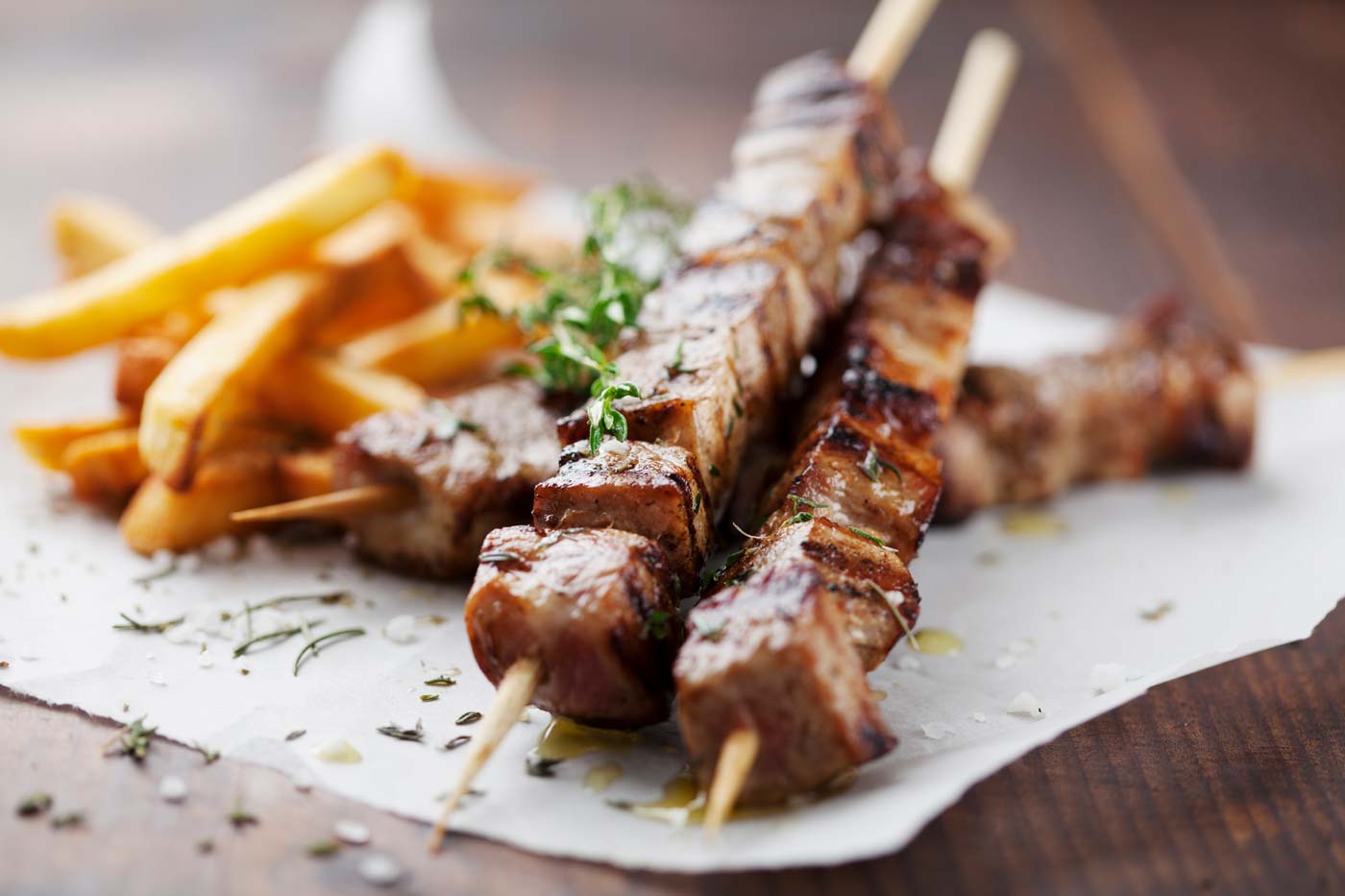 Undoubtedly a Santorini staple, Souvlaki is a flawless combination of grilled Greek meat, fresh vegetables, tzatziki, feta, and aromatic spices that promise an unforgettable experience in every bite.
Souvlaki can be enjoyed alone on a skewer, or all wrapped up in a pita.
12. Stuffed Grape Leaves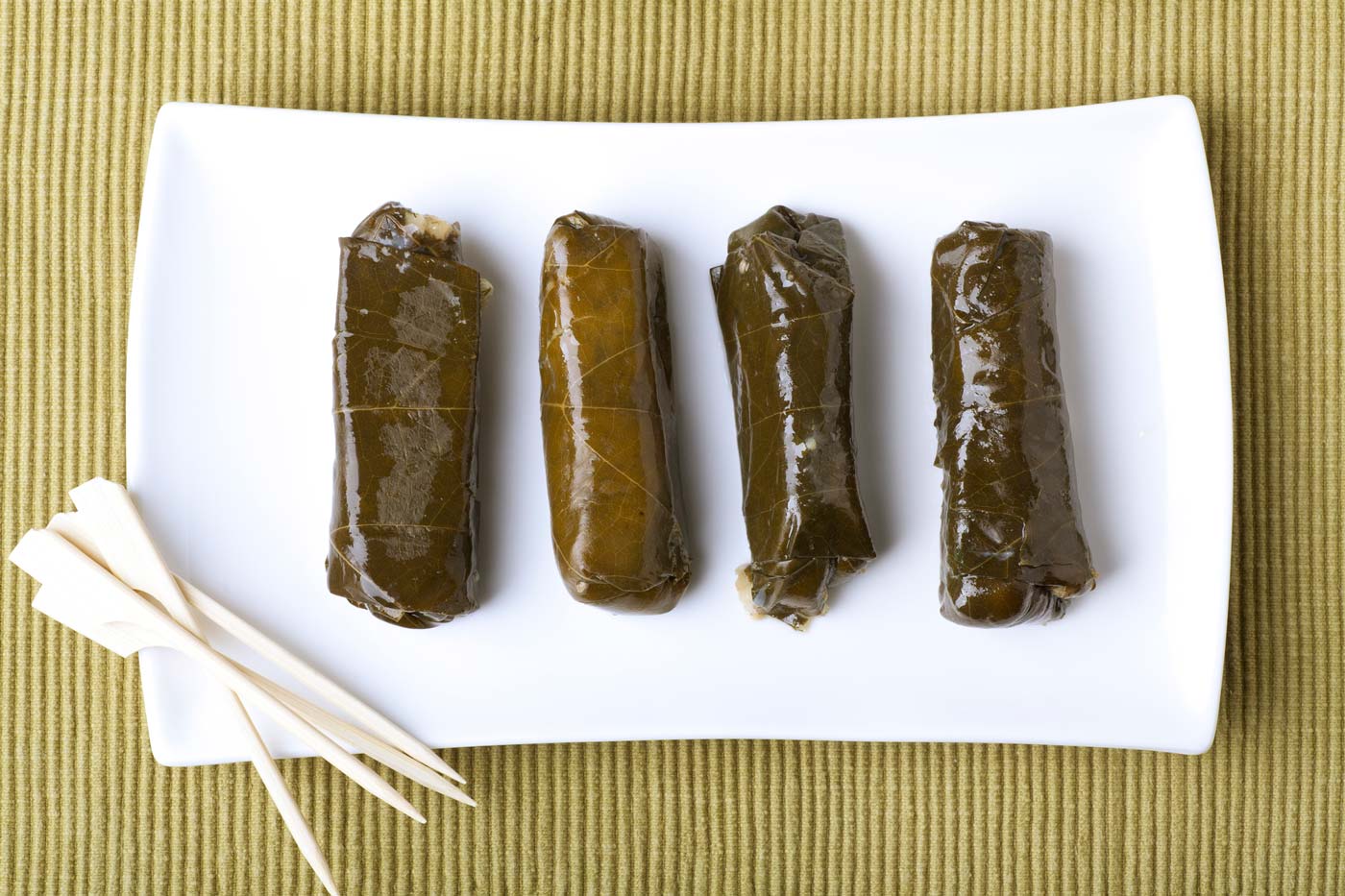 While stuffed grape leaves aren't unique to Santorini necessarily, they are undoubtedly one of the most traditional Greek dishes you'll find on any menu in Santorini.
Usually made to be completely vegetarian, these grape leaves are typically stuffed with rice and herbs, served with a heaped serving of Tzatziki.
13. Greek Salad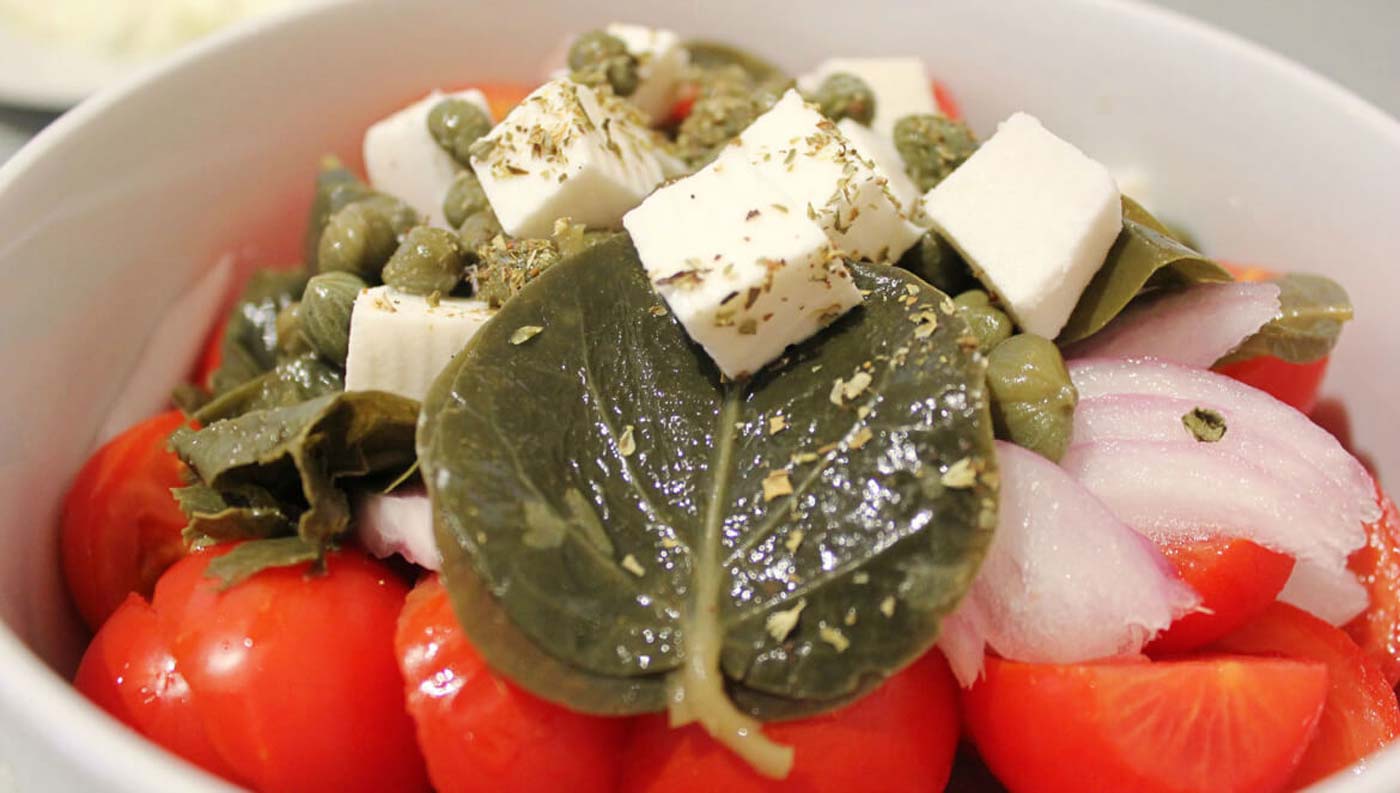 It may sound simple, but it's one of Greece's most prized dishes.
It's the true epitome of Santorini cuisine and rounds off any meal with a fresh helping of the crispiest cucumbers, tomatoes, olives, and feta – dressed with a delightful fusion of olive oil and oregano.
While some Greek Salads in Santorini are made with lettuce, they traditionally skip the leaves.
Depending on where you dine, you may also find some peppers and capers in your Greek Salad for a sharper flavor profile.
You'll find Greek Salads on the menu at most restaurants in Santorini.
14. Capers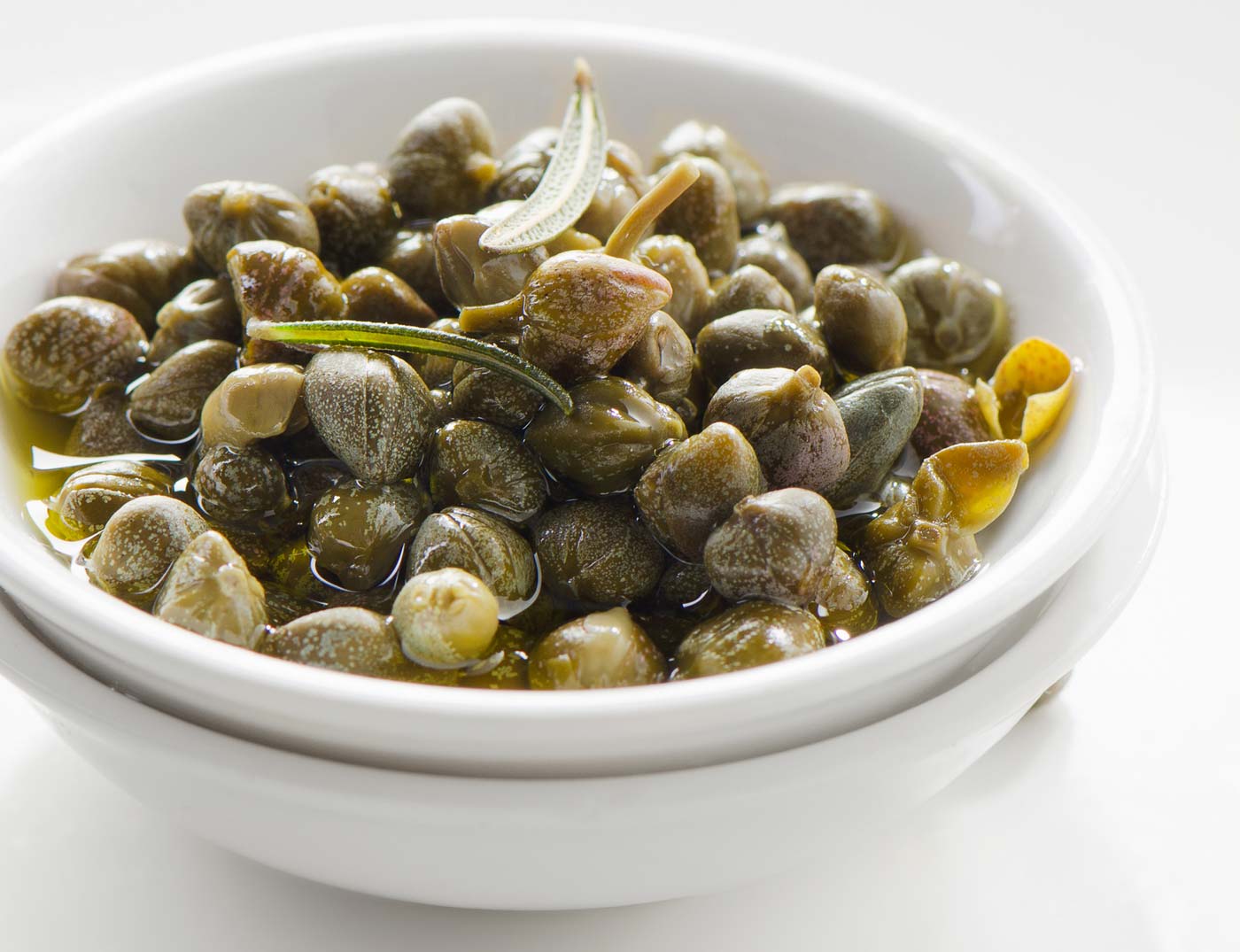 There is definitely no shortage of capers in Santorini – unopened flower buds that are totally edible (and thank goodness for that).
In Santorini, capers are carefully handpicked and sun-dried until they harden and start to turn yellow. Capers are commonly found sprinkled on salads for an epic flavor boost, but they're used in a variety of other dishes too.
15. Katsounia (Santorinian cucumbers)
Katsouni is Santorini's cucumber.
It offers a very unique taste, especially when dehydrated.
The name Katsouni was originally given to the cucumber by Santorini's locals. It's larger than the common cucumber, with a thicker skin and more seeds.
If you don't pick it up in time, it turns sweet and tastes like melon! Katsouni is special for Santorini, because it only grows here on the island and can't be found anywhere else. It has a lighter, cooler taste than regular cucumbers and is a staple in local salads.
16. Cherry Tomatoes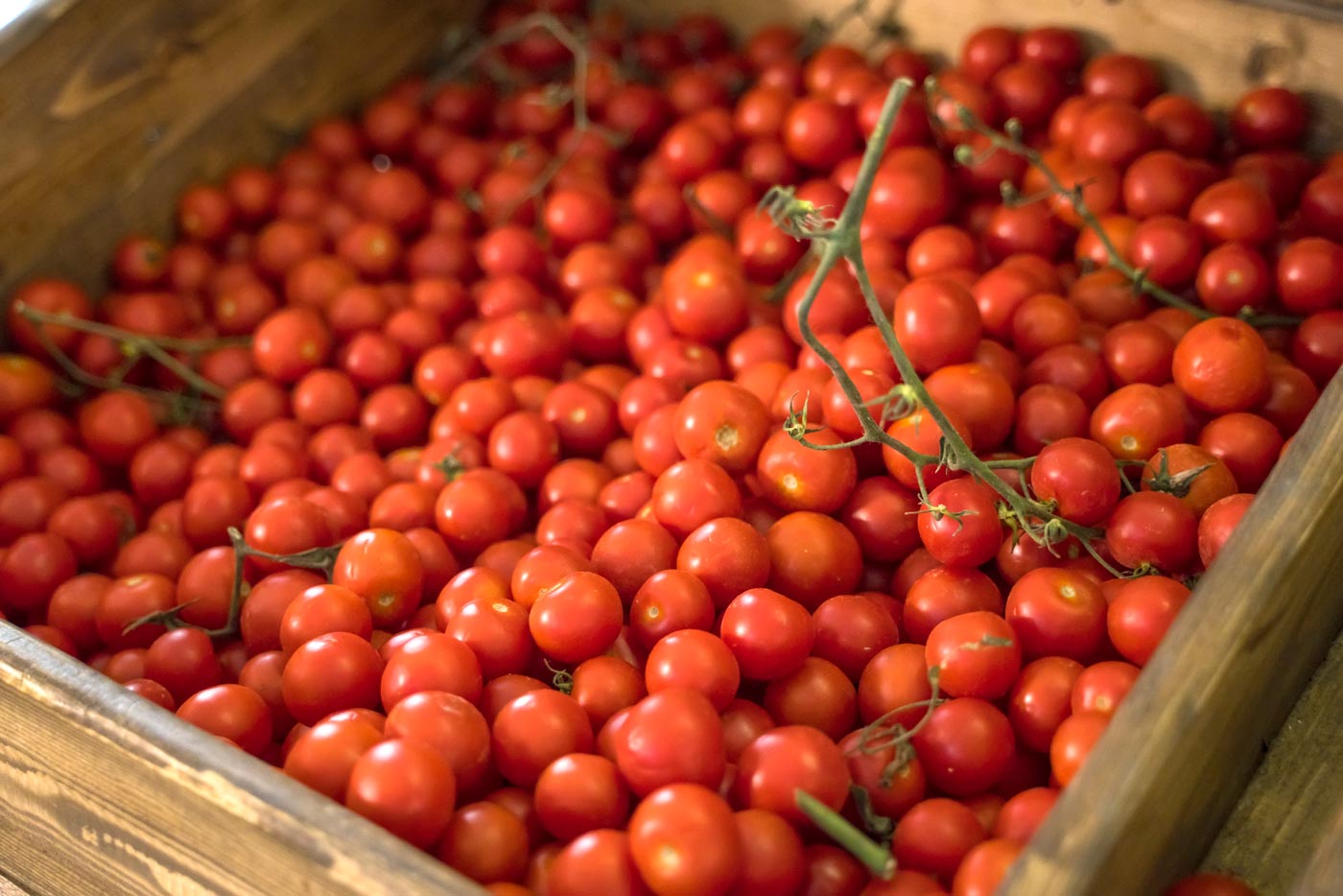 Santorini is known for more than its unique beauty, but its special tomatoes too.
The tomatoes of Santorini are so small, most visitors have a hard time believing that they're actually tomatoes.
They're incredibly unique and grown exclusively on the island! The volcanic soil and nighttime humidity of the caldera contribute to its production.
Santorini tomatoes are deep red in color and the exterior is somewhat hard – a stark contrast to the juicy interior. It's clear to see why harvest season is such a celebration on the island of Santorini!
17. Peanuts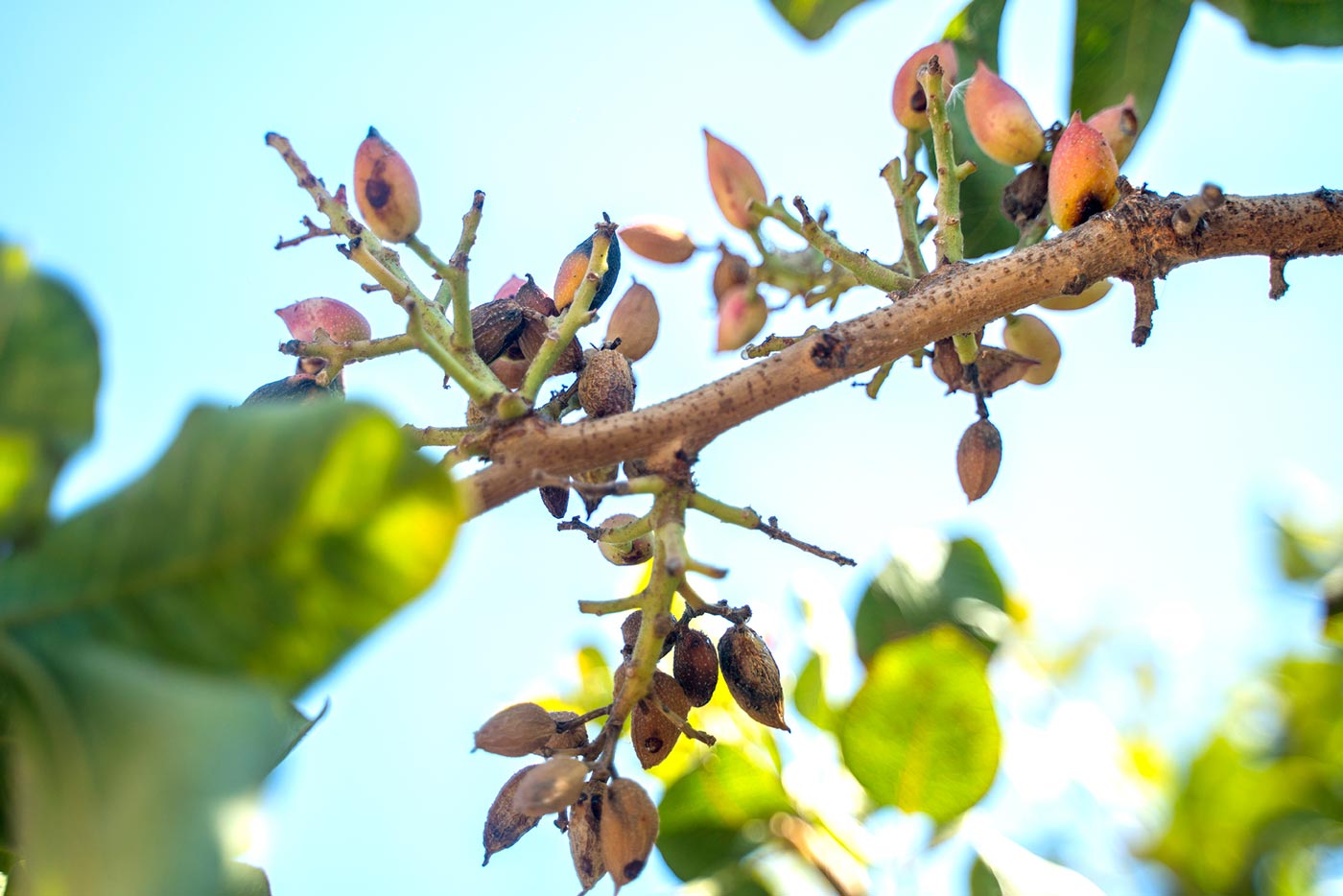 Santorini peanuts are of incredible quality, and a strong contender of genuine Aegina peanuts.
They have a very rich flavor and plump flesh; a product of the arid, volcanic land of Theraia.
Seeing as they're sundried twice (before and after salting), Santorini peanuts feature a deep, dark red color that makes them unique to the island.
Religious Local Feasts
If you're lucky enough to be in Santorini during one of the religious local feast periods, you're in for a treat! You'll discover first-hand how Santorinians celebrate the Saints of the Orthodox Church. Check Below if any Religious Local Feasts are happening in Santorini soon:
Saint Epiphanius' Day - May 12th
Saints Anargiri Day - July 1st
Prophet Elias' Day - July 20th
Day of the Holy Seven Youths of Ephesus (Agioi Epta Paedes) - August 4th
The Transfiguration of the Savior (Metamorfosi Sotiros) - August 6th
The Assumption of the Virgin (Koimisi Theotokou) - August 15th
Saint John's Feast (Agios Ioannis) - August 29th
Feast of the Virgin Mary of the Myrtle Tree (Panagia Myrtidiotissa) - September 24th
Saint Matrona's Day - October 20th
Which Restaurants to Visit in Santorini
We've gone ahead and categorized our favorite Santorini restaurants by type, for your convenience;
Fish Restaurants:
Romantic Dinner-Fine Dining:
Sunset View Restaurants:
Taste the Top Santorini Foods
With Santorini Best Tours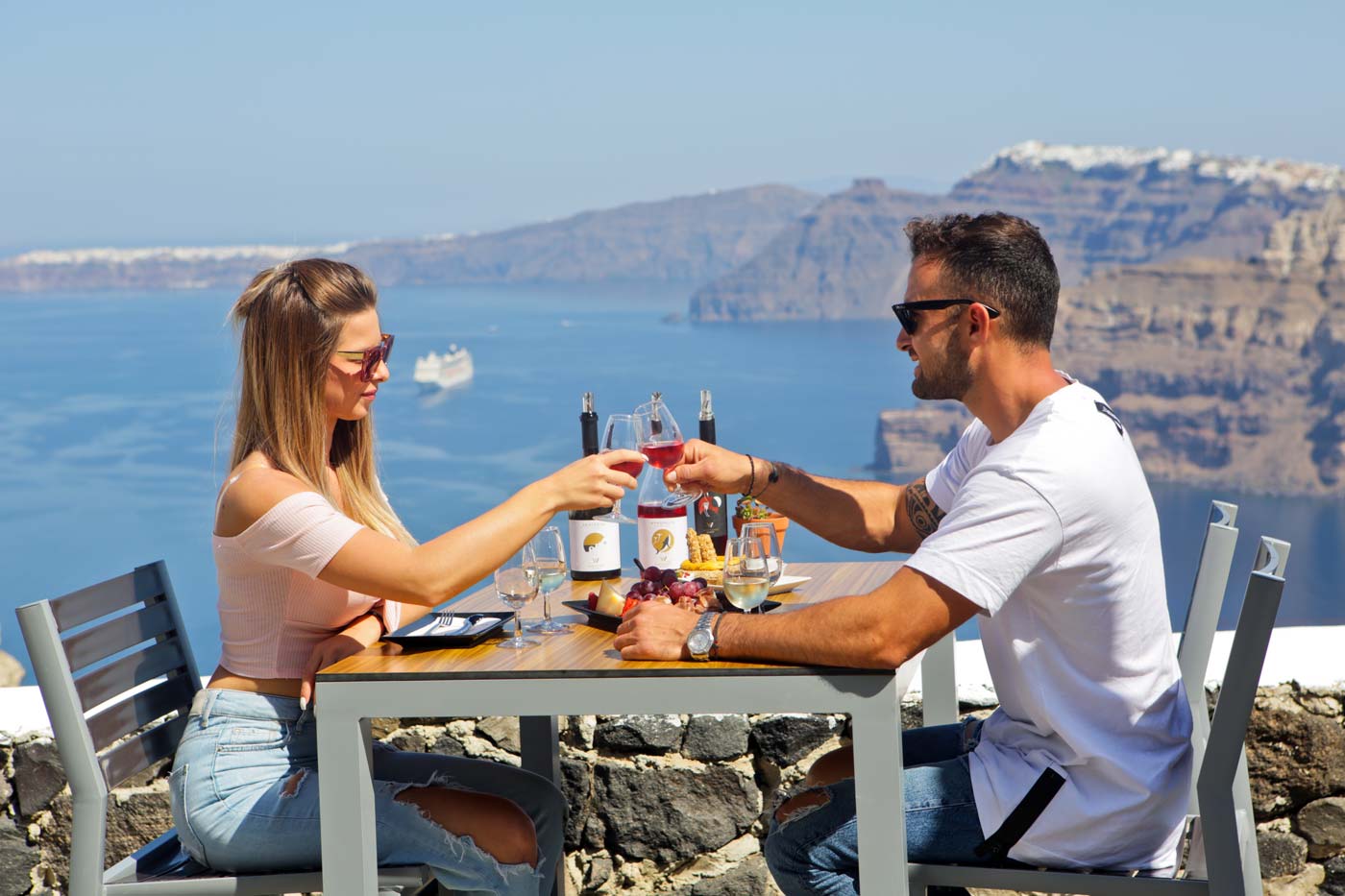 If you want to make the most out of your trip to Santorini, it's crucial to plan your experience with the support of authentic locals.
At Santorini Best Tours, we spend our days helping world citizens enjoy the top Santorini foods – in the best restaurants in Santorini.
Book a Santorini food tour today!
Your dedicated Santorini Best Tours guide will get to know your desires just as well as you do, after which we can customize an unforgettable experience 100% tailored for you.
We pride ourselves on cooking up mouth-watering memories that last for life, so contact us today for the full scoop.