Back to top
Getting from Athens to Santorini: An Insiders Guide to the Most Affordable Ways to Travel
Flights from Athens to Santorini (Thira)
Let's first begin by looking at the flight schedules and airlines which are offering the most affordable times and rates. There is Olympic Air and Aegean Airlines. Now, some of you might know this already, some of you might not. This is pretty much the same airline that offers flights not only from Athens to Santorini but to other destinations in Greece. One bought out the other, essentially. 
Now, you can book flights on either site. They both have 9 flights going out each day. This is during the peak seasons. We like to call them the "high seasons." Even if you buy something on Aegean for Olympic, you will get the same price value. Keep this in mind. Just because Olympic bought the other one out, it doesn't mean there's any changing distinction on this.
Here's something you need to know about the flight codes. Say you are going to be using an Aegean Flight code. You will be using Airbus 320. This code is good up to 168 people. If you have a large traveling company with you, you might want to choose wisely with this.
If you are using Olympic, then you will be getting Dash 8. It's sort of a prop plane. Now this one seats about 70 people. Choose carefully, again, especially for larger parties. You never know how big someone else's party is going to be.
There is also Ryanair. They will only have one flight per day. Sometimes it's in the morning. Other times it's during the afternoons and evenings. It all depends on the time of year and the peak seasons. You might want to look on their site just to verify what is what.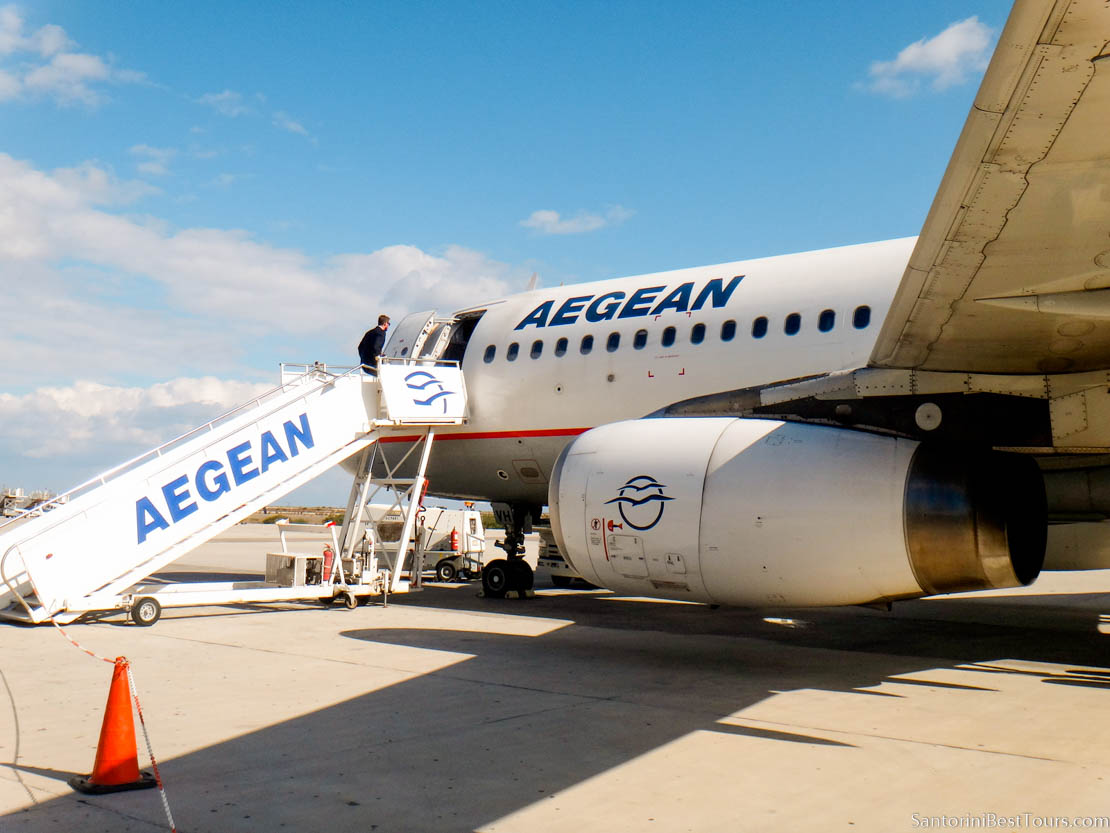 Aegean Airlines in Santorini airport 
THE FLIGHT TIMES
Here's a brief look at the times for the flights. The flight normally takes about 45 minutes, barring any unforeseen issues. Most of the airlines have flight times between early in the morning and around 10 p.m. at night. Check local travel times, again. Sometimes will vary, it all depends. Yes, there is usually a return flight going on. In other words, if you have a flight out of Athens, then you will have a returning one from Santorini.
THE RATES
Now the prices are going to vary. It all depends on what is ready and available. It also depends on how early you book. In other words, the sooner you book, the better you will be. Most prices go from about 30 euro to 160 euro give or take. If you don't have any interest in paying this much, then airlines like Easy Jet and Ryan Air can help. You'll have to look at their sites to determine what you can afford, versus what you can't. 
THE FERRY SCHEDULE: Athens to Santorini for season 2017 
Now, it's time to discuss the ferry schedule from Athens to Santorini. This information is for those who don't wish to fly, and those who wish to take a more scenic route. 
You will have 3 options:
Blue Star Ferries , departs daily at 7:30am, price from 42 euro. Duration 8-9 hours.
Hellenic Seaways Catamaran, price from 60 euro. Duration 4 - 5 hours. 
Sea Jets Catamaran, price from 58 euro. Duration 4.5 - 5 hours. 
THE BLUE STAR FERRY
This should be your first choice, if you prefer not to be seasick. It's a big ferry, with very little bumpiness. This will appeal to many of you, I am sure. Every morning, all year round, it will depart around 7:30 A.M. In other words, if you want to be on it, you will have to rise early, Sorry folks!
The ferry will take about 8 hours to get to it's location, with a few minor stops in between. It will get to Santorini at about 3:00 P.M. that afternoon. Now the return trip will pick up at 3:30 in the afternoon. It will get back to Athens at around 11:30 at night. During the summer times there will be a few extra ferry trips. Now, you might want to update your seats and go to economy class. It's going to cost you a little more, but it's so worth it.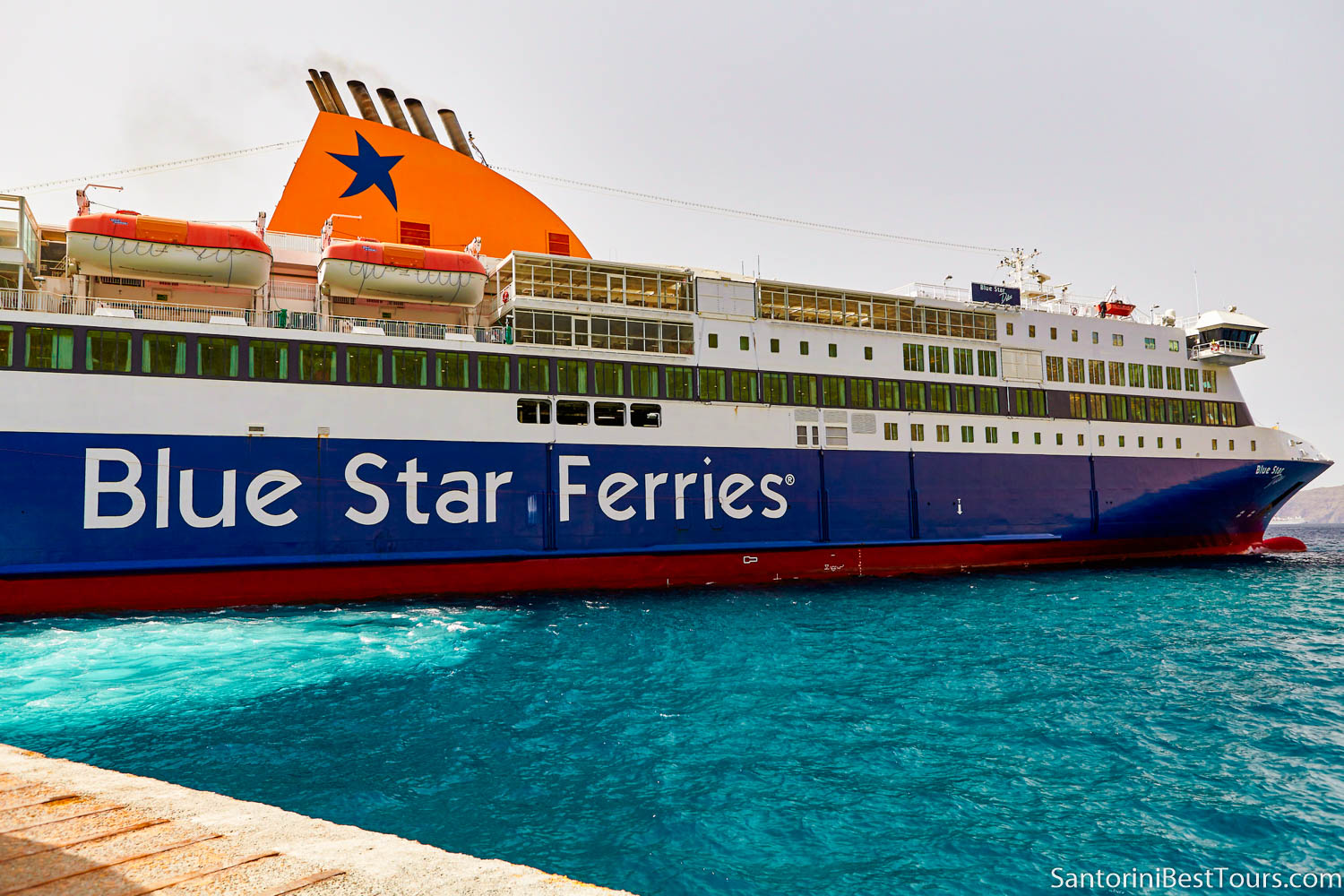 THE HELLENIC SEAWAYS HIGHSPEED
There's either the 4 or the 6. You should check their schedule online. It will vary, as well. There are certain times when both the 4 and 6 run, especially in the morning times. There are also limited runs and selected drop-off points. Please check online to see the travel plans and pricing.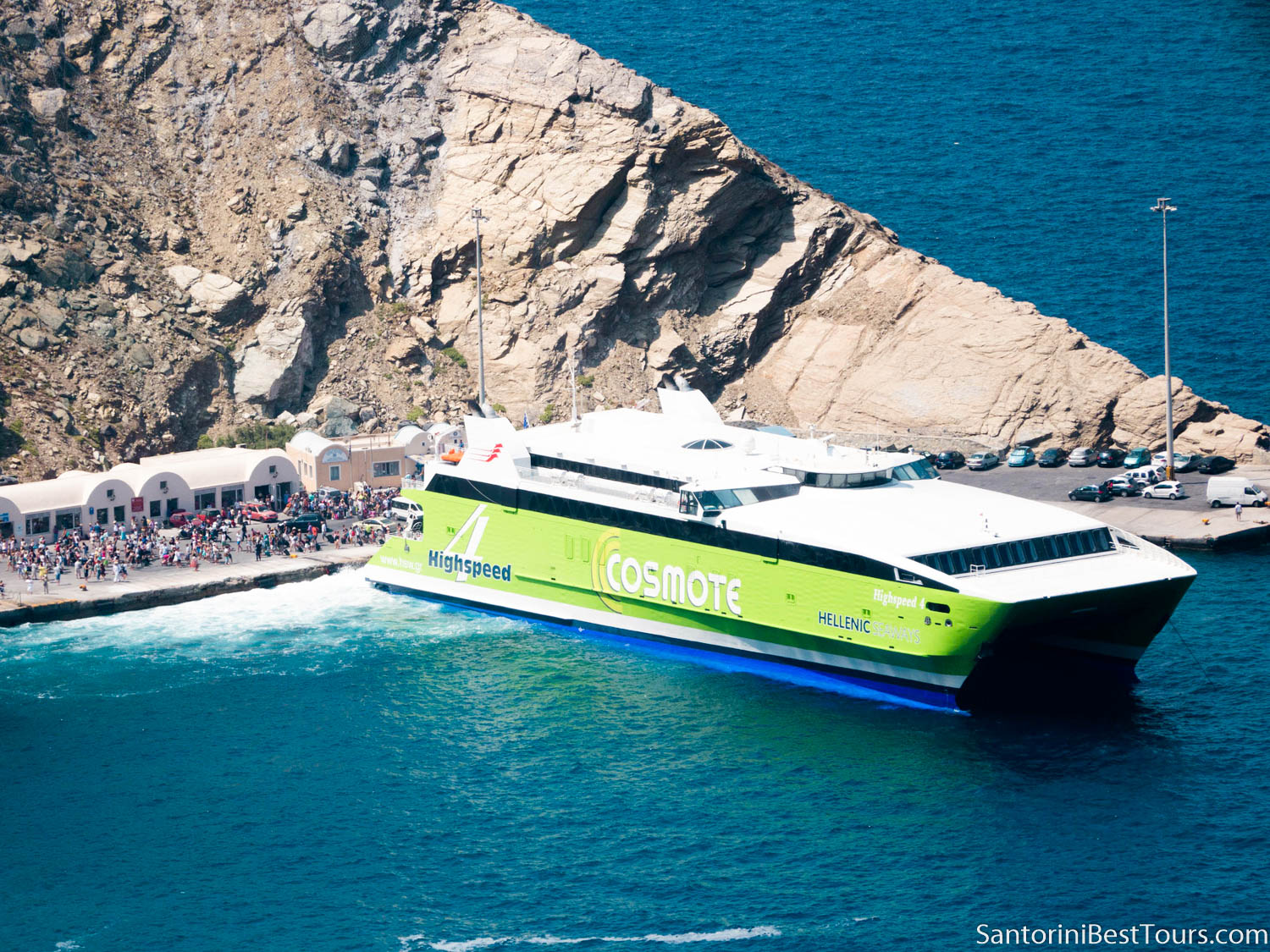 SEA-JET 2
This is going to be the roughest of the ferries and rides. Just a forewarning here. It;s going to be cramped. If you are prone to getting seasick, you might want to avoid this one, if you can. Check online to find out running schedules and where it picks up and drops off. It's going to vary, again.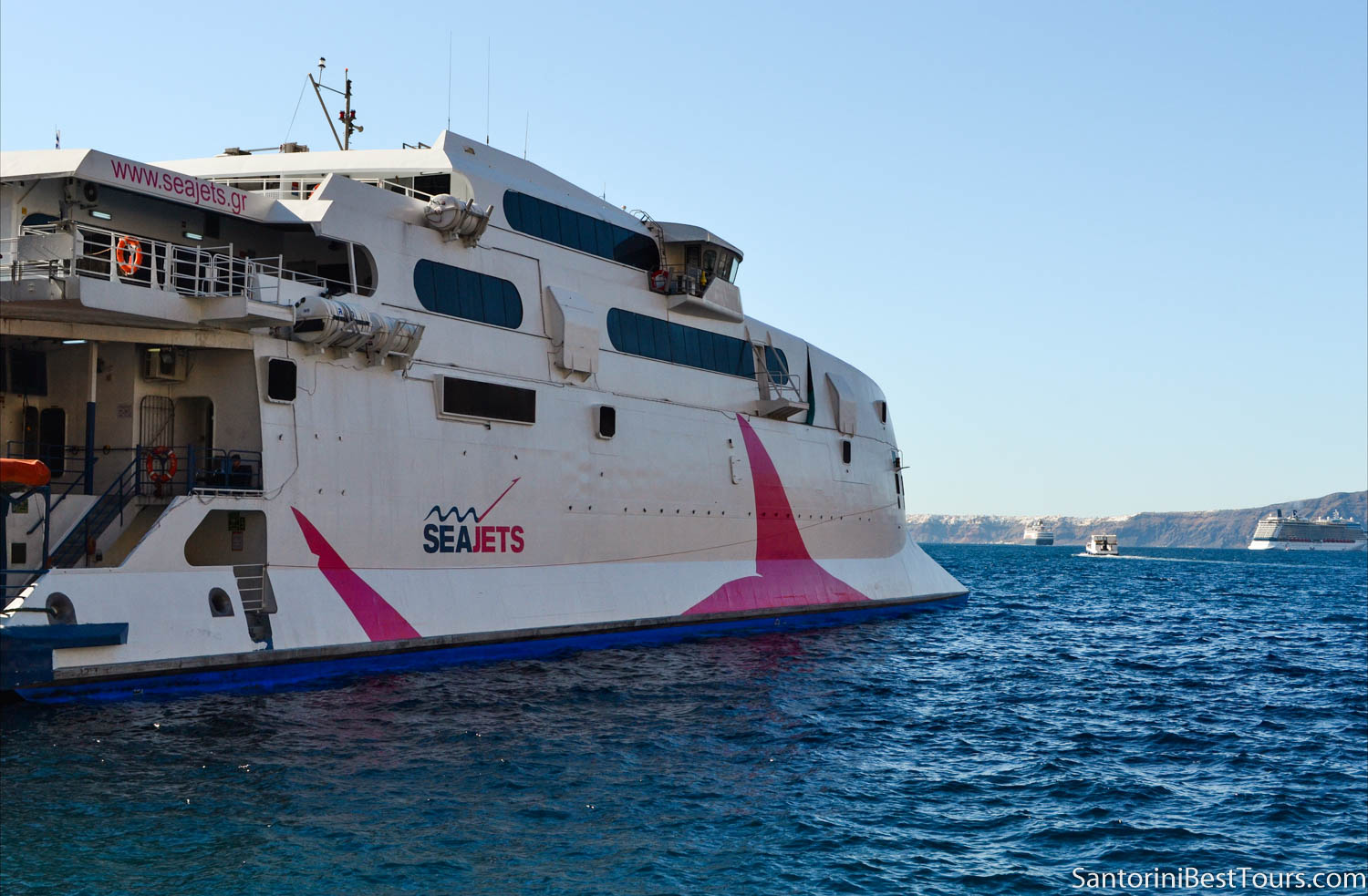 WHAT IS THE BEST FERRY TO TAKE FROM ATHENS TO SANTORINI? AN EDUCATED OPINION FROM LOCAL INSIDERS
THE BLUE STAR FERRY
If you are looking for an honest view on this, then see the above statement that was made, in the beginning of the content. It's the Blue Star Ferry. In order to get to the early morning takeoff, you will need to be on the Metro. Be on it no later then 6:25 in the morning. I am serious on this one. It's the only way to make it on the platform.
What's great about this ferry is the scenic views. It takes 8 hours. You will have the chance to get up and walk around. Now the first and last few hours are the most exciting. The 4 or 5 hours in between, they tend to be the most boring. This is based on personal experience and other passenger's views. However, it's the safest and most enjoyable way to get from one to the other. Sometimes you have to take the good with the bad. 
THE HIGH-SPEED FERRY
There is only one advantage to taking the High-speed ferry, as opposed to the first one. It's the fact that the trip only takes about 5 hours, as opposed to the normal 8 hours trip. 
What are the downsides?
Glad you asked! Basically the downsides exist in the views and the seating. It's sort of like airplane style seating, so you won't have much chance to get up and walk around. Sorry guys! Basically, you will be stuck sitting in your seat for those 5 hours, unless there is a stop at a port. Usually there is one or two. There is that, but that's where it ends. 
You can't also get up and check out the views on the top. There's no deck to check anything out on. What about the views from the window? Glad you asked, again! Yeah, the windows don't have a view of any kind. The views are blocked by seat salt that covers the windows. 
PRE-BOOKING UPDATES
The Blue Star doesn't require any sort of pre-booking. Call up anytime. You will be guaranteed a seat. Now the same thing can not be said for the High-Speed Ferry. If you have some kind of set schedule, then it's best to book prior to the trip. In spite of it's disadvantages, there are plenty of people who like to travel this way. The peak months for the High-Speed Ferryis usually in July and August. 
The ferry price tickets are all the same. There is no sense in trying to shop and compare on prices. There's no comparison. The government has set them guys. Ironically enough, the Blue Star never really sells out completely. This is why there's no sense in booking. The High-Speed Ferry will sell out quickly. Funny, isn't it?! This is why pre-booking for them is necessary.
What about luggage?
There's plenty of room for your luggage on the Ferry. However, please anticipate the chance of lugging it around. You will need to take it with you up stairs, both to and from the ferry. This is the only downside to the plan. 
THE CHEAPEST ROUTE TO GET TO YOUR DESTINATION
Here's the deal. The cheapest route is going to be the Blue Star, followed closely by the High-Speed Ferry. Don't fret, though. If you book early enough, then you might be able to score a cheaper seat and booking. Then again, you might not be able to. It's up to you and how much you are willing to spend. If you want the best, then buy from Blue Star.
WHAT'S THE FASTEST WAY TO GET TO MY DESTINATION?
It's sort of obvious. A flight will get you there faster. It doesn't matter if it's from Athens to Santorini or vise versa. Now, if you can't get a flight and you have tried everything, you might want to try the High-Speed Ferry. 
I know, I know, there again is the irony. However, the High-Speed will get you there in half the time. It's also going to cut down on time in the security line. Airports, even in central Greece, they are famous for the security checks. Just be forewarned. 
Both of the airlines I mentioned above have flights to and from these two cities happening every day. Now, if you don't intend to stay in Athens or Santorini for any length of time, you can get a direct flight out right away. It's best to consult with their site to make sure of this. Some things might have changed. 
IF I AM GOING FROM ATHENS TO SANTORINI, SHOULD I BOOK MY FERRY EARLIER?
Good question! Many people ask this. Allow me to explain in detail. I have already explained some of this prior. In most cases, you really don't have to do this. If you want to, just to be sure, then go for it. In most cases, though, you can buy from an agency upon arriving at your destination. 
Now, when it comes to the Blue Star Ferry, you might want to consider doing it. This is especially true in July and August. How early? Usually, it's best to do it 2-3 days before. If you can do it about a week before, then you are guaranteed something. Here's a word of advice, though. When it comes to buying from an agency in Greece, as opposed to over the internet, the agency is going to give you more luck. Online is okay, to a certain degree. However, online buying has a tendency to come up with discrepancies. 
Just a FYI!
The High-Speed Ferries are so popular, again ironic, that they sell out faster than any of the others. These I recommend you buying your tickets at least a week in advance, if not before then.
Here's another FYI for you. If you do book online with the companies, you will be charged an extra fee. Sorry to tell you that guys! It's best to do this through a travel agency. Just go up to them about a week or so prior and book your trip. It's a no muss, no fuss situation. 
WHICH SITUATIONS ARE THE MOST PREVALENT FOR BOOKING ADVANCE?
It's during the time of August 15th. This is a huge holiday in Greece, I mean huge. Everyone is coming back home, for things like parties and such. They come back home to the islands and their own hometowns. This is reason enough why you should be booking in advance. To be completely honest with you, some have gotten in any way. Some of had booked their trip, without any issues of prior booking. However, it's not best to take a chance. Just because it happened for them, that doesn't mean it will happen for you.
Do you have a car, of any kind? You might want to book now. The car slots sell out fast, and I do mean fast. The slots are few to start with. Due to the limited slots for cars, many tend to book early. 
Do you want to have a sleeping cabin? If you do, you might want to book now. Sleep cabins sell out just as fast as the car slots do, if not more so. Don't say I didn't warn you?!
IS THERE A DIFFERENCE BETWEEN THE 4 CLASSES ON A FERRY?
This is question which is brought up a great deal. We will be boiling this all down to a few major points. If you long for greater detail, then juts go to the official pages for the Blue Star Ferry and the High-Speed Ferry.
BLUE STAR
On the Blue Star Ferry the economy and deck class gives you chances for inside and outside seating. You can also visit cafes. If you wish to get the reserved seating, you might want to spend the extra 4 euro for an upgrade. If you don't, you will be left looking around for a seat. 
The business class offers a less-crowded atmosphere. You also get the chance to enjoy the same facilities as you do with airplane style. It all depends on what you like. 
The cabins usually only come in 2 and 4 berths. If you choose an inside sleeper cabin, then you will not have a window. If you choose an outside cabin, you will get the window. It all boils down to whether or not you want a view. 
Putting it very simply, there's aren't many differences between the classes, with the exception of a few minor things.
THE HIGH-SPEED HELLENIC FERRIES
Here is where the differences come into play. 
The economy section is at the far end of the ferry. Basically, the economy is considered the back end of the ferry.
Business is in the front. You have more room here, so enjoy it. 
The VIP section is also in the front. It has windows, leather seating. It's usually found on the floor about the main floor.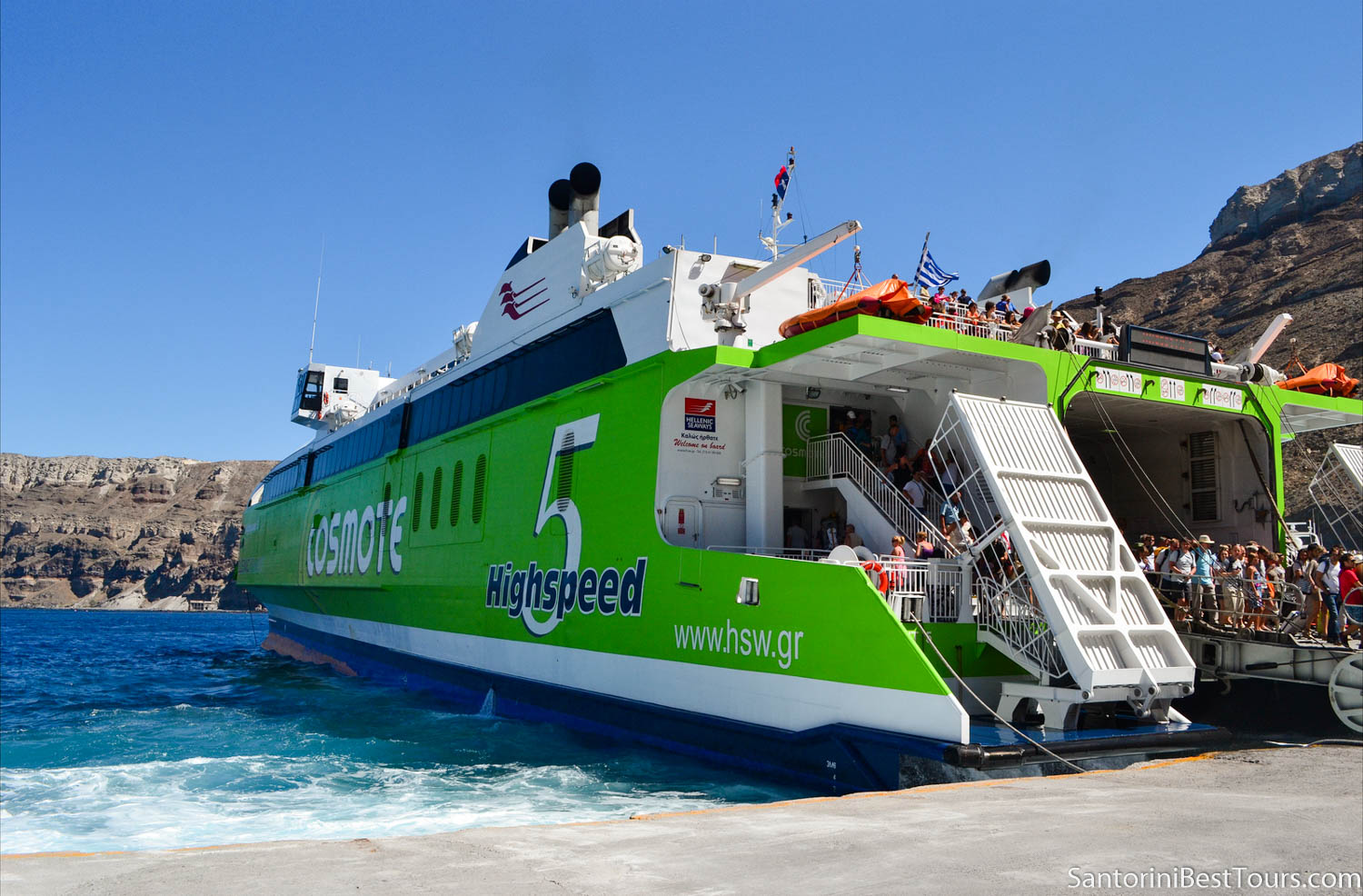 TAKING A TRIP TO THE AIRPORT TO PORT
Are you going from airport the ferry? Best thing is to take the X 96 bus. It runs all the time. Costs only 5 euro each way. It runs every 5o to 90 minutes. Another good option is through a taxi. The taxi will cost you between 50 and 60 euro. It's a bit more, but the taxi will cut your trip by 5 minutes. It's up to your personal preference.
GOING DOWNTOWN TO FERRY PORT
Are you heading downtown!? Sorry, couldn't help it. Anyway, if you are in the central part of Athens, you might want to try the metro. It will get you there in about 30 minutes or less. The tickets are like 1.5 euro. They run from 5 in the morning till about midnight. No matter what your schedule is, it you should give you more then enough time. Do remember to validate your tickets. If you fail to do so, you can be charged up to 60 times more than the price fare. Please, validate. 
WHAT YOU NEED TO KNOW ABOUT GREEK FERRIES
This is sort of a wrap-up of what we have discussed earlier. 
Taking the ferry from Athens to Santorini. High Speed ferry will get you there in 5. Car ferry will take about 8. Leave room on your schedule, depending on which road you take. 
Tickets can't be bought on the ferry. Sorry. Too many customers have made this choice. Please, buy your tickets before boarding. Use online. Use the agency. Whatever you need to use. Don't attempt to buy on the ferry, it will not happen.
You can not buy multi stop point tickets. You can only buy one ticket which is one way. If you need a return ticket, then you have to buy another. 
Here's a breakdown of the prices for the Blue Star and High Speed. 
BLUE STAR
It costs is 42 euro for economy and 53 euro of VIP. It will cost you about 70  for the cabin tickets.
The High Speed will cost you about 60 euro for the economy. About 63 euro for business. The VIP is going to cost you about 76 euro. If you are looking for the Piraeus departure and arrivals, this will be another 10%.
How many of you are prone to getting sea sick? If you are, you might want to choose the Blue Star. All the other ferries will be very bumpy. Many of you will lose it on board. We don't want that, do we?!
The rough sea cancellations will happen. August will be the windy month. Ferries can be cancelled up to 2 or more days in a row. Please be weary of this. The only one to not cancel as much, during this time, is the Blue Star Ferry. 
If you require more helpful tips and recommendations, then please visit the official pages. You will find tons of information on those pages.