Back to top
Santorini's Top 10 Beaches 2021
Do you dream of traveling to Santorini?
While the global COVID-19 pandemic has placed everyone's travel plans on hold, there's no reason why you can't start thinking about your next trip now. Whether you visit Santorini this year or next, you'll want to make sure you check out the island's top 10 beaches - which are some of the finest in the Aegean Sea.
While Santorini is known for much more than its beaches, we're sure you'll want to make a pitstop or two on the golden sands mother nature's stunning Greek island has to offer.
The majority of Santorini's beaches for families are peppered with the region's famous black volcanic sand, paired up with crystal-clear waters dreams are made of. So, without further ado, let's take a look at the top 10 best beaches in Santorini, which you can't miss when visiting the island once the #coronavirus is over.
10. RED BEACH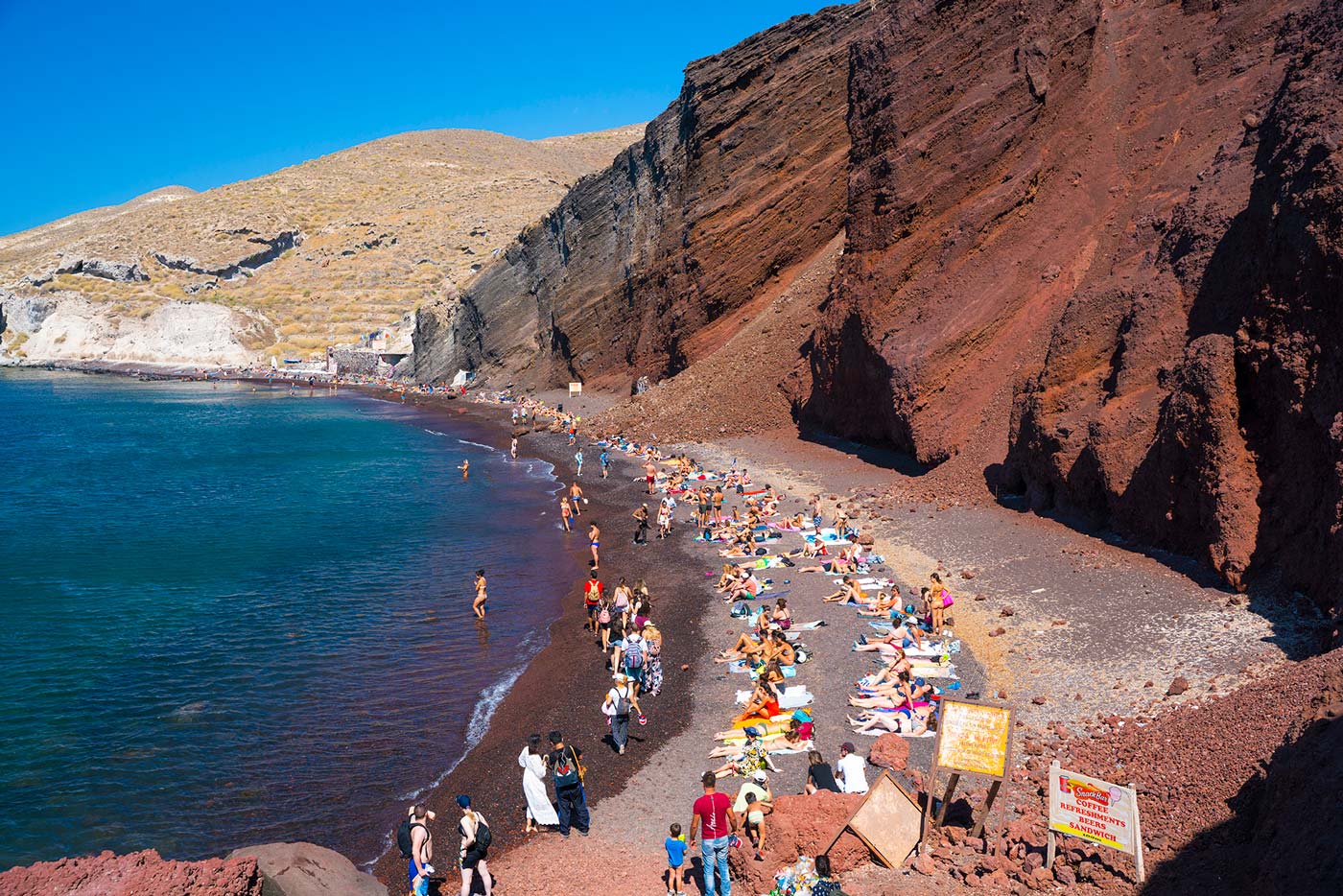 This, one of the most instantly recognizable beaches in Santorini, was awarded its name based on the bright-red rock formations that surround it. While Red Beach is small in comparison to many of the other beaches on this list, its towering cliffs and deep-colored sand give it something only Red Beach can offer.
Situated 12km west of the Akrotiri area's Fira, Red Beach is hailed by locals and tourists as one of Santorini's most famous (and beautiful) beaches.
9. WHITE BEACH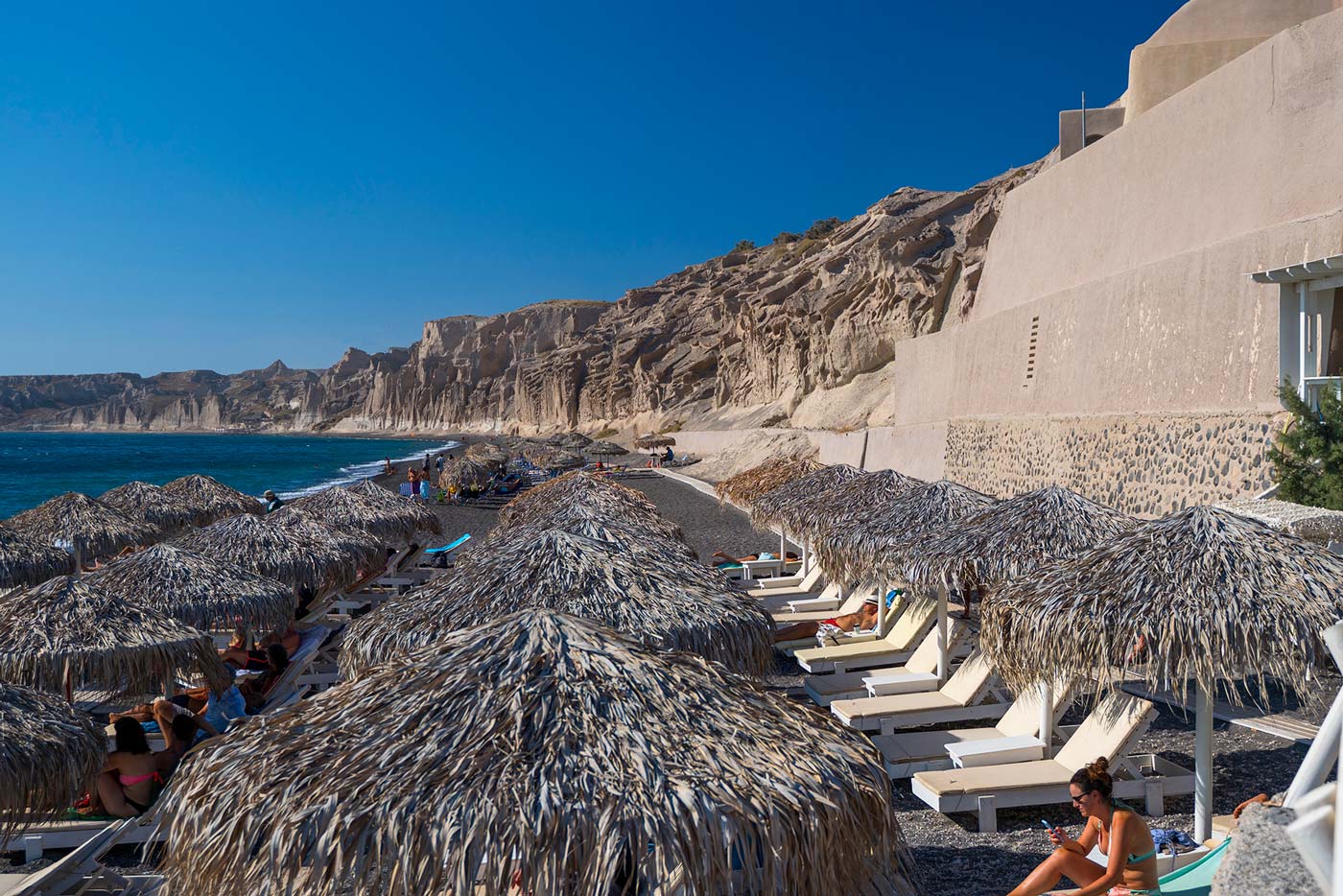 Recharge your batteries under the white cliffs of Santorini, then head over to the beach speckled with black and white pebbles. Explore the area to find new additions to your rock collection while immersing yourself in some much-needed relaxation.
8. KAMARI BLACK SANDY BEACH
Unlike its red and white counterparts, Santorini's Black Sandy Beach is defined by specks of black sand and a "resort-like" feeling. Touch up on your tan or take a dip in the deep blue waters.
Don't forget to visit the nearby Mesa Vouno while you're here. Umbrellas, lounge chairs, and fun watersport activities offer something for everyone. Kamari is treasured by locals for its cinematic sunrises and sunsets.
7. CAPE COLUMBO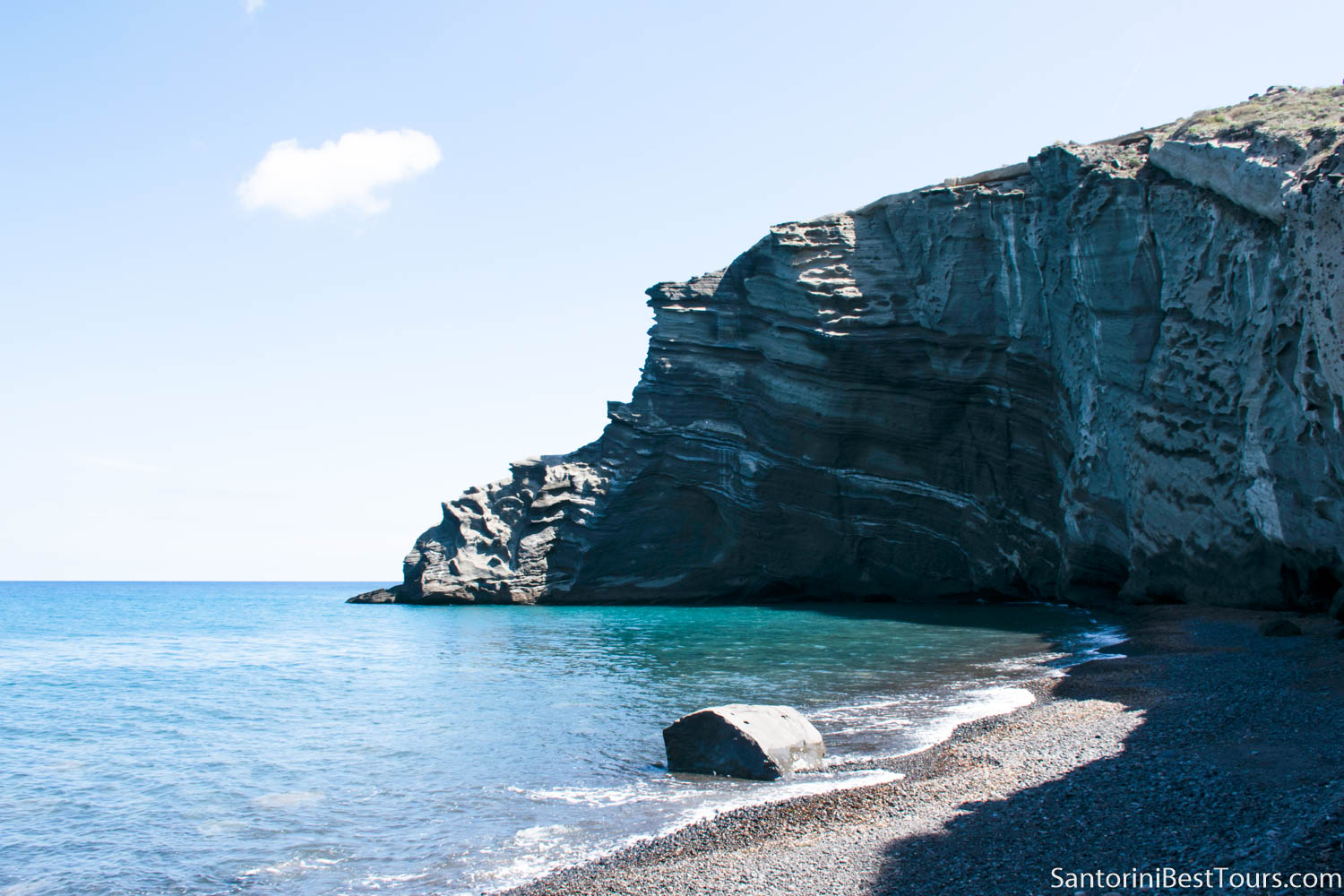 Nestled just 12km North East of Fira is Cape Columbo, Santorini's most secluded beach, outlined by breathtaking black and white cliffs that take you off the beaten path and into the heart of nature.
A nearby active crater means the water is naturally heated via thermal activity. At Cape Columbo, mother nature is left in peace to control the beach, so remember to bring your own food and drink along. Also, be warned: Don't sit or walk directly under the rocks which are notorious for falling unexpectedly.
6. VLYCHADA - THE MOONSCAPE BEACH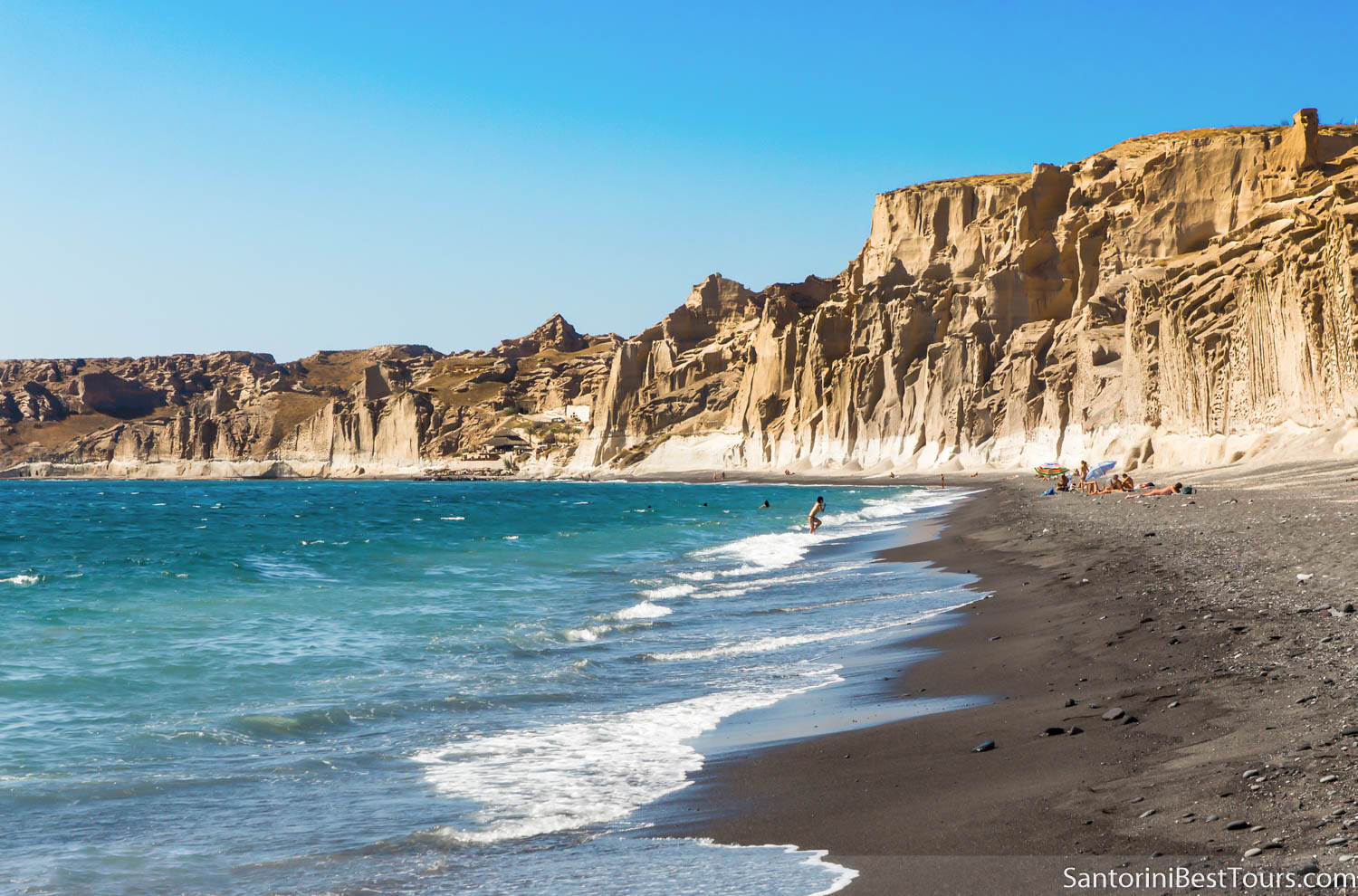 Dark grey sand. Umbrellas. Lounge chairs. Vlychada keeps your beach vacay pure and simple, and while there aren't any extra activities going on, there's a local place to eat on the bus route (if you forgot to pack the picnic basket).
Vlychada is well-known for being one of the most romantic beaches in Santorini, so treat your partner to a passionate weekend away in the heart of nature.
5. PERIVOLOS BEACH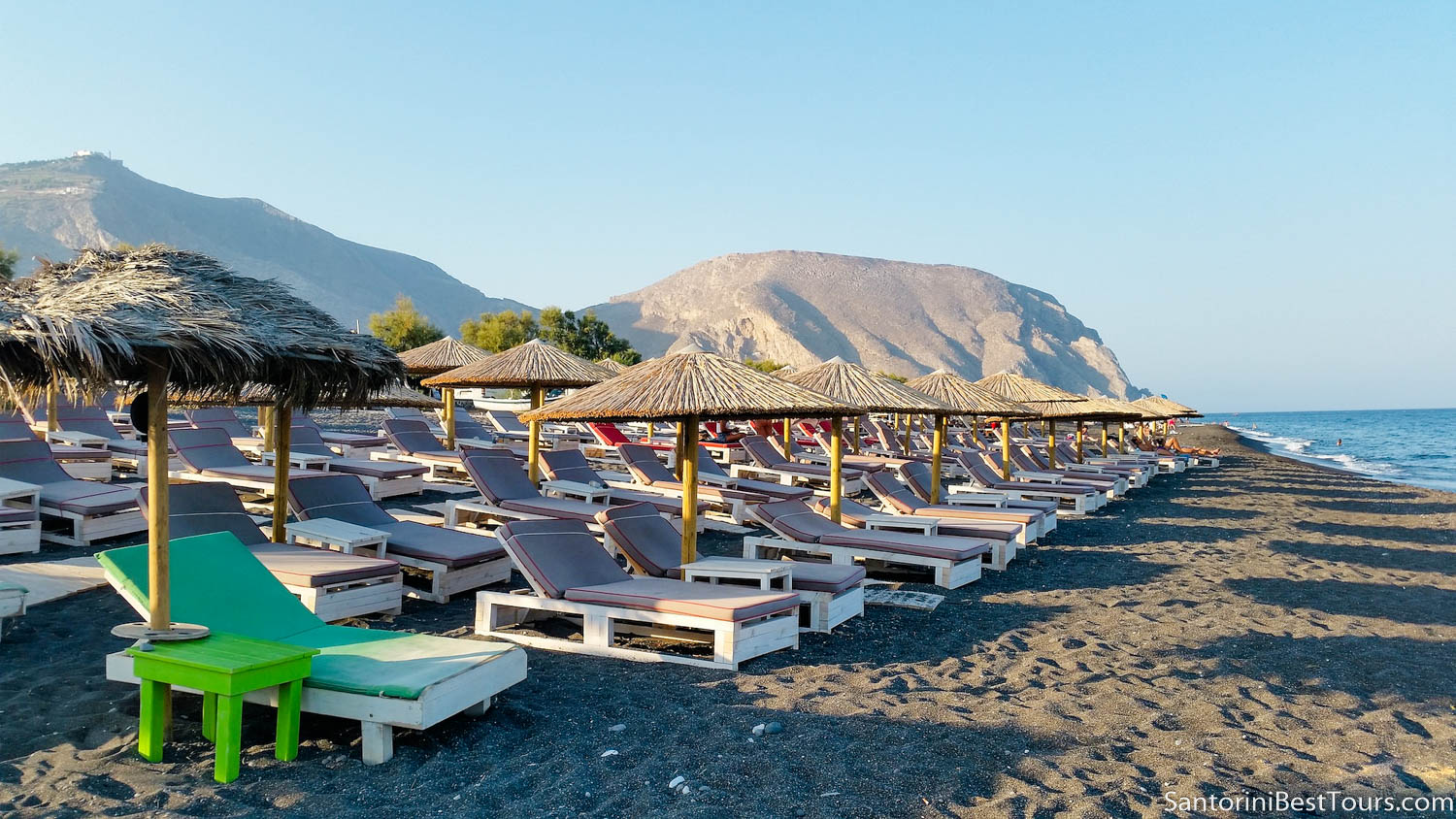 Just a heartbeat from Perissa lies an exquisite stretch of black sand - the longest in Santorini with some of the most weird-and-wonderful rock formations in the world.
Take a stroll in the sun across this Space-like terrain, and explore the area's exciting variety of food and drink opportunities - with laid-back vibes very much unlike Perissa beach. This particular stretch of golden sand is also known for having the best bars in Santorini, so grab a cold one and relax!
4. PERISSA BEACH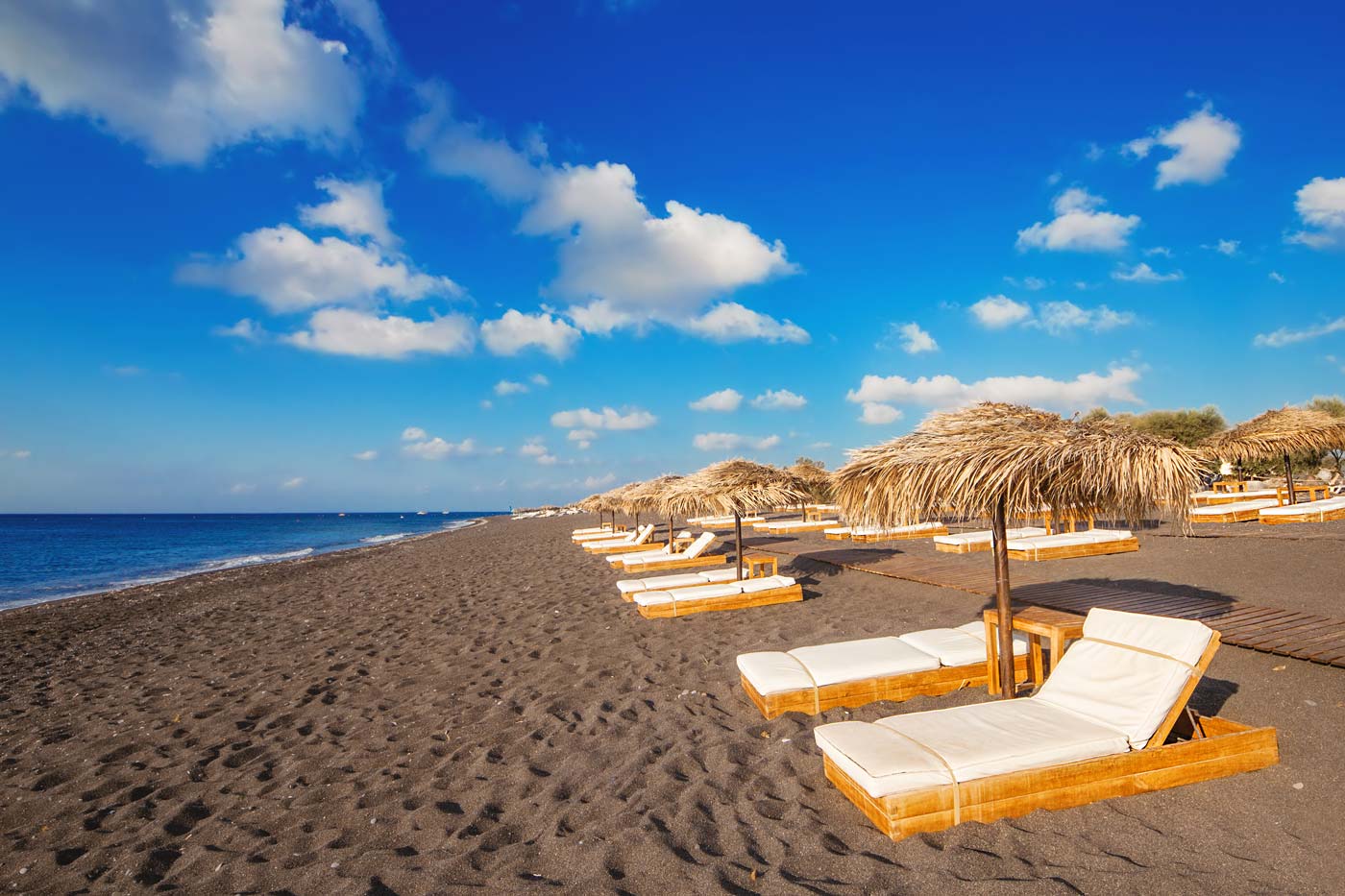 As we mentioned, this particular beach is quite different from the one we just spoke about. Situated right beside one of Santorini's most enchanting rock formations, Mesa Vouno, this 7km stretch of beach is speckled with villas, hotels, and restaurants.
There's plenty to do all day and night. As we're sure you can imagine, this busy tourist hotspot can get quite overcrowded in the summertime. Don't leave this side of the world in your wake without exploring the remains of Ancient Thera just around the corner!
3. AGIOS GEORGIOS BEACH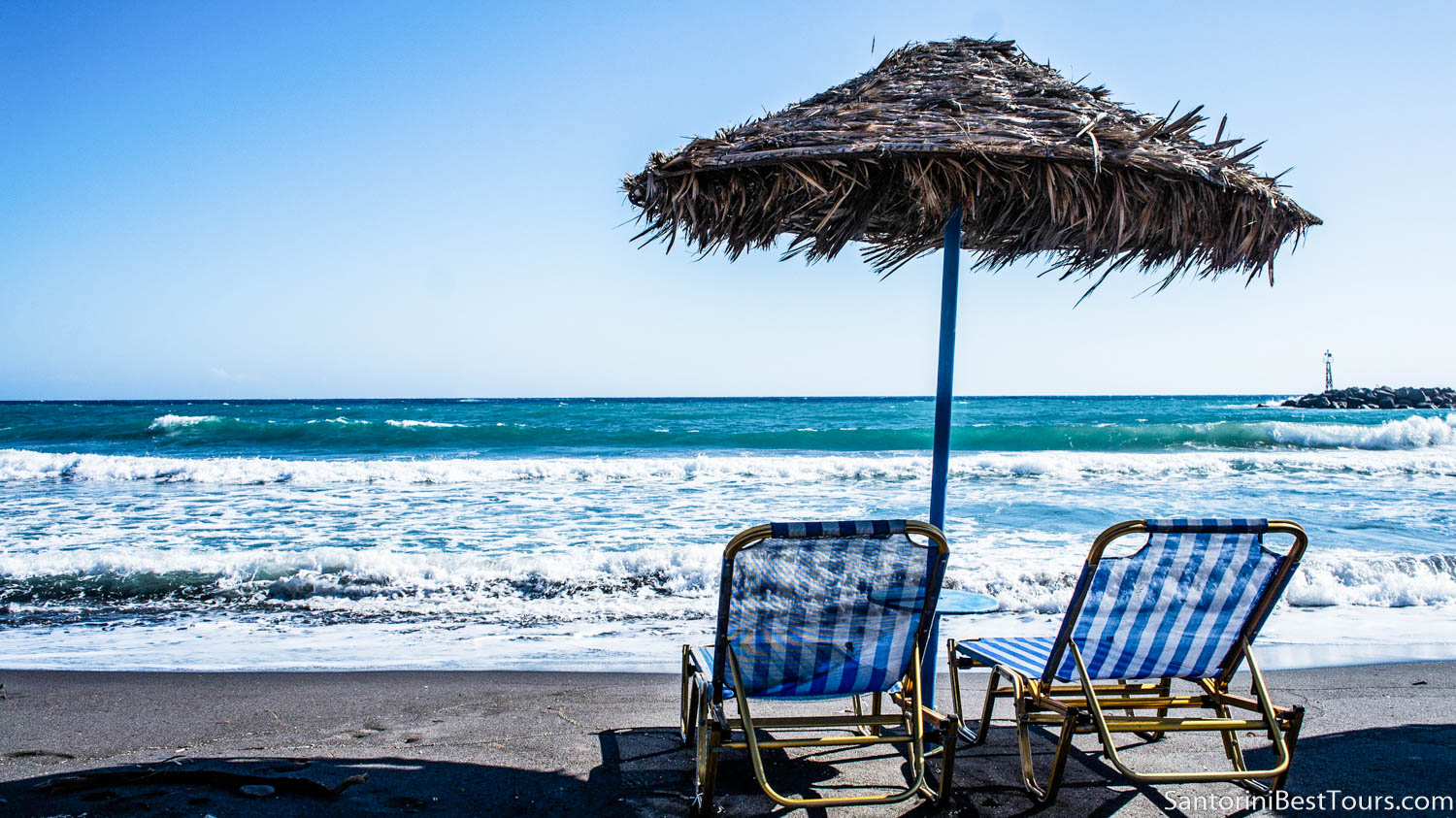 This popular tourist hotspot in Santorini is packed with busy hotels and restaurants, offering a menu for every palate and a price for every budget.
The energy is always high at this popular seaside vacation destination in Greece, topped off with exciting water activity opportunities for the whole family, from paddle boating to jet-skiing, and even scuba diving for the adrenalin junkies.
The water is at its most pleasant between June and October in Santorini - a water enthusiast's heaven on Earth.
2. MONOLITHOS BEACH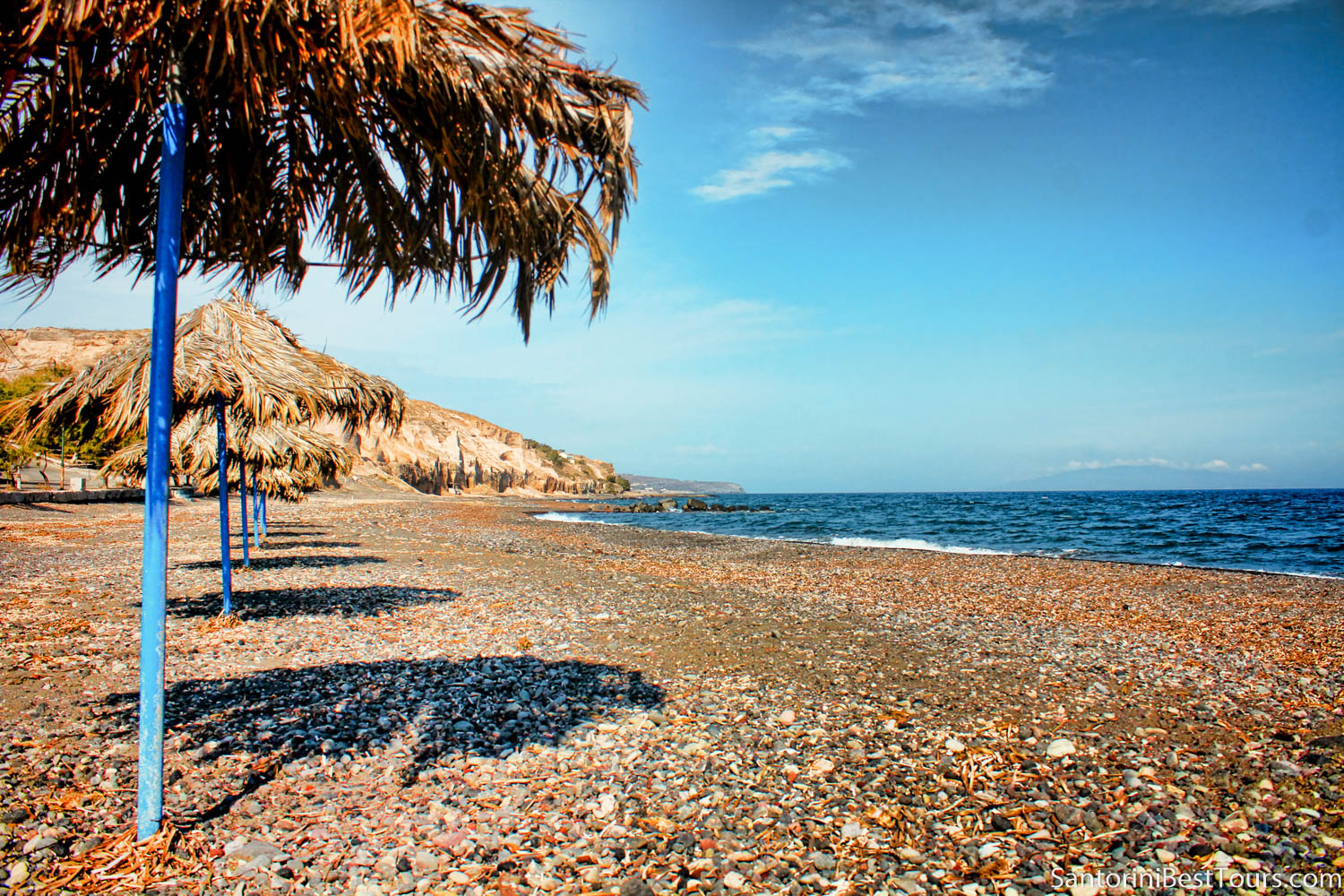 Welcome to Santorini's most family-friendly beach, with safe shallow waters that give parents peace of mind - and plenty of shady spots for those parents to relax in.
Explore the various hotels and restaurants that line the coast and dive into one of the many activities on offer nearby.
1. VOURVOULOS BEACH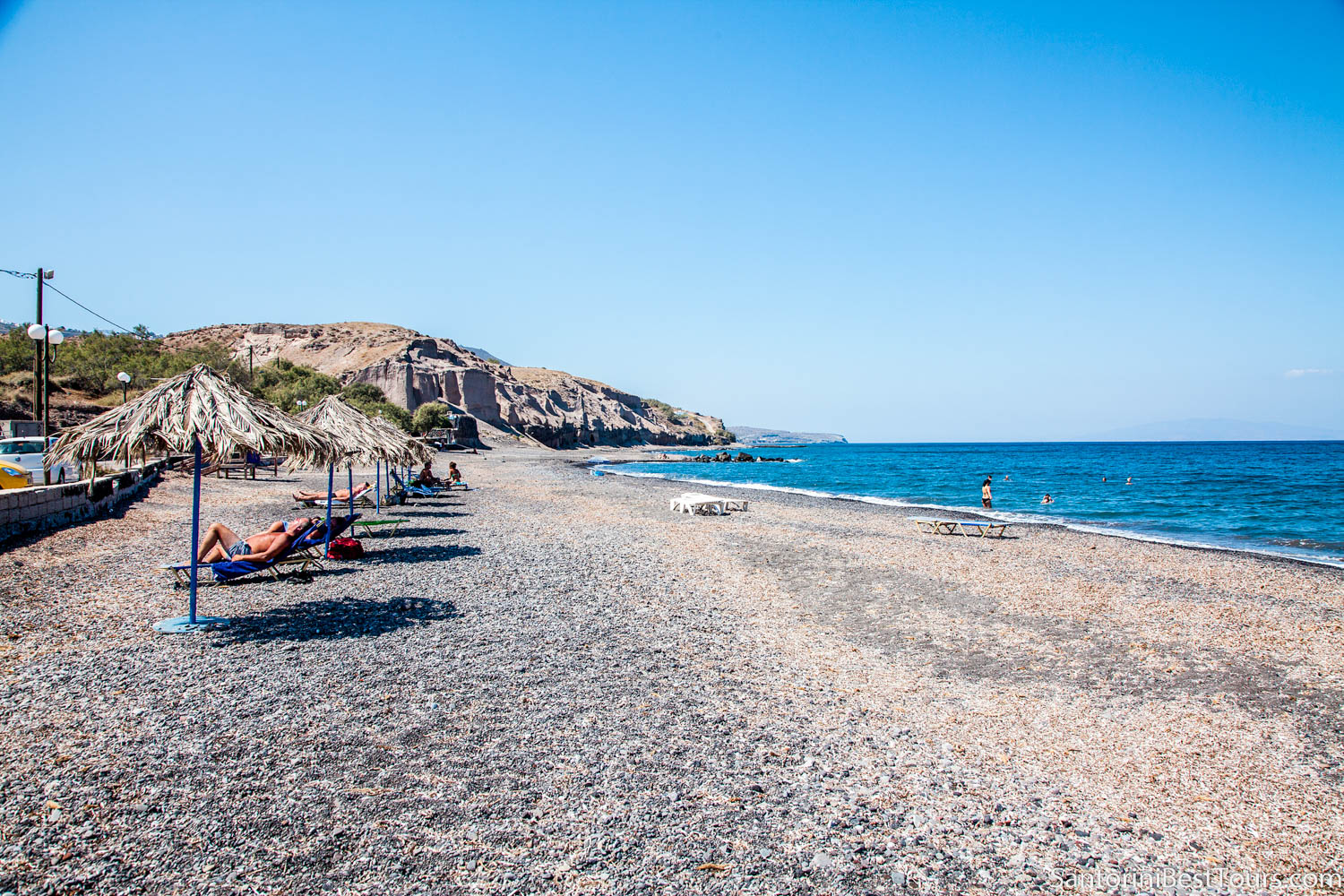 Dip your toes into Vourvoulos's breathtaking blue waters - but beware of the strong wind on this particular beach.
The constant breeze produces big waves, making swimming off limits. While Vourvoulos offers visitors the chance to relax and recharge, it's not the best beach in terms of care and maintenance.
We prefer it for its pure atmosphere, tranquility, and the people that pay it a visit. On a side note, did you know that Vourvoulos is also a nude beach? Don't say we didn't warn you!
Final Thoughts
Now that you know what the top 10 beaches in Santorini are, what will you do about it?
Once the #coronavirus has passed and you're free to travel again, don't delay - dose up on your long-overdue medication for the travel bug!
Book your Santorini tour through the team at Santorini Best Tours today.
We take care of everything on your behalf, with everything you could ever dream of in a Greek holiday itinerary. No more worrying about FOMO. Contact us today!