Back to top
4 of Santorini's Most Fanciful Wineries and Wine Tours
We've all seen pictures of spectacular Santorini, one of the Cyclades Islands in the Aegean Sea.
With its white buildings and signature blue rooftops, sipping a glass of wine on vacation while overlooking the surrounding islands is a daydream many of us desire fulfilled.
What most of us don't know, however, is just how wonderful that glass of wine would be. With its volcanic enriched soil, scorching island sun, and strong winds, Santorini produces some of the most exceptional and interesting wines one could ever taste.
So, if you ever find yourself in the splendour of Santorini, here are some of Santorini's best wineries and wine tasting tours to try out.
1. Santorini Private Wine Tour
With its unique history and the impact that the industry of wine tasting in Santorini has on the island's economy, our first recommendation would be to embark on the Santorini Private Wine Tour.
On this 4-hour Santorini wine tour, you will gain an understanding on what it is that makes Santorini wineries so popular to tourists and an essential business to the island's inhabitants.
You will sip wine on the island's Cliffside, visit the underground wine museum, learn the unique conditions of growing grapes, see how local beer is made, meet Santorinian wine makers, and sample Santorini's most famous wine delicacies.
As the best wine tour that the island has to offer, and because the Santorini Private Wine tour is fully customizable, you can even include any of the following tours as part of your Santorini Private Wine Tour experience!
2. Domaine Sigalas
Domaine Sigalas is a Santorini winery that has won numerous awards and has even secured an overall score of over 90 points on leading American wine critic, Robert Parker's rating system.
Definitely at the top of the list, Domaine Sigalas is one of the best Santorini wine tasting experiences the island has to offer.
For the wine connoisseur, we recommend embarking on their Volcano Diver's Santorini wine tour where you will be walked through one of the oldest vineyards on Earth.
With the best in Santorini wine tasting, you will taste 5 different wine labels that are produced in-house and paired with exquisite dishes made by their award-winning chef.
3. Venetsanos Winery
Constructed in 1947, Venetsanos holds a view you'd want to revisit, overlooking the caldera of Santorini.
This sought-after landscape makes Venetsanos a local and tourist favourite for its must-see-scenery when wine tasting in Santorini.
With its own interesting history in this Santorini winery's structural design, and electricity-alternative energy use, outside of their magnificent views, Venetsanos has one of the most wonderful Santorini winery tours.
Because Venetsanos is renowned for its view, their Sunset at Venetsanos Winery wine tasting is not to be missed.
You will be welcomed to the terrace located at the top level of the winery where you will enjoy excellent Santorini wine, assorted platters, and the vibrant view of the caldera at sunset.
4. Avantis Cellar Doors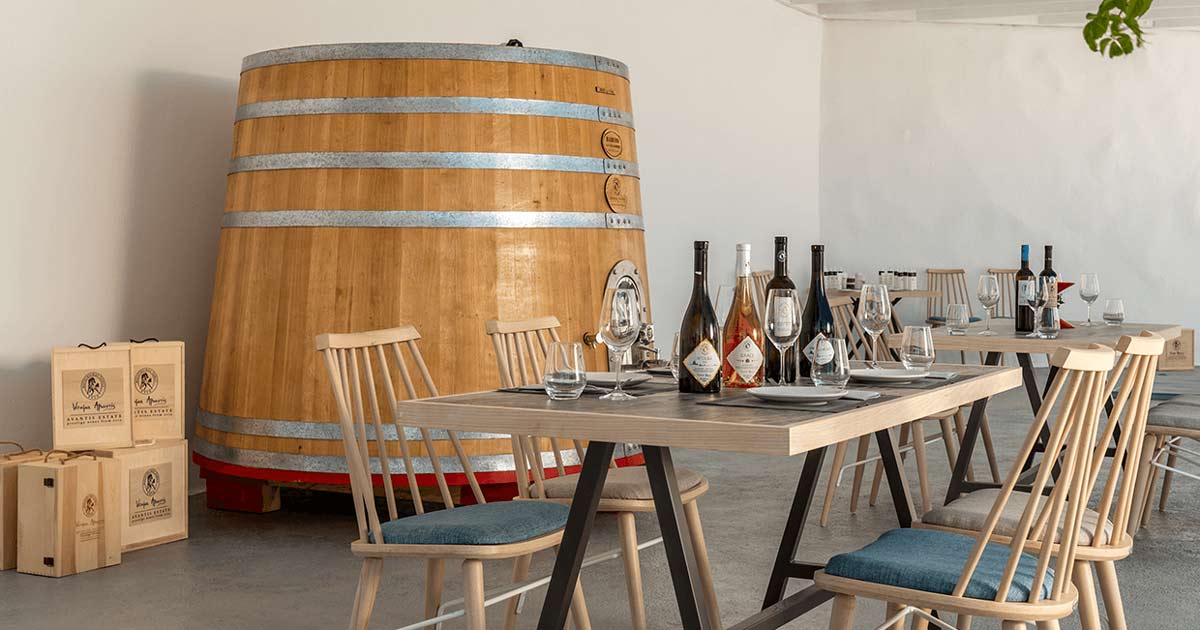 In contrast to the rich and ever-present history that fills the walls and windswept winds of the Santorini Island, Avantis Cellar Doors is where wine tasting in Santorini meets the modern world.
This winery is inclusive of a spa, restaurant, cellar, and a lounging area for a well-rounded Santorini tour.
Offering the best in Santorini wine tasting, Avantis Cellar Door's Anhydrous Experience is their must-try wine tasting package.
Experience exclusive Santorini wines and taste the marvel of the volcanic microclimate's influence on the island's grape diversities.
For wine and travel lovers, if you haven't considered it already, Santorini is a wine tasting and wine tour wonder to be added to your adventure list.
With the recommendation to start off your Santorini wine tasting experience with these four fanciful wine tours, we also recommend letting the ocean breeze take you where it will.
Because in Santorini, no matter where you turn, you'll always be welcomed with a fine glass of wine.