Back to top
Feel the romance in Santorini
Santorini is one of the most sensory getaways in Greece. This colorful and multifaceted gem of the Aegean Sea has an amazing and breathtaking beauty. Its bewitching details can be explored while being on the island through organized shore excursions and tailor-made guided private tours. You may have seen thousands of cards postal or photos of this half-moon shaped island, but when you arrive at the island you will be surprised. Its one of the few places on the world where you can enjoy crystal clear blue waters while walking at the edge of the steaming volcano.
During the last decade, Santorini has a crescent fame as a romantic and -why not? - wedding haven for couples and lovers (not only from Greece but also from all over the world). A trip to Santorini is as o consequence a must. It is a dream for those who have seen photographs of the island's astonishing Caldera and the heartbreaking sunset. But exchanging kisses at the edge of the cliff when the sun goes down is not the only romantic thing you can do on the island! There are more experiences you must live with your other half.
1. Wander around Oia

(marble street in Oia village)
Oia is located on the northern part of Santorini. It is a multicolor village with whitewashed houses that sits on the top of a cliff overlooking Caldera and the volcano. Wander among its narrow trails while breathing the salty air and the aromas of the Mediterranean and admiring the expansive views of the ocean and the sky.
This small village, a palette of colors, is the favorite place of artists, painters, photographers and lovers for its astonishing view and its romantic atmosphere. Sometimes Oia doesn't seem real, it seems like it has escaped from movies and dreams. This idyllic village is for sure one of the most photographed in Greece -not to say on Earth. Even if you will disembark to Santorini for a few hours while on a cruise, do not miss to explore such beauty with our tailor-made tours for cruise ship passengers.
2. Go swimming at Red Beach
Red is the ultimate color of passion. Red beach, one of the most famous of the island, is located near Akrotiri and about 20 minutes south from Fira. Visiting a beach with the color of love will get you and your partner in an amorous mood. If the God of love has a haven, that's a cove at the Red beach where you can swim while admiring the different colors of the cliff mirrored to the blue sea.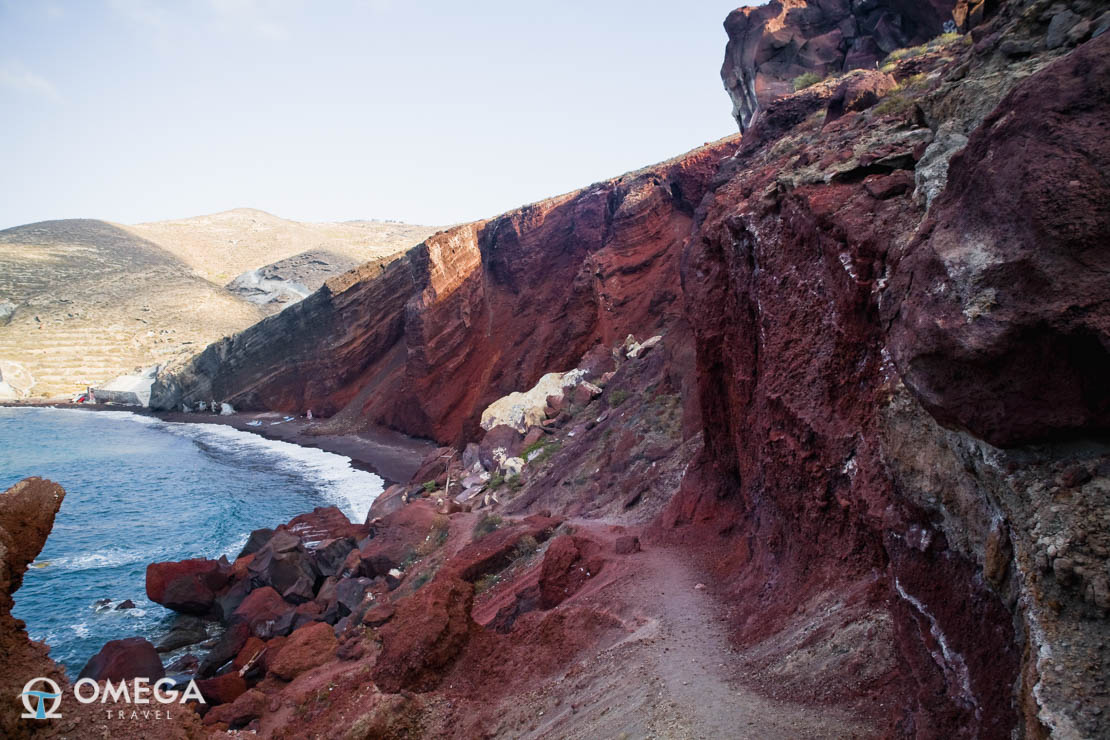 (dangerous and beautiful red beach)
3. Eat fresh seafood during a volcano trip
A trip to the volcano is an unforgettable experience. Not many people have experienced the volcanic power of a hot steaming breath. Prefer an evening trip to the volcano in order to experience the amazing sunset on board, while eating local products and traditional recipes mixed with international ingredients to create delectable plates.
4. Donkey ride
Romance can sometimes be found in humor and laughter. Santorini offers such an experience with donkey rides. Try not to laugh while watching each other hold on for life on a donkey that heads up the cliff of caldera. This experience is surprisingly endearing.
5. Cave hotel
If you can afford it, spend a night into a cave. It is the most romantic accommodation the island can offer. Cave houses or yposkafa -as called in Greek language- were historically built by the locals to protect themselves against gusty winds. Nowadays, they have been renowned into luxurious places to stay, that offer stunning views.
(some of the cave hotels in Oia village)