Back to top
Akrotiri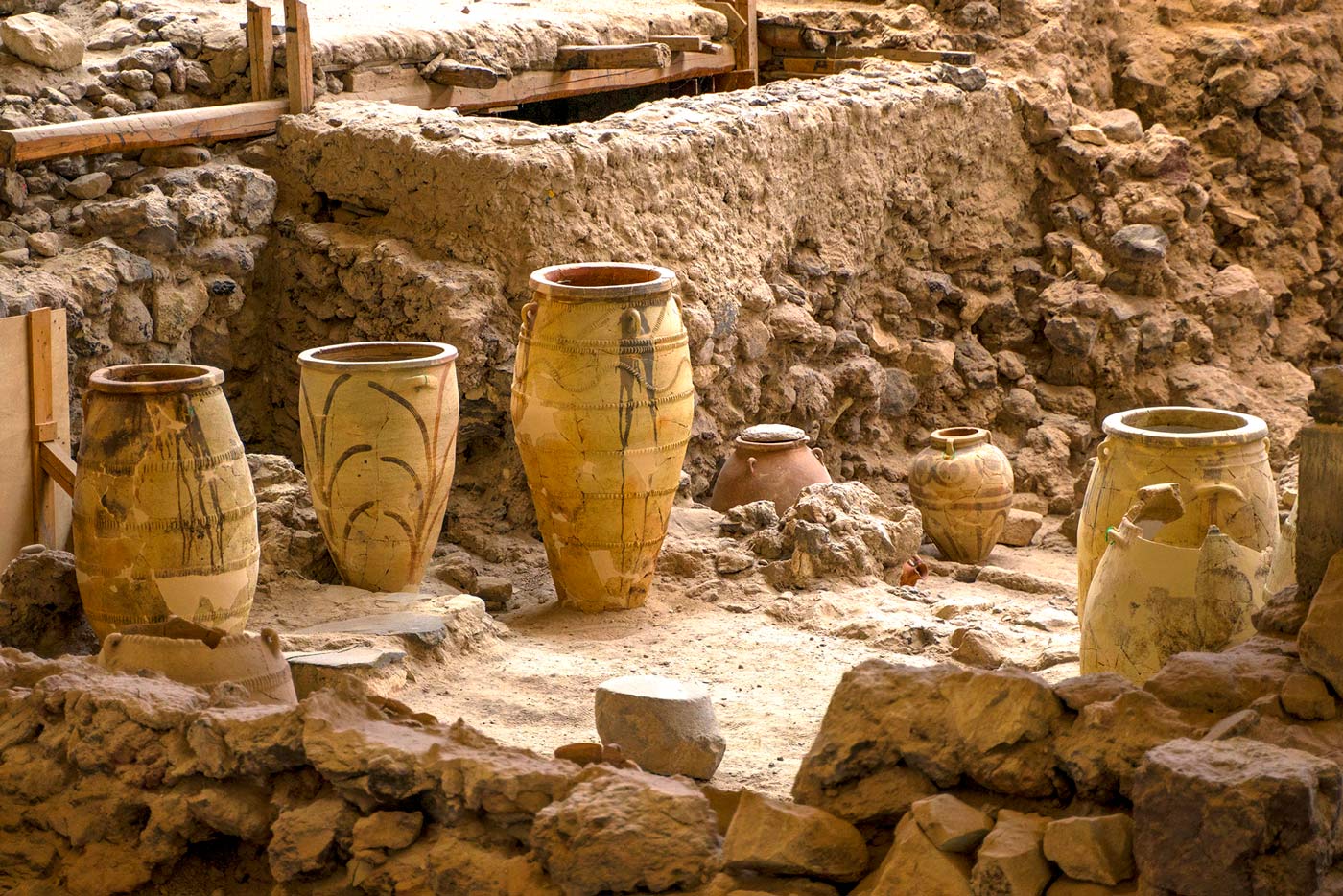 The Prehistoric Preserved City in Santorini
Greece's Pompeii
For most, a visit to Santorini comprises vineyard adventures, views of the incredible caldera, beaching, and boating.
But for a select few history lovers, Akrotiri is likely to be the main attraction for a Santorini excursion.
Dust Away The Ash & Discover The History Beneath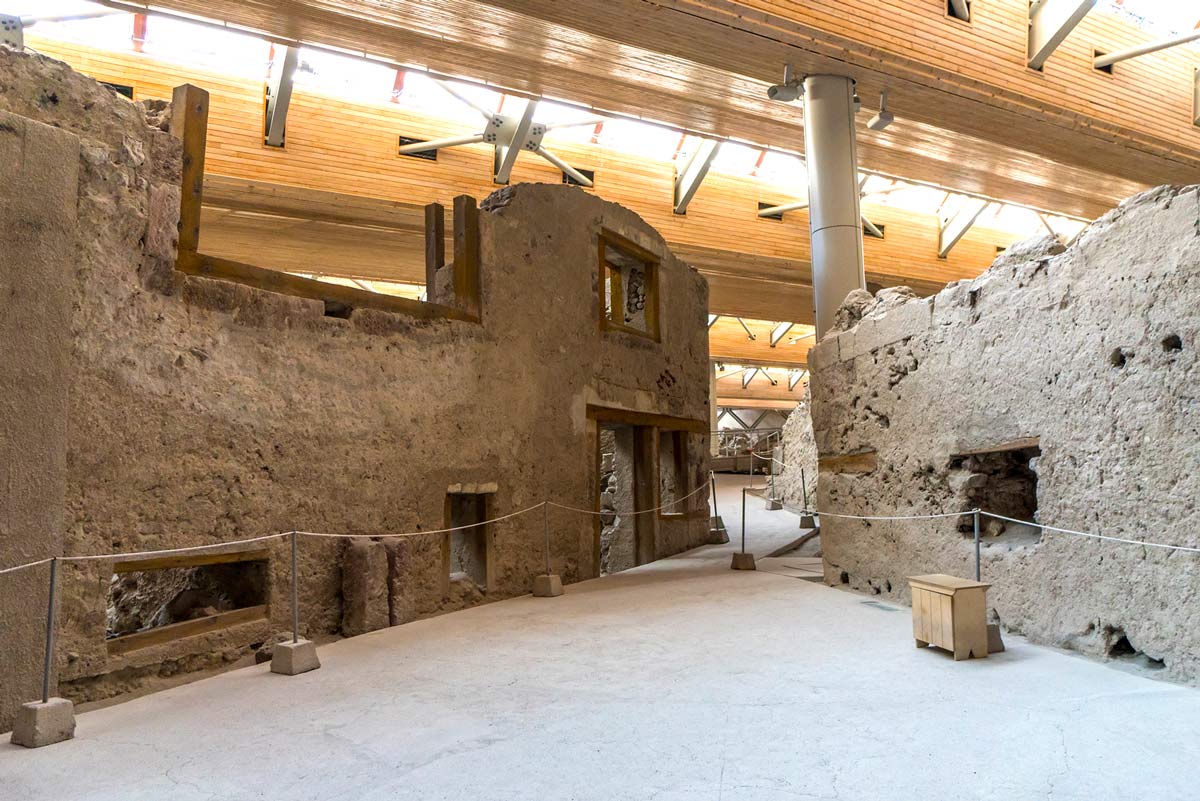 Located south of the villages of Oia and Fira – and nicknamed Greece's Pompeii – Akrotiri is a Santorini archaeological site of a city buried by volcanic eruption.
Like its preserved Roman counterpart, Pompeii, the Minoan remains of Akrotiri are impeccably well-preserved.
This ancient city was enveloped by a blanket of volcanic ash in the late 17th century B.C.
This occurred when the volcano, Thera, upon which it was built, erupted.
Because of this, its remains were frozen in time until they were uncovered in 1967 by famous Greek archaeologist, Spiridonos Marinatos.
Simple Fishing Village
Turned Prosperous Port City
Akrotiri in Santorini is considered to be one of the most sophisticated settlements of the Bronze Age.
What started out as a simple farming and fishing village, in which locals would grow olives and grains, is now one of the most vibrant and eclectic cities of our time.
This has to do with the location of the ancient city.
Akrotiri was perfectly positioned between the oceanic trade route of Europe and the Middle East. Because of this, Akrotiri was able to take part in trade, securing foreign items and materials which most notably included copper.
Thanks to the external influence of other Aegean cultures, Akrotiri was able to expand their city to include a myriad of modern designs and features.
These included paved streets, an elaborate and extensive draining system, hot and cold running water, and some of the first recorded in-house toilets.
One of this ancient city's most impressive feats is the fact that its inhabitants lived in two- and even three-story houses, equipped with balconies and – get this – underfloor heating.
More About The Minoan People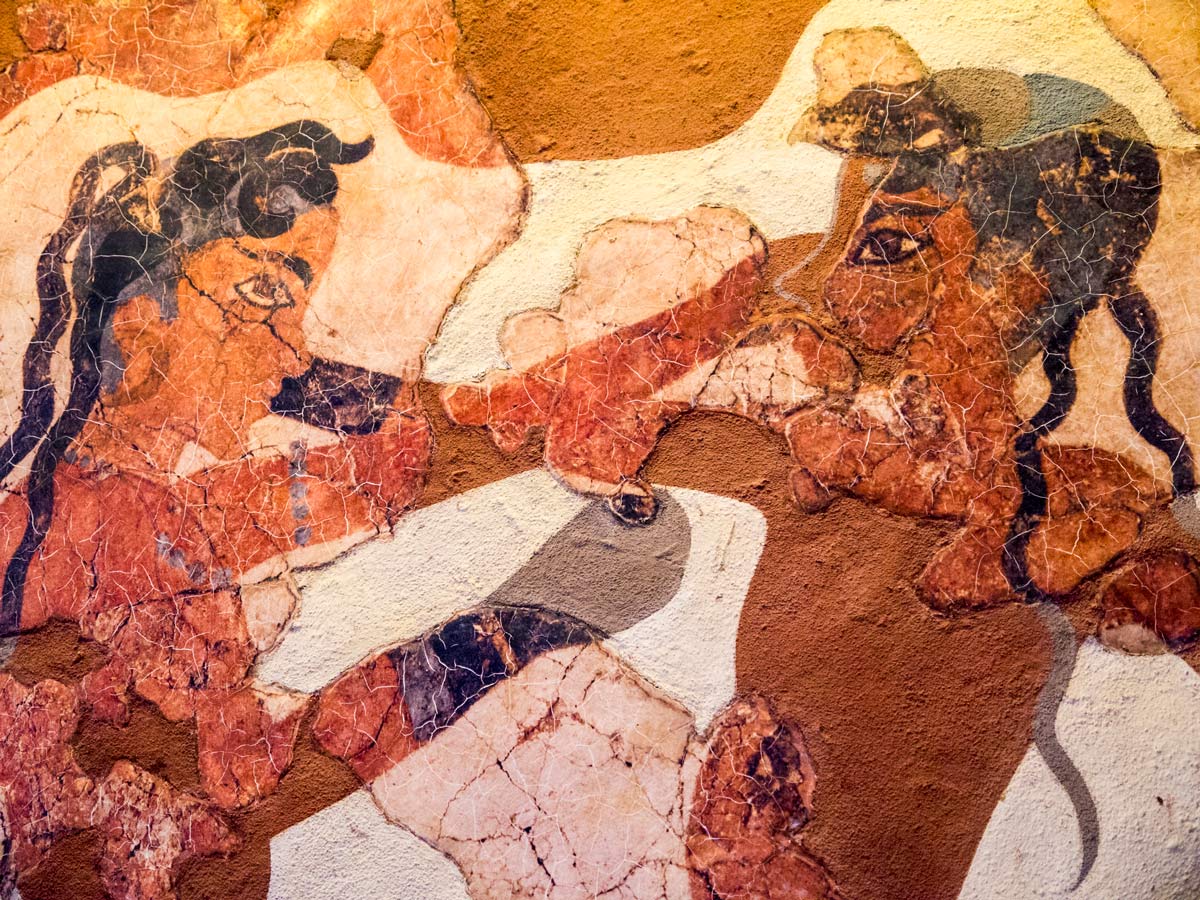 The Ancestors of Akrotiri
Because their city was built upon an island that housed a volcano, Akrotiri's urban planning was dense.
This resulted in multi-story construction of houses, shops, and markets.
From its archaeological excavation, historians and artists have deduced that the Minoan people of Akrotiri were soft-natured and gentle.
These interpretations have to do with the large and detailed fresco decorations that detail dozens of the ancient city's walls.
These frescoes depict a rather luxurious and rich middle-class society whose people were elegantly dressed and enjoyed life's finer things such as art and wine.
Are There Statue Remains of the Minoans?
Because Akrotiri in Santorini is often referred to as Greece's Pompeii, many assume that there would be statuesque remains of the civilization's inhabitants.
As breath-taking and hauntingly beautiful as this would be – having two places on Earth where people were immortalized by natural disasters – this reality isn't true for Akrotiri.
Archaeologists theorize that the reason for this is that the city's residents fled before the eruption of Thera took place.
With warning signs of a volcanic eruption often being precursory by varying degrees of earthquakes, the Minoan people of Akrotiri likely fled before their fates were sealed.
More than this, throughout the ancient city's excavation, archaeologists have not uncovered many items or artefacts of value.
This further supports the idea that these people packed up, left their homes in Santorini, and took their personal and precious belongings with them.
How Much of Akrotiri Has Been Uncovered?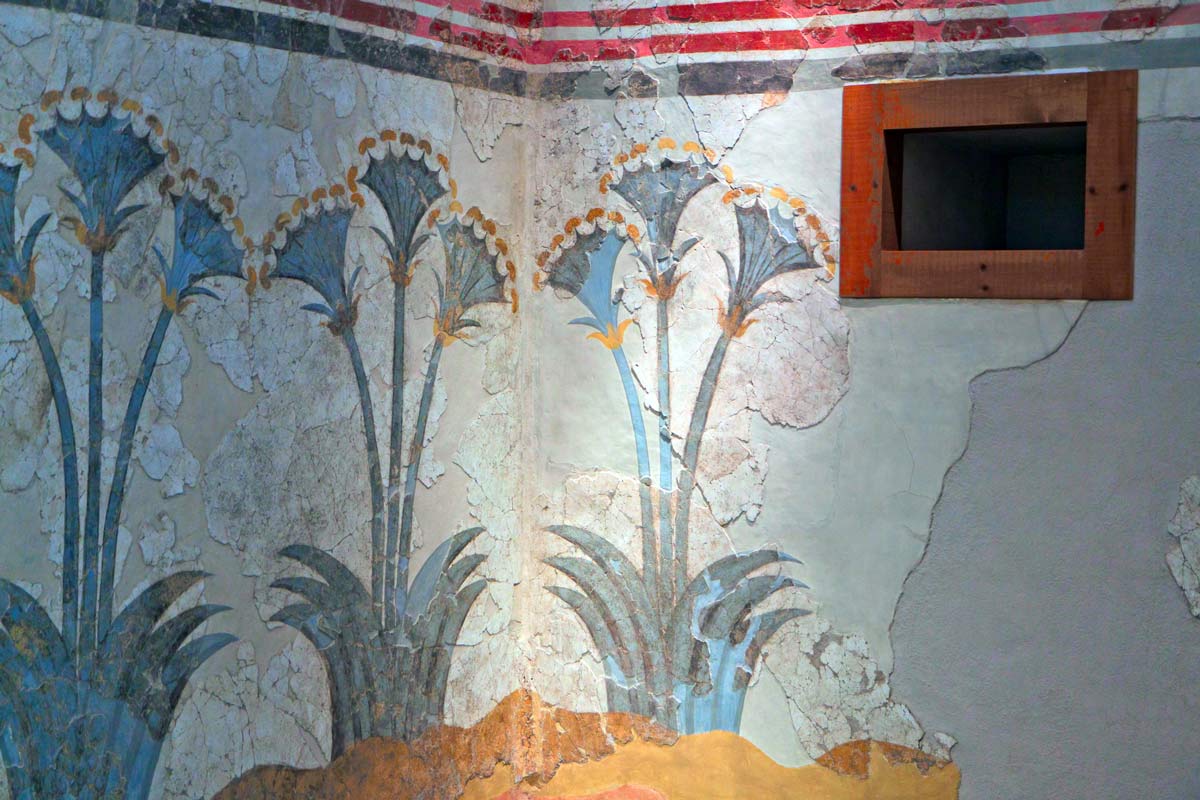 The eruption of the volcano Thera is one of the largest ever recorded.
In fact, its impact was so enormous that it blew the island of Santorini apart.
The result of this eruption is the tourist-attracting four-mile-wide caldera that can be seen from almost any vantage point in Santorini.
The eruption was so colossal that it caused an approximately 100m high tsunami that crushed the Crete coastline and even reached as far as Egypt.
Because Akrotiri was right next to the impact, by the time the dust had settled, only dust remained. Akrotiri had been buried beneath an estimated 200-foot layer of volcanic ash and island debris.
After centuries of abandonment, Santorini was recolonized and new settlements started to spread across the island.
In 1806, where the Suez Canal started construction, workers began discovering the remains of the ancient city. It took almost 100 years for true excavations to begin.
Since 1967, archaeologists have uncovered nearly 40 buildings, but with an estimated 20 hectares of land to discover, there is still so much to be found.
Visiting Akrotiri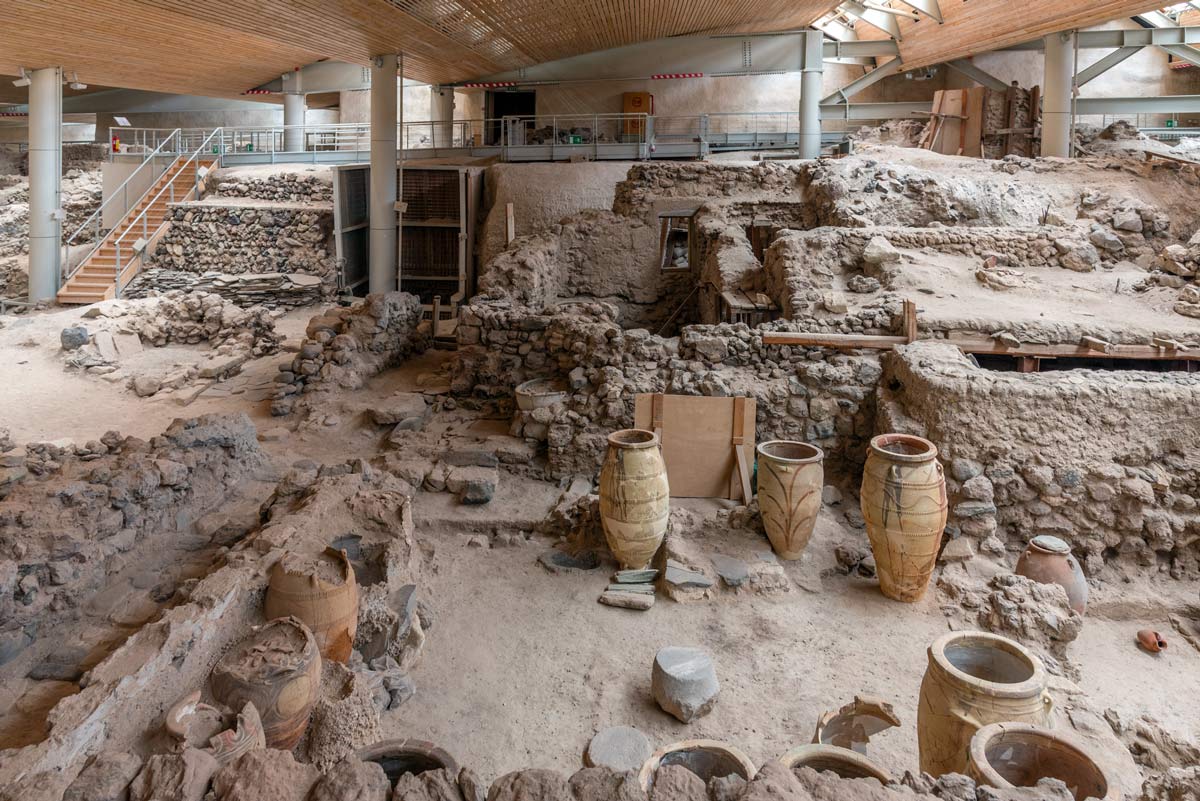 What To Expect From Your Archaeological Adventure
The Akrotiri archaeological site is covered by a bio shelter.
This means that come rain or shine, you can see the ruins of this ancient settlement in all its glory.
The building that houses the site provides natural air ventilation in the summer, and – during the winter or rainy seasons – you will be protected while you peruse this prehistoric paradise.
The reason for the Akrotiri archaeological site being housed within another building is largely to do with the fact that the Minoan buildings were made from mud bricks.
This makes them incredibly susceptible to water damage.
There are walkways built above the city and all around it, so you can walk through the ruins and catch a top-view of all that once existed beneath.
What You'll See
Because this ancient city housed a small civilization, almost all of what you will find are the remnants of everyday living.
You'll Discover:
Perfectly preserved painted frescoes
Hundreds of locally-made and imported pots and cups
Glimpses of drainage systems
Stone paving and buildings
…and some artefacts.
For safe-keeping, most of the artefacts that have been uncovered have been moved to the archaeological museum in Fira.
If you really want to take a look at the most artistic frescoes found, you'll find them on display at the National Archaeological Museum in Athens.
How to Get to Akrotiri
Pick from Private or Public Transport
For many holidaymakers, your hotels and other accommodation packages may include a guided tour of Akrotiri.
If so, a transfer to the site should be included.
If a tour of Akrotiri isn't included in your stay, and you want to know how to get to Akrotiri, you can always travel to the site using the island's safe and reliable public transport.
Every week, there are regular bus trips to and from Akrotiri.
You can also choose to take a taxi if you wish to capture and experience a bit more of Santorini's culture.
Each of these options will take you from Fira and will travel a distance of 10km.
This takes roughly 10-20 minutes only.
You also have the option of walking to Akrotiri, which should take approximately 2 hours.
Should you lack the energy to return by foot, you can always hitch a ride back with one of the buses or taxis available.
Entrance Fees & Visiting Hours
Akrotiri in Santorini is one of the only places on the island that requires its guests to pay an entrance fee:
Adults – €12
Kids up to 18yr – Free
The standard visiting times for Akrotiri are between 08h00 and 20h00. But please be sure to check the schedule on holidays and religious occasions, as these times are subject to change.
Experience Akrotiri When You're Next in Santorini
Book a Guided Tour With Us Today!
Although it is absolutely possible for you to explore and adventure through the Minoan remains of Akrotiri on your own, we recommend opting for a guided experience instead.
A proper guide with narration will enable you to uncover even more about Akrotiri that can't be achieved through solo research alone.