Back to top
Explore Santorini with a Shore Excursion and Tour its Idyllic Views, with Santorini Best Tours!
As picturesque as they come
There is nothing quite like stepping aboard a cruise ship, on your way to an unforgettable holiday. Yet, approaching the shore as picturesque as Santorini will surely cause you to burst from excitement. There is nothing more memorable than cruising in the Mediterranean, ready to explore Earth's most beautiful sights.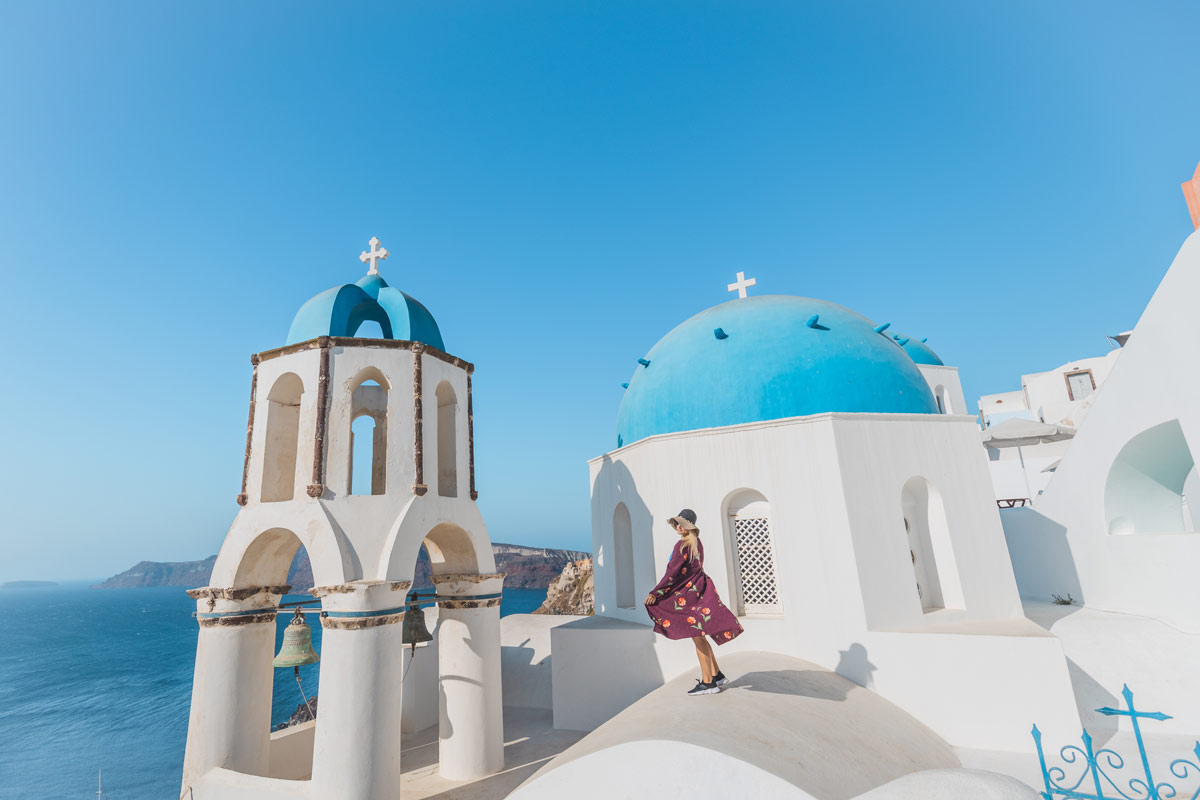 What's so special about Santorini, you may ask?
Imagine towering rocks, the power sight of an active volcano, sugar-cube buildings and, most of all, a clear blue ocean inviting you in for a swim. But don't get us wrong, Santorini isn't just looks. There are many unmissable must-sees in and around this tiny island, located in the middle of the Aegean Sea.
Stretch your worldly knowledge to its brink
Santorini is rich with history and waiting to feed your mind with its interesting character. 3,600 years ago, a catastrophic volcanic eruption sunk more than half of the island – which fueled a tale of Santorini being the Lost Atlantis. The formed caldera (opening) is one of the most spectacular natural sightings that Greece has to offer!
Must-sees for an optimal cruise stop
For cruise travelers are some key sights and locations to explore in and around Santorini. These include, among others:
1. Fira, the capital of Santorini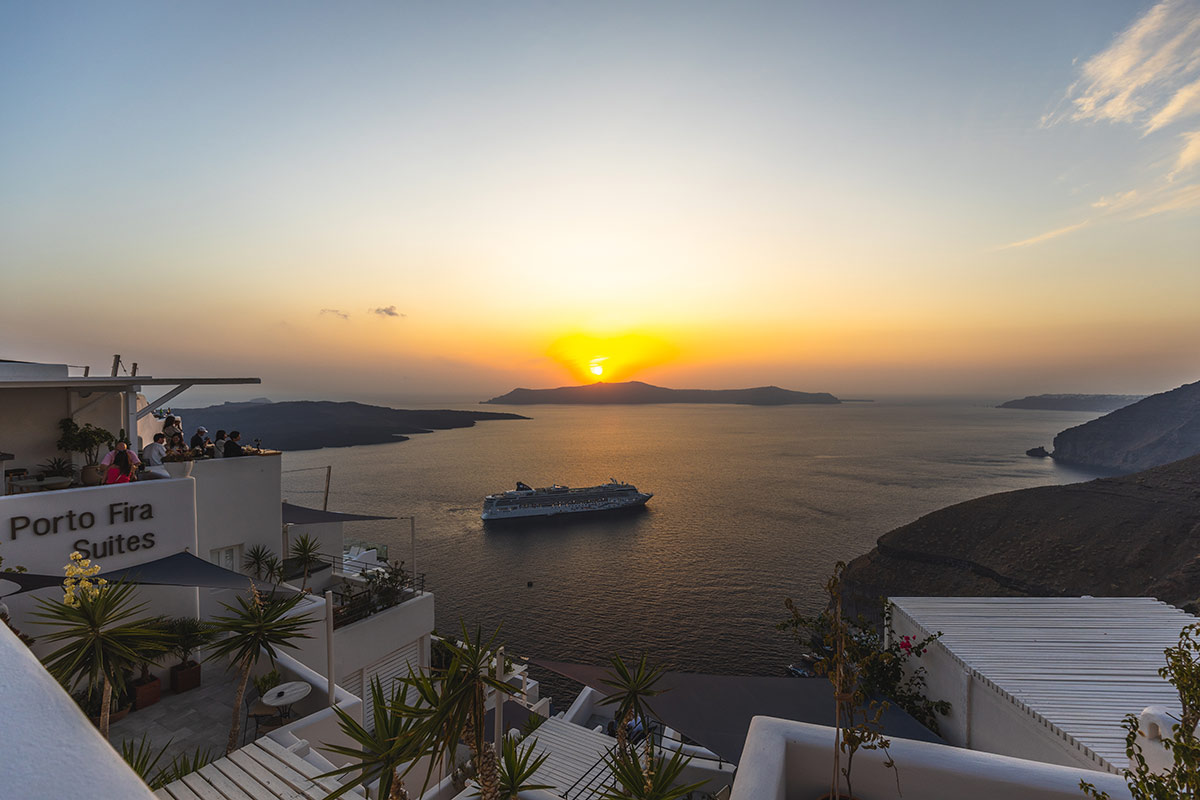 Take a trip to Fira and experience the Museum of Pre-Historic Thira. Then, take a walk to Skaras Rock, watch the incredible sunset on the beach and join the thrilling nightlife Fira has to offer.
2. Oia
Best known for its magnificent sunsets and sunrises, Oia captures the very essence of Santorini. Its cave houses, built in volcanic rock, and captain's houses make for a picturesque scene.
3. Imerovigli
Thinking about it, the whole of Santorini is known for its incredible sunsets and sunrises! Imerovigli is known as the "Balcony to the Aegean". Its houses are built amphitheatrically around the caldera. Take a peaceful walk through its narrow paved paths to the caldera.
4. Firostefani
Meaning "Crown" in Greek, Firostefani is the highest point of Fira, hence its name. Because of its height, it has a magnificent view of the volcano.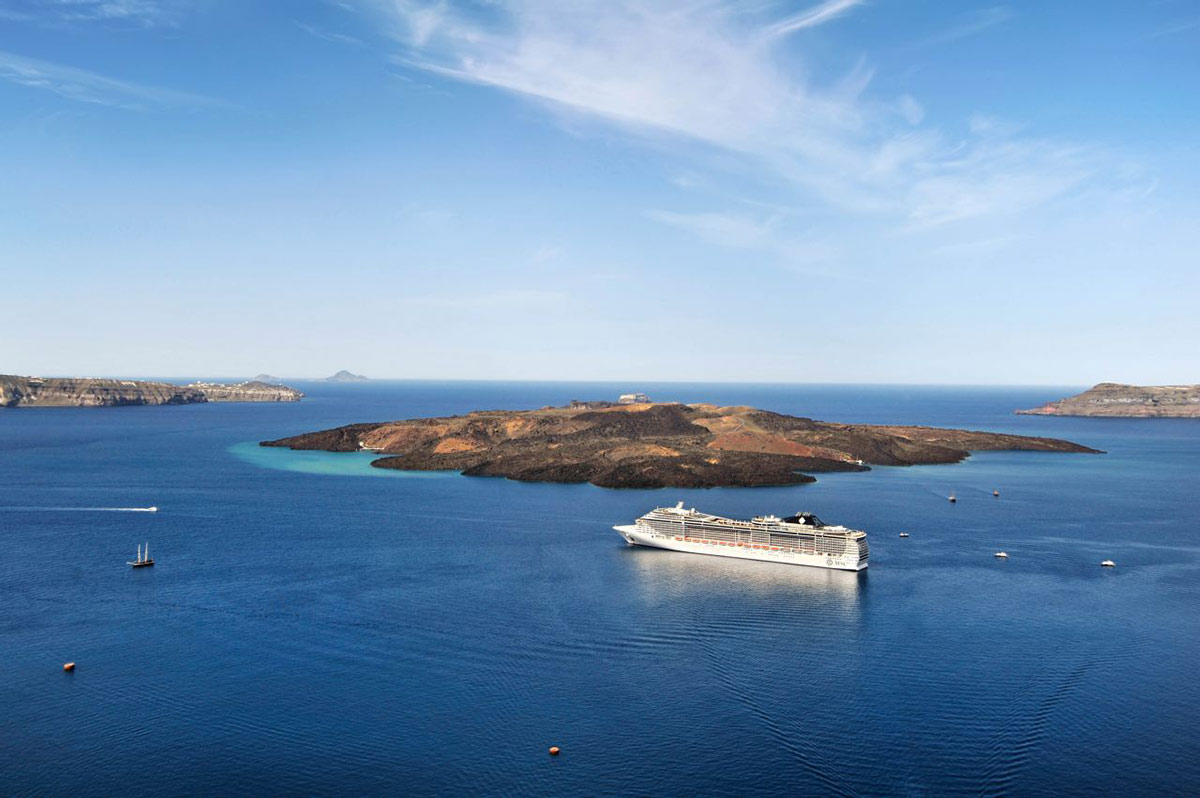 5. Pyrgos and Empereio
One of Santorini's monuments of medieval heritage, the imposing Pyrgos Village is located in the center of the island. Pyrgos is the perfect combination of everything Santorini has to offer. From the Great Vineyard of Santorini to its rich history, architecture, and many more.
6. Profitis Ilias
Known for its beautiful view and old, stone Monastery.
7. Akrotiri
Akrotiri means "cape" because of its natural actual promontory position. With one of the most beautiful lighthouses and scenery in Red Beach, Akrotiri is sure to steal your heart.
8. Volcanic beaches
The Black Sanded Beach, located on the Perissa Beach, is an outstanding showcase of Santorini's historical value. You will be absolutely astonished with the stories Santorini Tours has to offer.
Wine, wine, and more WINE!
Go on one of the Santorini Shore Excursions for cruise travelers and visit the local winery and other culturally-satisfying sightings in luxury and style.
Want to know all there is to know?
The Discover Santorini Tour will guide you to all of the most prominent sights of Santorini, from the idyllic sunsets of Oia to the blue domes of Firostefani. Experience all the major attractions of the island with a guided private tour, so you don't get lost in its beauty. Santorini Shore Excursions has fully-customizable excursions to suit your specific niche. Whether you are a foodie, wine fanatic, aspiring photographer, or just a cruise traveler, Santorini Shore Excursions will cater to your adventurous needs.