Back to top
3 Great Santorini Tours for Backpackers
Thanks to booming tourism, the island of Santorini has become a vacation hot-spot and is full of fancy hotels, resorts, and gourmet restaurants. This hardly sounds like it would be backpacking-friendly, but have no fear; there are still plenty of options to enjoy the island on a budget, even when it comes to touring.
A Few Quick Tips for Choosing a Tour
When researching Santorini tours, a few things to look for are: 1) transportation included in the price, 2) duration of the tour, and 3) the guide(s). If transportation is included, you won't have to worry about finding your way through a strange place or getting there on time. Some hostels on Santorini are close to bus stops, making it easier for backpackers to get around.
The kind of tour and duration should jive with the price. If someone offers a 2-hour walking tour for 80€, you might want to get more details about what you will experience before spending a fortune on something you can do yourself as you walk the island.
Lastly, make sure your guide has vast local knowledge and experience leading groups of people. It takes a special kind of person to be a successful tour guide, so it's not too much to ask that you get the best when you pay for someone to show you around.
Keeping the above tips in mind, here are three tours that will get you the most bang for your buck if you plan to see Santorini on the cheap.
Winery and Brewery Tour
Speaking of qualified guides, Omega Travel's Winery Tour is led by a licensed sommelier. You can't get a better guide than that when it comes to the island's rare grapes and deeply rooted tradition for making spectacular wine.
Transportation is included in this tour and the group is kept small – up to 8 people at the most. By limiting group size, you can get into the smaller boutiques and places frequented by the locals. Other winery tours do not keep group sizes down and so do not give their guests an opportunity to see these more intimate wineries. An added bonus – this is the only tour that visits a brewery.
The winery and brewery tour is sure to please everyone in your party with many different wines, beer, and a highly qualified guide with local knowledge. This four-hour excursion will tantalize your taste buds and show you quaint hidden gems of Santorini.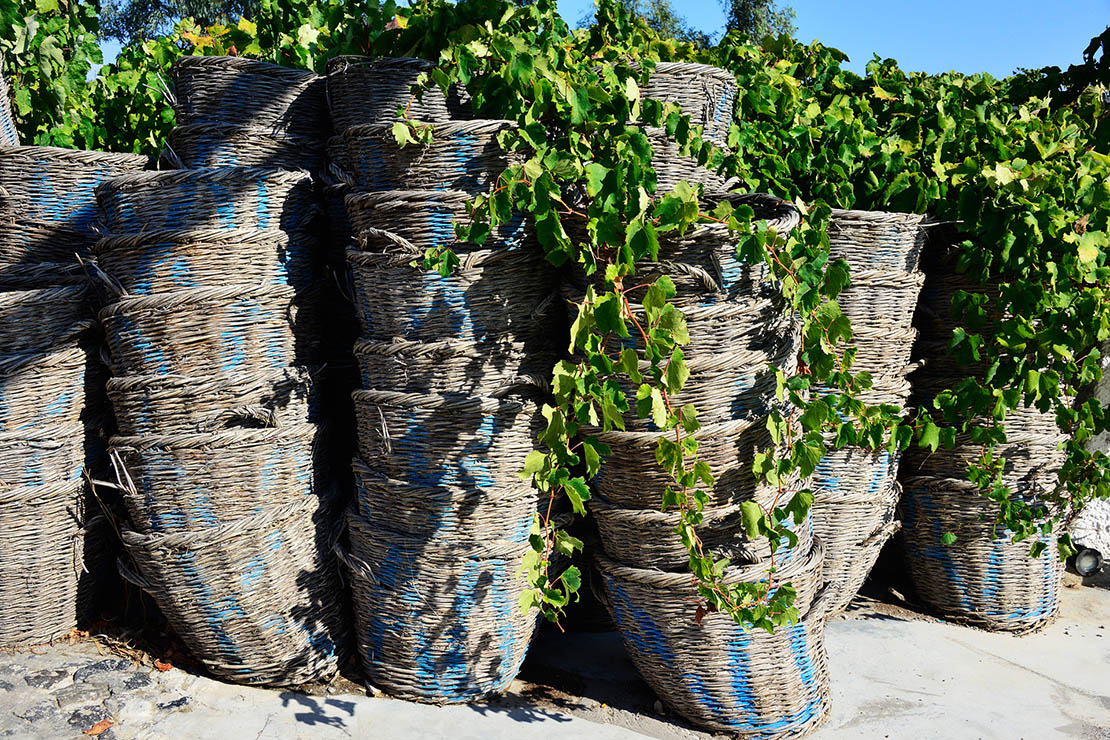 (Baskets of grapes)
Santorini Volcano Tour
Your trip has brought you to the place of one of the most infamous volcanic eruptions in history – why not see the volcano for yourself during your stay on the island? There are a few volcano tours to choose from, beginning with an all – inclusive approach that offers dinner onboard your ship to the very basic with a direct ride back to where the voyage began. All versions of this tour include transportation from and back to your village meeting point.
All tours make the same stops during the main part of the tour; the volcano, hot springs, and Thirasia. The differences come in toward the end.  The high-end tour will anchor just off the coast of Thirasia to enjoy a traditional meal onboard, whereas the other two versions of the tour will have 2 hours to explore the village and find a place to eat there. Another bonus of the high-end excursion is seeing the sunset over the island's iconic village of Oia before disembarking. The next tier down has you disembark in Oia and enjoy the view before getting a ride back to where you started, and the final option is for you to remain on the ship as it sails back to the port where you began.
Given these options when it comes to touring the volcano, you're sure to find at least one experience that works with your budget. It would be a shame to miss seeing the Santorini volcano when you're already so close.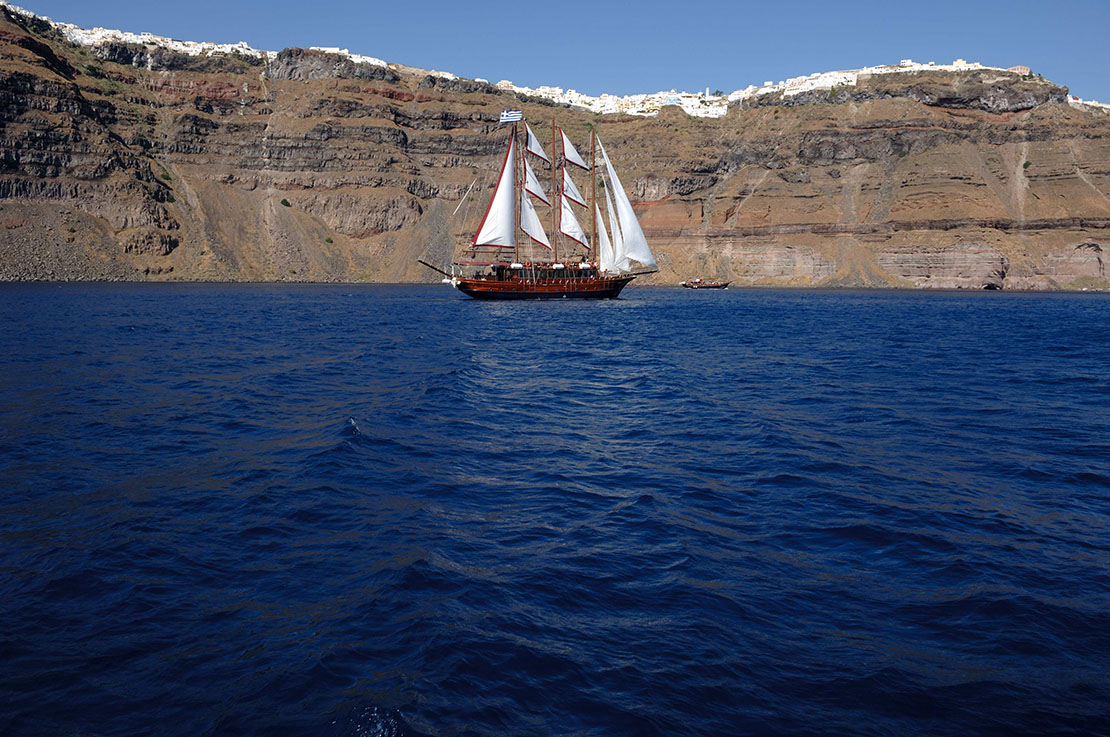 (Caldera cliffs and Aphrodite vessel from volcano tour) 
Santorini Food Tour
You have to eat at some point and even those on a budget should get the opportunity to feel like a VIP at least once. So why not set aside an evening of your stay and take advantage of all the unique flavors the island has to offer with a Food Tour?
Another intimate tour setting and lasting 5 hours, small groups are led to best local restaurants and taverns where the recipes have been handed down through generations. Experience the unique and bold flavors of the island and taste the tradition that is Greek cuisine.
(Tomato balls & Santorini salad) 
A Santorini Tour is Within Your Grasp
There are many day tours to choose from that you can enjoy and afford. Contact us today and we'll help you find the perfect one.