Back to top
The 4 Most Romantic Tours in Santorini
Santorini, Greece is one of the most beautiful places to visit on the Aegean Sea. Many couples venture to the island for a romantic getaway, and rightly so. There are breathtaking views around every corner and many quaint establishments offer a place for an intimate moment. When you and your loved one consider the island of Santorini as a vacation destination, keep in mind that there are many romantic things to do. Sightseeing, enjoying a meal, and watching the sunset together are just a few fun activities guaranteed to ignite that spark. Here are 4 romantic tours in Santorini for every couple.
Sailing at Sunset
What is more romantic than watching the setting sun together? Why not enjoy it from the water? With an evening Sailing Trip, you can view the iconic village of Oia as the reds and oranges of the island's famous sunsets reflect off the village's bright white buildings. The colors are so rich, it will seem as though the village is on fire.
There are a number of sailing trips to choose from, but most include the following:
Transfers to and from the port: We'll pick you up in a designated spot so you don't have to worry about finding your way around a strange place.
Visiting remote beaches: There are a few stretches of sand that are most easily accessible by water – Red Beach and White Beach. Named for the colors of their surrounding rock formations and sand, these beaches are always worthy of a photograph or two.
Hot Springs – Enjoy a romantic dip in the famous hot springs. Relax and reconnect as the hot water calms and soothes achy muscles.
View the Volcano – You'll want to snap a few photos as your luxurious vessel glides by the Santorini Volcano.
Watch the sunset – A unique view of the sunset is offered on evening sailing trips. Watch the sun dip into the dark blue water as you effortlessly glide over the waves of the Aegean Sea.

Wine Tasting
Our wine tasting trip is much different than you might think. We keep our tours small, even just to one couple if you prefer. We do this so you can experience the smaller boutiques of the island that large groups cannot have access to. Did we mention that your guide is a licensed Sommelier? Not only can your tour be private, it will be led by a highly qualified, friendly guide that will see to it you taste what you are most interested in.
Santorini is famous for its rare grape varieties and grape-growing traditions. A wine tasting trip is offered in the evening and lends a romantic feel to the experience. Here is a brief overview of a wine tasting trip:
Duration is 4 hours: plenty of time to enjoy the flavors and ambiance of each winery on your tour
Multiple stops: You'll visit a handful of wineries to sample flavors unique to the island and learn a little bit about how grapes are grown here
The last wine tasting will occur at sunset
Gastronomy Tours in Santorini
Santorini is in Greece, so why not take advantage some of the best food while you're here? A Food Tour will bring to you to places off the beaten path for an intimate culinary experience. Some of the chefs might even let you in on some secrets of their family recipes. Here's what to expect from a food tour:
Transportation is included, beginning and ending right at your hotel if you wish
Wine tasting in Megalochori
A stop at a quaint café in Emborio (after seeing a medieval fortress!)
Enjoy locally grown food from a traditional Santorini farm
Share an afternoon meal at a traditional family tavern in Akrotiri
Horse Riding
If you and your loved one are a little more on the adventurous side, we highly recommend a horseback riding. There are a few different versions of this experience, but the most romantic is a 2-hour ride that brings you through a quaint village full of history, over the wild landscape of the island, and finally to a romantic stretch of beach.
Get acquainted with your horse: Friendly staff will make sure you're comfortable with your ride for the day and refresh some riding skills
Discover Megalochori: Riding through the village of Megalochori, view the unique architecture and get a feel for this village's rich culture.
Head to the beach: Just outside of Megalochori, rolling hills turn into sharp cliffs and winding paths that finally lead you to a secluded stretch of beach covered in black sand. Take a moment to walk hand-in-hand with your love and feel the waves as they lap up on the shore.
Ride back to the stables: Taking a different return route, your day of discovery on horseback will end when you get back to the stables.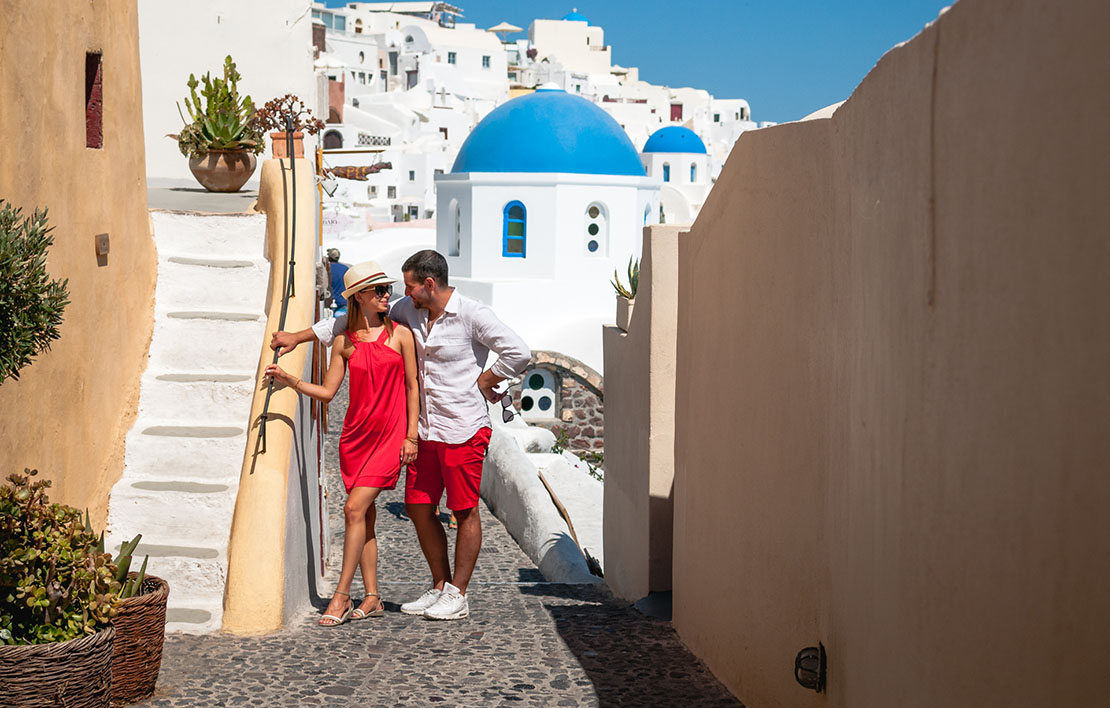 Romance is Around Every Corner
This archipelago is one of discovery and passion. Enjoying any one of these tours in Santorini is sure to surround you with beautiful scenery and make for an unforgettably romantic experience.