Back to top
Santorini Boat Trips: What to Expect on the Water
When trying to decide what to do during your vacation in Santorini, be sure to spend some of it on the water. After all, Thira is an island. There are many wonderful things to discover during Santorini boat trips on and around the island; you just have to decide what you'd like to do and see.
Even if you came here by a cruise ship, sailing around the island will get you access that a cruise ship can't. Some places are only accessible by boat, so to get the most out of your stay, hop on one of the daily sailing tours to see something new.
Choose Your Own Adventure
As for sea excursions, there are a few different boat trips to choose from, all of which will ensure a day of fun riding the waves. From basic luxury sailing tours to completely customizable catamaran tours, there is something for everyone. Choose from tours that offer a meal onboard, visit a collection of famous beaches and landmarks, or sail at different times of the day. Here is a brief outline of what to expect on each kind of tour on the Aegean Sea:
Morning Excursions – Experience the waters of Santorini during the bright daytime hours when you can really soak up the sun. Access various beaches, see the active volcano and other landmarks, and possibly enjoy a traditional Santorini meal as you sail around the island.
Evening Excursions – If you're in the mood for a romantic end to the day, an evening tour is something you won't want to miss. Viewing beaches, seeing unique land formations, enjoying dinner (available on select tours), and finally experiencing Santorini's sunset over the famous village of Oia is sure to be a day to remember.
Private Catamaran Tours – Completely customizable, you can choose what you see and what special activities to do throughout your time on the water. There are many options to choose from including scuba diving, fishing, sailing lessons, cooking lessons, wine tasting, massage, and yoga.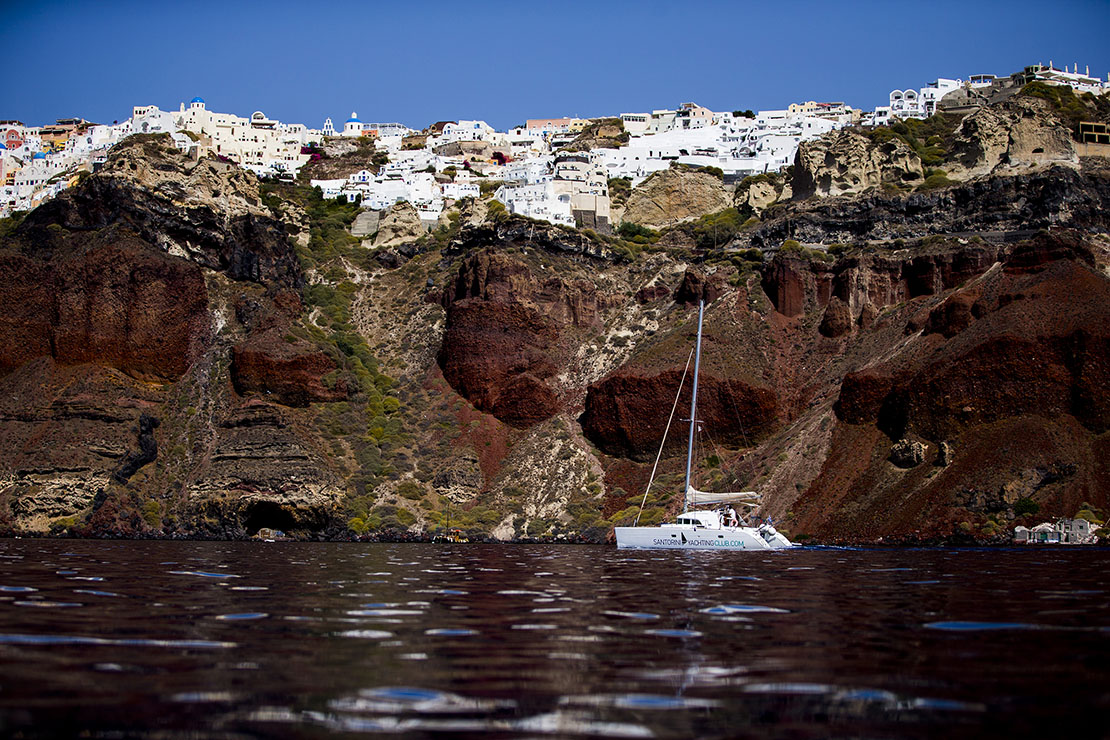 A Fantastic Crew Makes for an Unforgettable Experience
While onboard any one of our brand new catamarans, the crew will make you feel right at home. Each crew member takes pride in making you feel like royalty with customer service like you have never experienced before.
Each one extremely knowledgeable in their own niche on a boat, the staff are very friendly and they will do everything they can to make sure you are comfortable and get the most out of your experience on the Aegean Sea. If you have any questions at all, they are happy to help. They love being on the water and are eager to help you love it too.
Special Access by Boat Only
While there are many beaches around the island, there are a few only reachable if you navigate the surrounding waters. Red beach and white beach are two of the most iconic stretches of beach Santorini has to offer. Their colors alone draw many visitors every year. Red Beach's rich hues and surrounding high red cliffs makes vacationers feel worlds away. White Beach boasts a black and white speckled field of pebbles between the bright rock formations and the crystal blue sea.
Another must-see is the biggest active sea volcano. The submerged volcano of Santorini, while capable of being seen from the main island, is meant to be experienced up close and personal. Visitors to the site get to climb to the top and walk along the edge of the caldera. If you get the chance, be sure to take a dip in the nearby hot springs.
Also, just a boat ride away is Thirasia. In this village, you can deepen your island experience as you enjoy more authentic Greek food and culture with traditional taverns and shops.
Santorini Boat Trips: the Volcano is Just a Short Ride Away
Choosing a boat trip in Santorini that includes a jaunt to the volcano will not disappoint. Some tours sail near the island and others allot time for you to explore it. If the volcano isn't on your list of things to see while you're here, it should be. How often do you get to see one of the earth's volcanos and even get the opportunity to climb up to the edge of it?
Whether you choose a tour that gives you time on the volcano or not, there will be plenty of opportunities for breathtaking photographs. Rumored to have started the legends of Atlantis, the Santorini volcano was responsible for one of the largest eruptions ever recorded. Just seeing it will leave you in awe.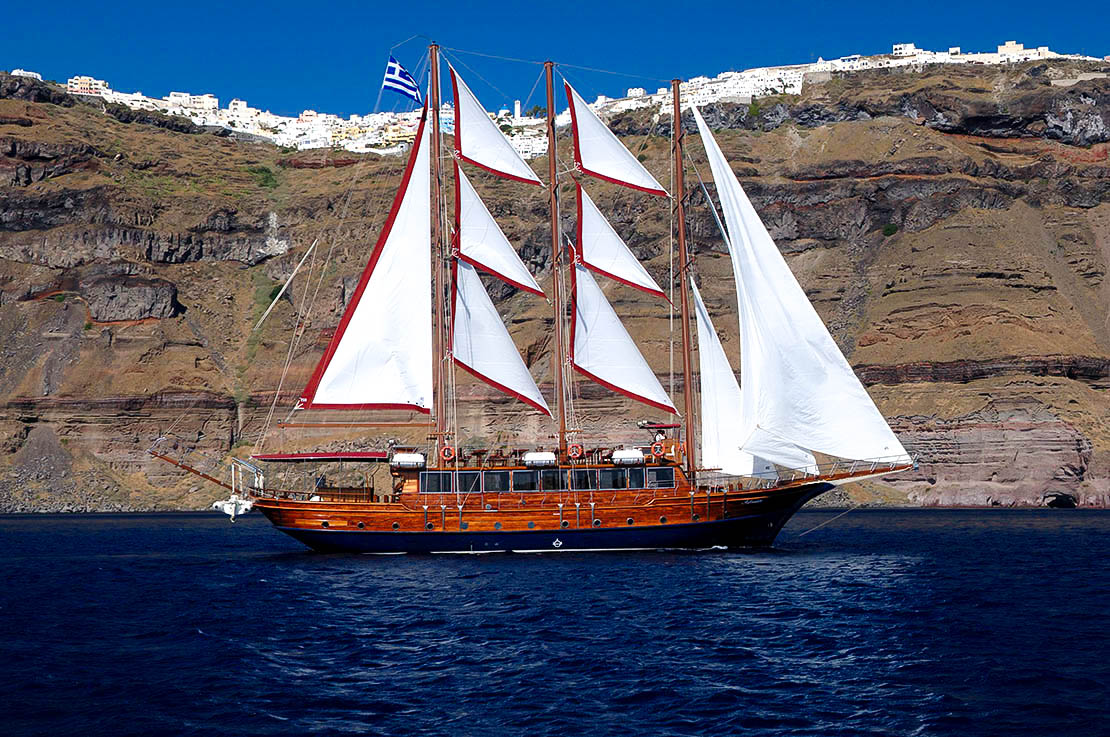 Time on the Water is Time Well Spent
A Santorini boat tour will bring you close to a natural wonder and give you a unique perspective with 360 degrees of awe-inspiring views.
Putting aside some time to enjoy the Aegean Sea is sure to add excitement to any holiday, especially with different day tours to choose from. You don't have to worry about getting the most out of your time because your sailing experience can be personalized. With many boat tour options, the perfect excursion on Santorini waters is up to you.
This place has so many fantastic places to visit and sights to see - there truly is something to discover around every turn. Start planning your day on the water. Contact us and see what the Aegean Sea has in store for you.