Back to top
Top 12 Things to Do in Santorini & How to Make the Most of it!
If you've been looking for the best destination for your island getaway, Santorini is bound to be at the top of your shortlist.
As one of the Cyclades islands in the Aegean Sea, Santorini has some of the best views, foods, and island holiday activities to ensure your vacation is one for the books.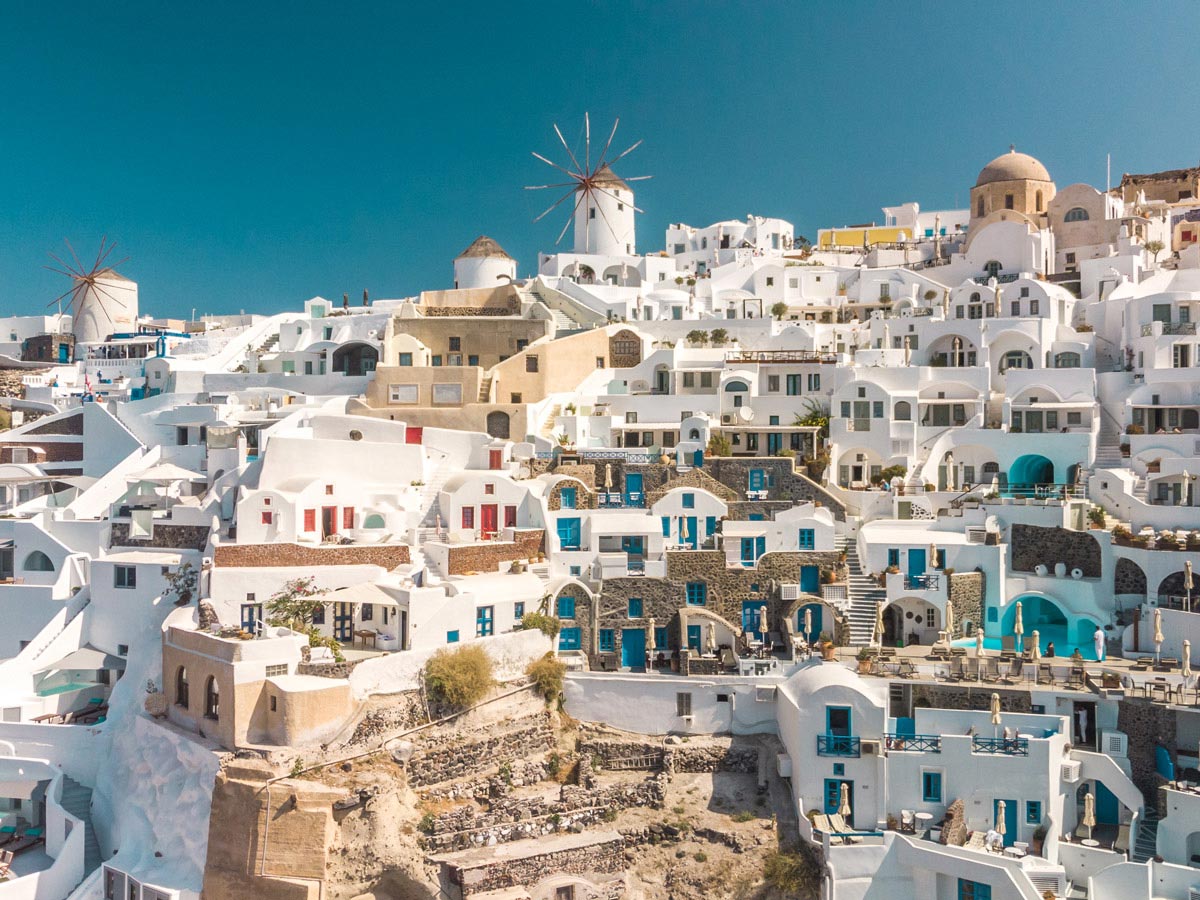 The best thing about Santorini is that there's something for everyone.
Interested in learning more about the history of Greece?
Want to explore the roads less travelled, spend a day on the water, or sip on the region's finest wines all night long?
There are countless Santorini tours to choose from – whether you're a slow-paced explorer or high-speed adventurer.
A trip to Santorini isn't something that happens every day – but how many days in Santorini is enough?
How can you make the most of your experience?
Here are 12 ways to make sure you take full advantage of your once-in-a-blue-moon trip to the island of love!
1. Visit Santorini's Best Beaches
When booking an island holiday, visions of sipping your favourite drink while watching waves lap against the ocean shore are among the most exciting things to look forward to.
So, if you're wondering where to start on your list of the best things to do in Santorini, these beaches are all must-see's!.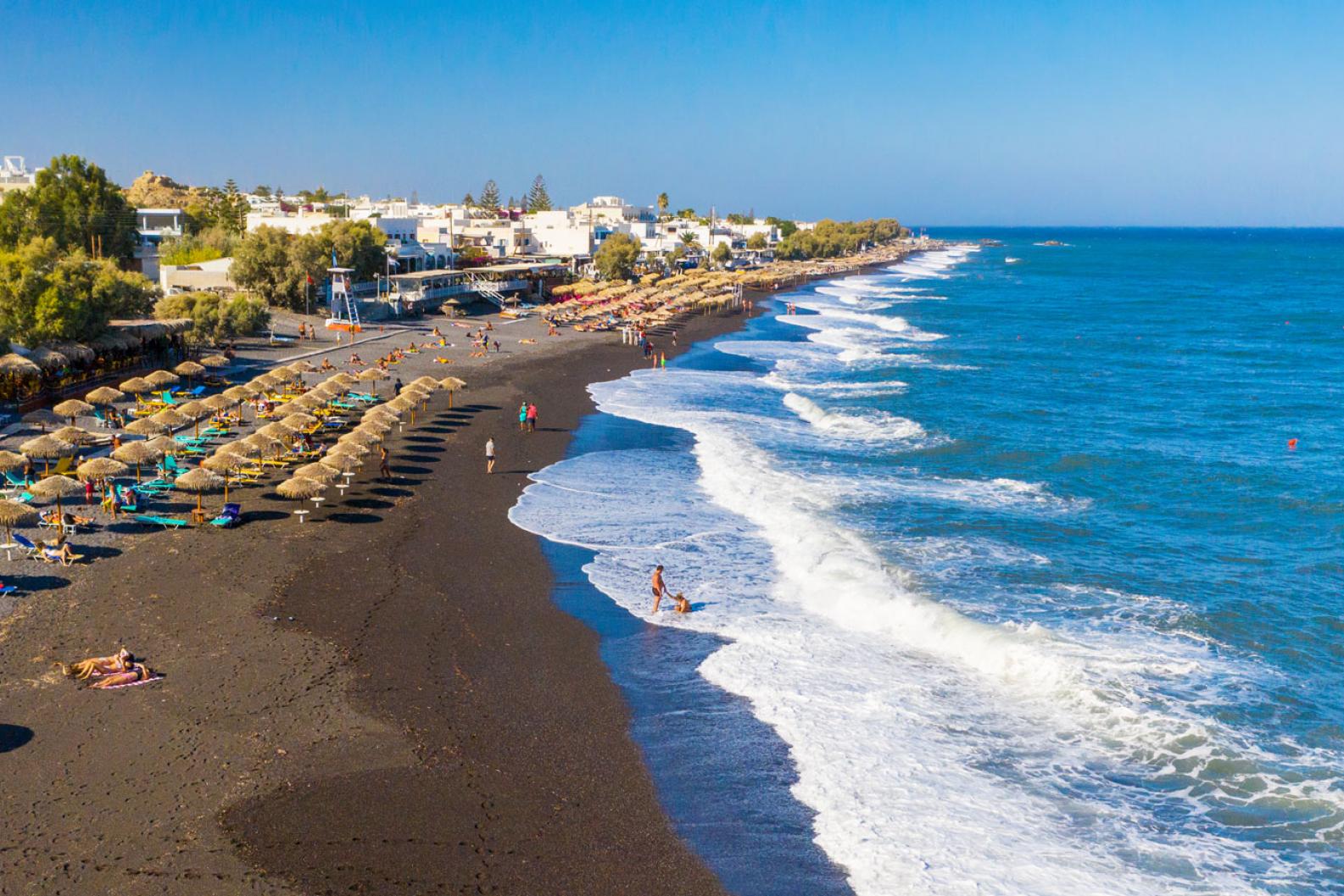 The Red Beach
The most famous Red Beach in all of Santorini. Its varying shades of red sand come from pulverized volcanic rock.
The White Beach
Unlike the Red Beach, its White counterpart doesn't get its name from the colour of its sand (which is actually unsuspectingly black). Rather, the White Beach White Beach earned its name because of the white cliffs that surround it.
Vlyhada Beach
Although not named by colour, Vlychada Beach is renowned for its white rocks, crystal-clear emerald waters, and a spectacular showcase of rocky surrounding hills.
Kolumbo Beach
This beach is only accessibly by foot, and for good reason. Kolumbo Beach is famous for being nudist friendly. So, if the kids will be joining you on this vacation, don't say we didn't warn you!
2. Why Not Go Wine Tasting?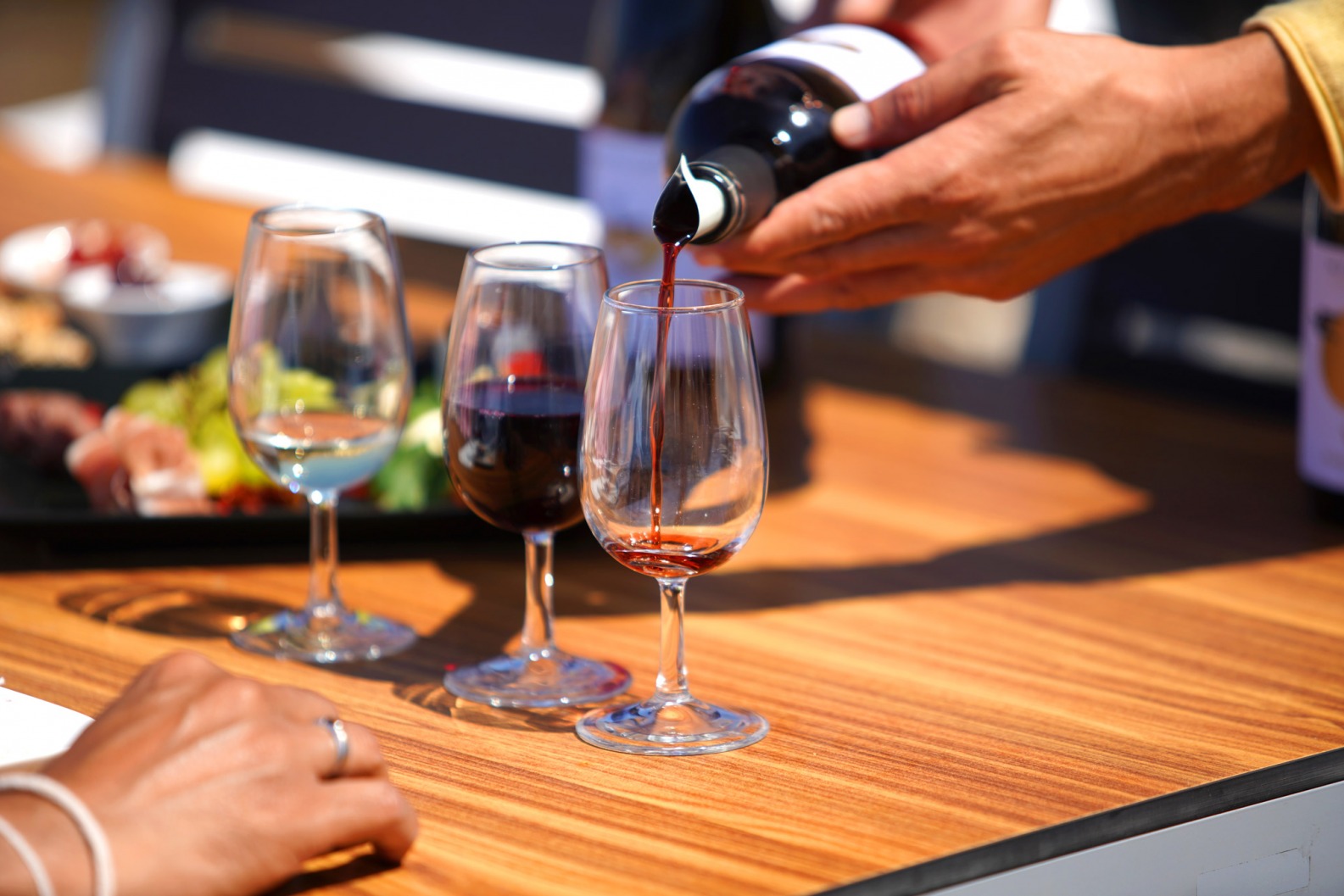 If you're wondering what Santorini is known for, one of the answers is wine – and no trip to Santorini is complete without sampling its wine at least once.
Did you know that some of the rarest grapes in the world are grown here? Santorini is home to some 13 wineries, each of which is as unique as the next.
When you choose Santorini Best Tours to show you the local ropes, you can immerse in an unforgettable wine sampling experience in a small group of people.
The best part?
Your guide is also a fully licensed Sommelier, who will take you to the smaller boutique wineries most tourists never witness. These spots are mostly filled with thirsty locals, who you'll hopefully get to mingle with soon enough.
So, what's so great about wine in Santorini?
Because of the island's volcanic soil, the wine made at Santorini's volcanic vineyards offers a pleasant and unique mineral taste.
With the views this paradise has to offer, sipping on a glass or sharing a bottle with your partner is undoubtedly one of the best things to do in Santorini.
Santorini has countless wineries and vineyards to explore, and while you could go through the extensive list yourself, you could also sign up for the Santorini Private Wine Tour. You are on holiday, after all, so sit back, charge your glass, and enjoy one of the best Santorini wine tours the island has to offer.
Our Santorini Wine Tour includes the following:
Transportation
4pm to sunset
Groups of 8 people (or less)
Licensed Sommelier Guide Accompaniment
Bonus brewery visit (unheard of in most other Santorini wine tours)
3. Grab a Seat at one of Amoudi Bay's Seafood Restaurants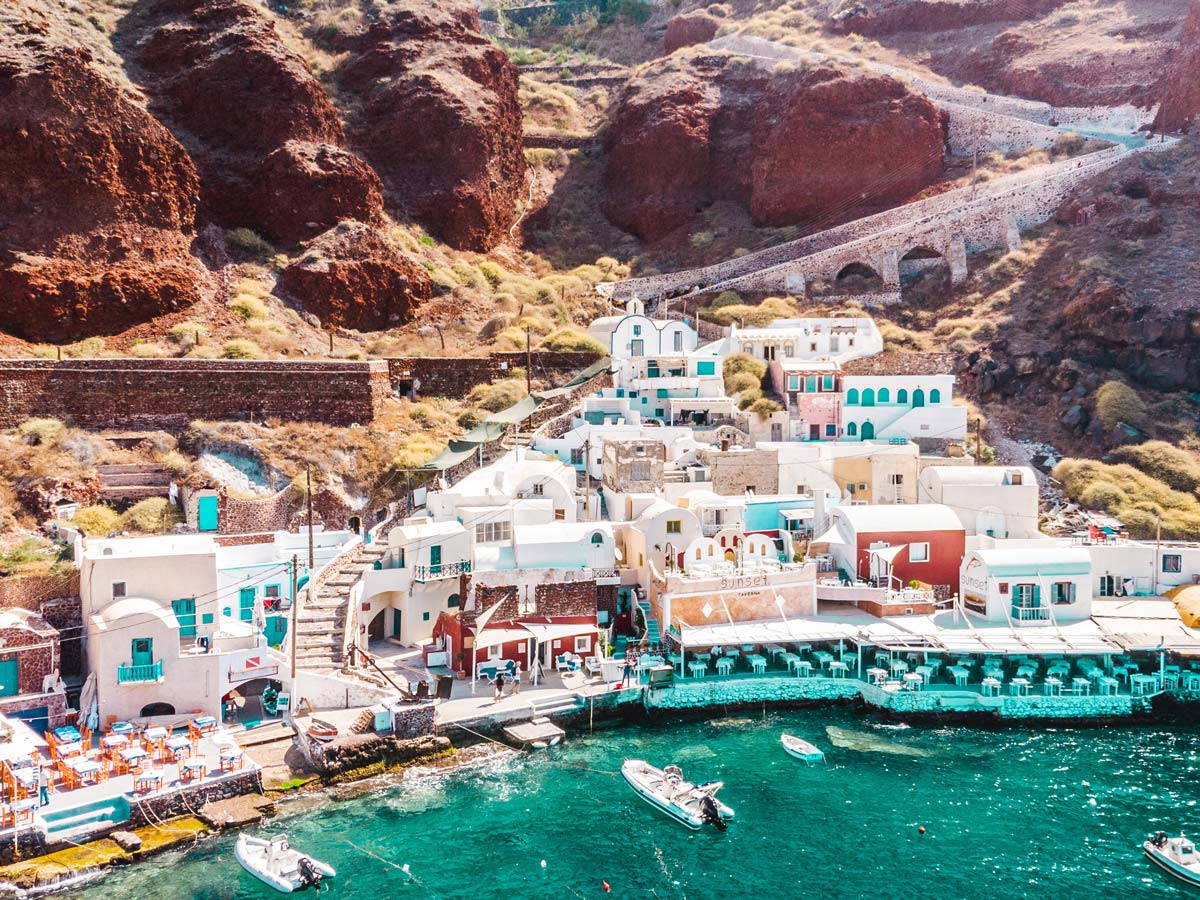 Some people might not think of tasting food as an exciting adventure, but when it happens to be on the island of Santorini, it is just that.
Visiting local taverns, family restaurants, and even places hidden from conventional tourism gives you the opportunity to experience the unique flavours of the island (and maybe even learn a secret family recipe or three along the way).
Work up an appetite by walking down Oia's 300 steps to reach the small fishing village below. Once you touch down at the bottom, you'll be welcomed by a selection of seaside taverns and Santorini restaurants that serve some of the freshest fish found on the island.
Don't feel like the steps back up are enough to work off all you've eaten?
Follow the trail that starts where the restaurants end and dive into the welcoming waters for a swim.
Santorini Food Tour Highlights:
Local guide
Begin/end right at your hotel
5-hour duration
Sample local fare at a Santorini farm
Lunch at a local tavern in Akrotiri
4. Catch an Open-Air Film in Kamari
After a long day in the sun and gorging yourself with delectable island food, one of the best things to do in Santorini is wind down for the day at the Kamari Open Air Cinema.
CineKamari – as it's colloquially known – is located in the middle of a forest. Films air in English between May and October, and – yes – there's a bar on-site.
5. Explore on Horseback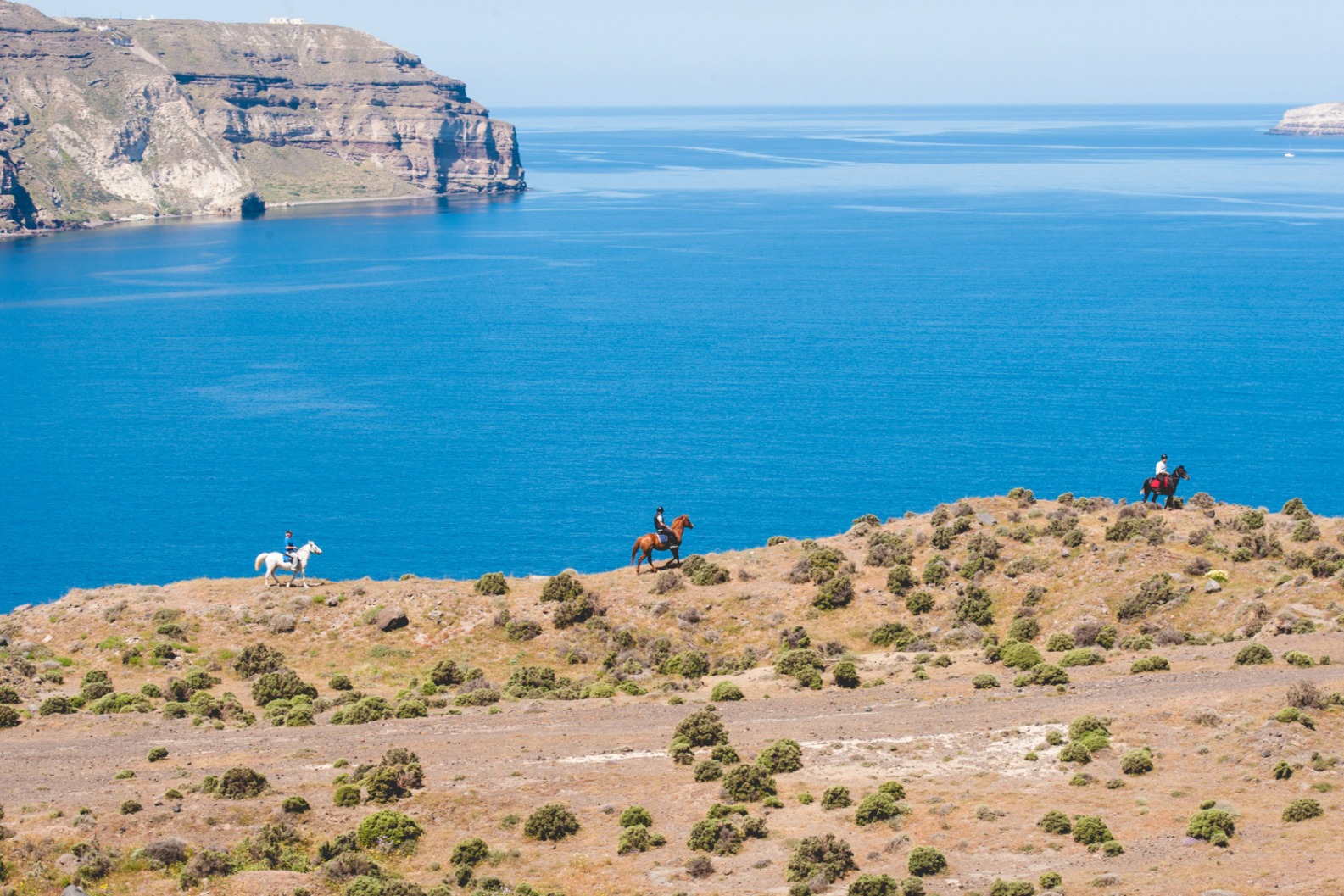 Seeking an adventure off the beaten track?
This Santorini Horseback Riding Tour may just be your perfect match. Travel back to a time before transportation was powered by an engine and experience authentic horsepower of a bygone era.
You'll get the chance to meander through Megalochori, a traditional Santorini village that immerses you in the wilderness of the archipelago.
Surrender to the twists and turns of the rocky terrain, soak up the sun and fresh air, and make your way to the stretch of black sandy beach that awaits you at the end of your journey.
Whether you're a champion rider or have never saddled a horse in your life, this Santorini Horseback Riding Tour caters for everyone – no matter your experience or comfort level.
At Santorini Best Tours, we have 3 different Santorini Horseback Riding Tours to explore.
But no matter which you choose, one thing's for sure – you'll ride away with memories that last a lifetime.
Our Santorini Horse Riding Tour Details:
Start/end at the stables
3x different tours, 1-hour or 2-hours in duration
Get acquainted with your horse first and master basic riding skills
Visit Megalochori village to view traditional architecture and learn the settlement's history
Ride on drastically varying terrain – from rolling hills to rocky cliffs
Enjoy the Aegean sea with a ride or stroll on a black sand beach
If none of the previous suggestions pique your interest, then why don't you just…
6. …Take a Hike!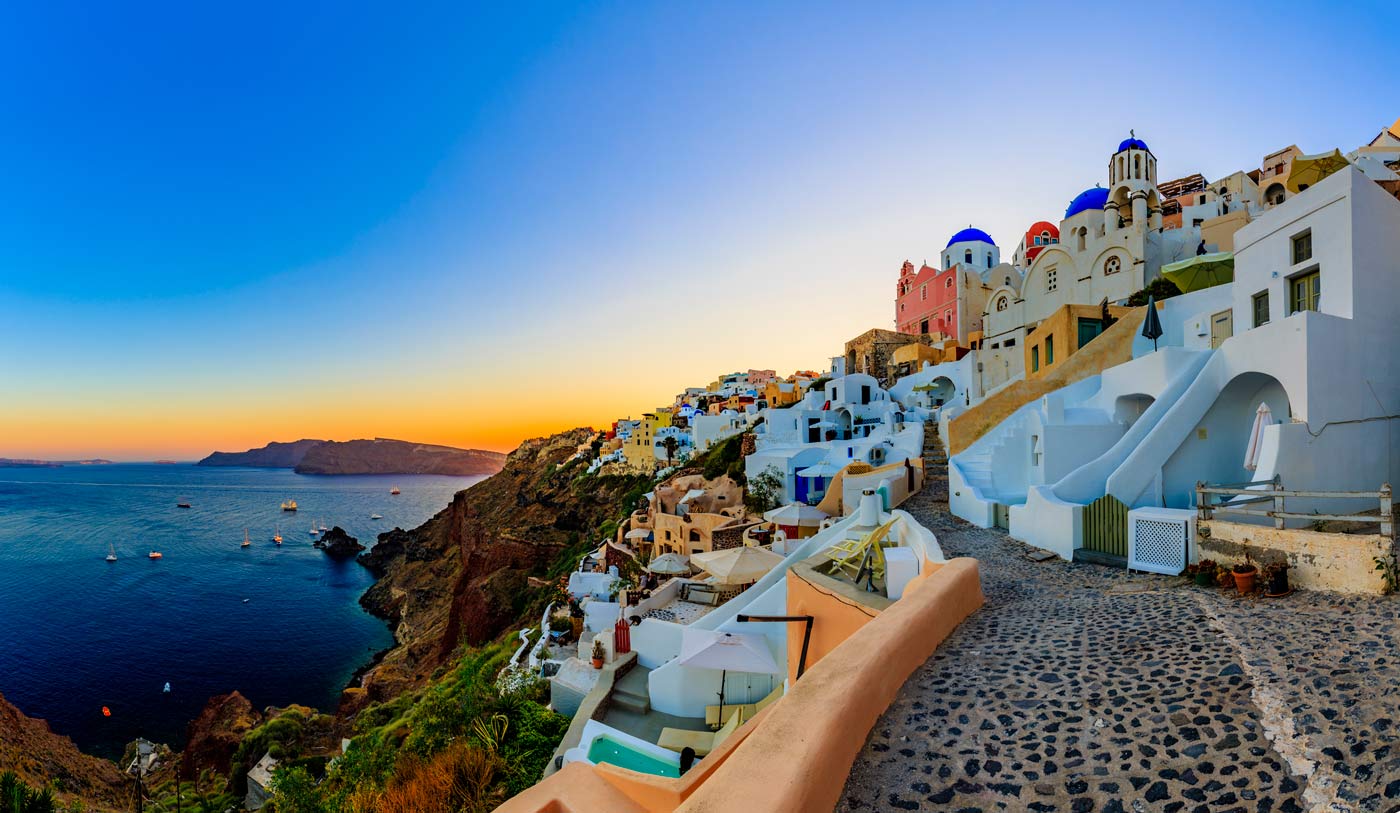 No, literally!
One of the best things to do in Santorini is to take a hike from Fira to Oia.
This 9km trek has been deemed not too challenging a trail.
To avoid the scorching summer sun, we recommend hiking either early in the morning or late afternoon.
Either start your day with some Santorini exercise, or end things off with a beautiful sunset view in Oia.
The hike from Fira to Oia typically takes 2 hours, but do allow for more time as you'll want to take in the magnificent views (and maybe even pose for a photo-op).
7. Speaking of Sunsets in Oia…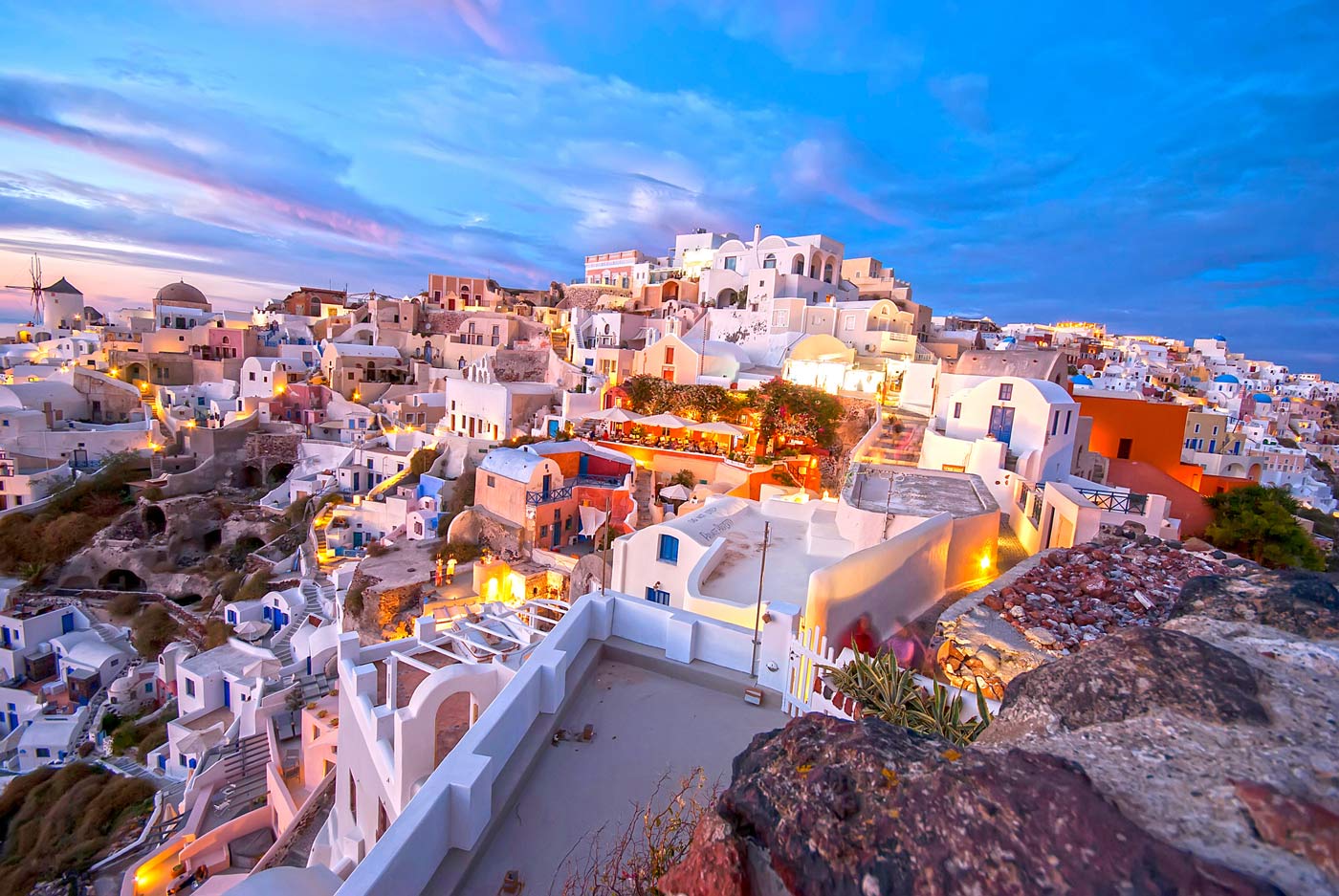 Watching the sunset in Oia is undoubtedly one of THE best things to do in Santorini.
It's arguably what Santorini is known for most, and it's the main reason why thousands of people choose this island as their getaway destination of choice.
Oia's picture-perfect white houses and churches with blue dome tops are beautifully burnt by the sun that sets on this incredible caldera.
You can quite literally find any spot to witness the sunset and stay there as long as you wish.
But if you're looking for an unmatched sundown experience, we recommend watching the natural lightshow from the Byzantine Castle.
8. Take a Trip to Prehistoric Thera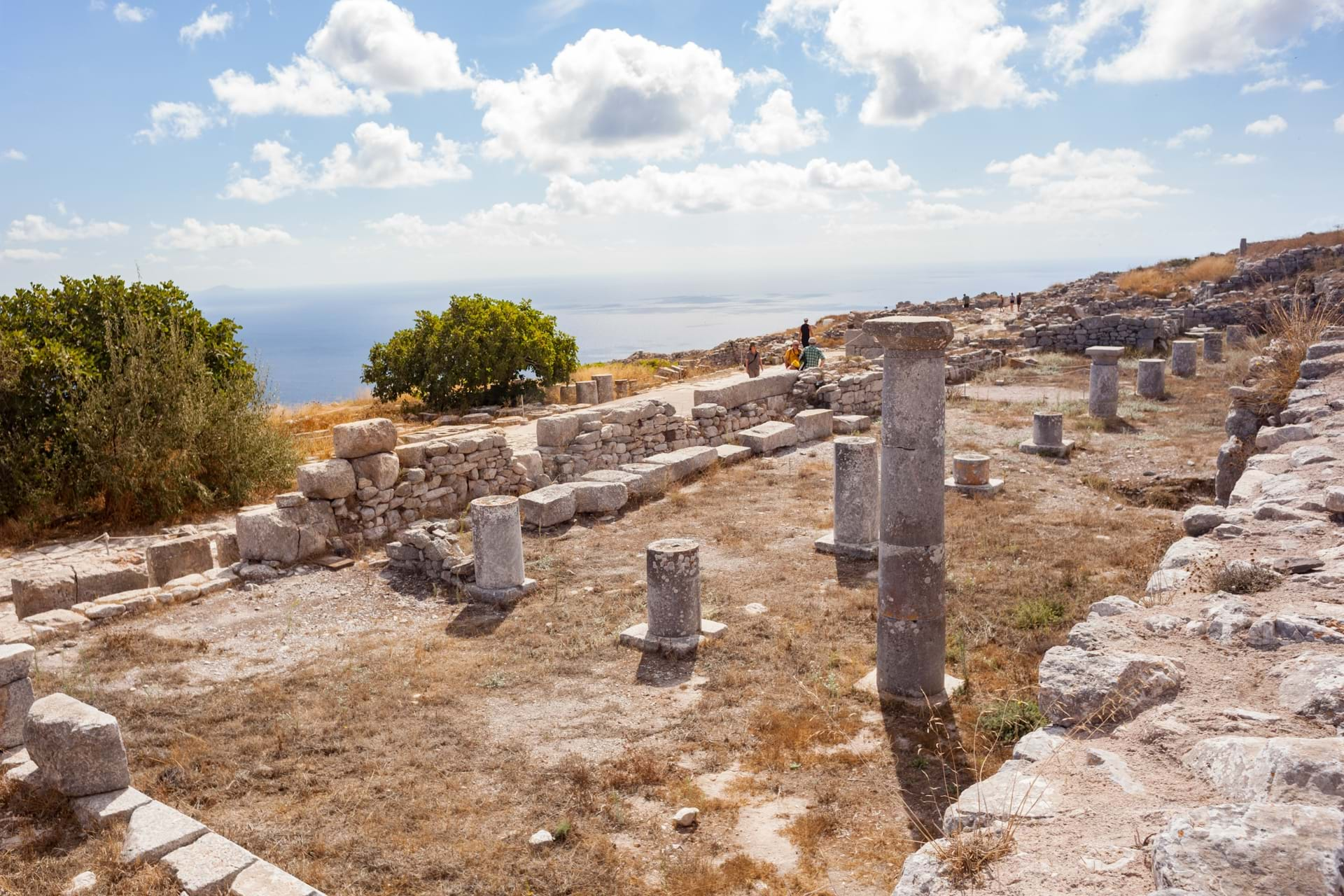 Learning about the history of your holiday destination is something a lot of us enjoy.
Not only does it allow us to more deeply appreciate where we are, but it also empowers us to imagine what once existed where we stand today.
The Ancient Thera is an archaeological site in Santorini, of which "Thera" is actually Santorini's ancient name.
By embarking on this Santorini day tour, you'll learn all about the effects of the volcanic eruption more than 3000 years ago (and how it created the great cliffs that surround Santorini today).
9. Visit the Akrotiri Lighthouse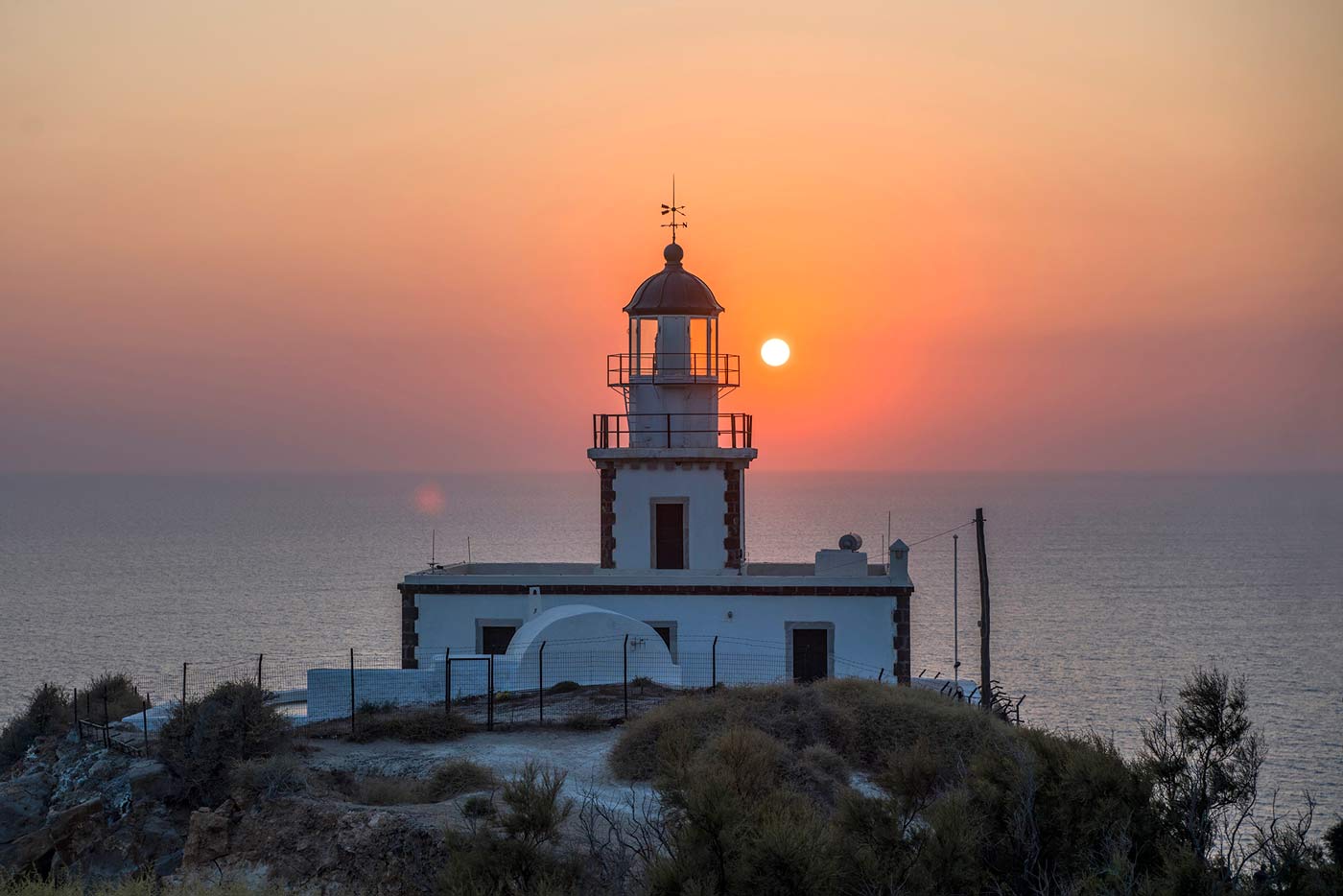 As another one of Santorini's more tourist-like attractions, visiting the Akrotiri Lighthouse is one of the best things to do in Santorini.
Beyond experiencing yet another unique view of the island, you can also enjoy the equally unique experience of travelling there by quad bike.
10. Sail the Sea that Surrounds Santorini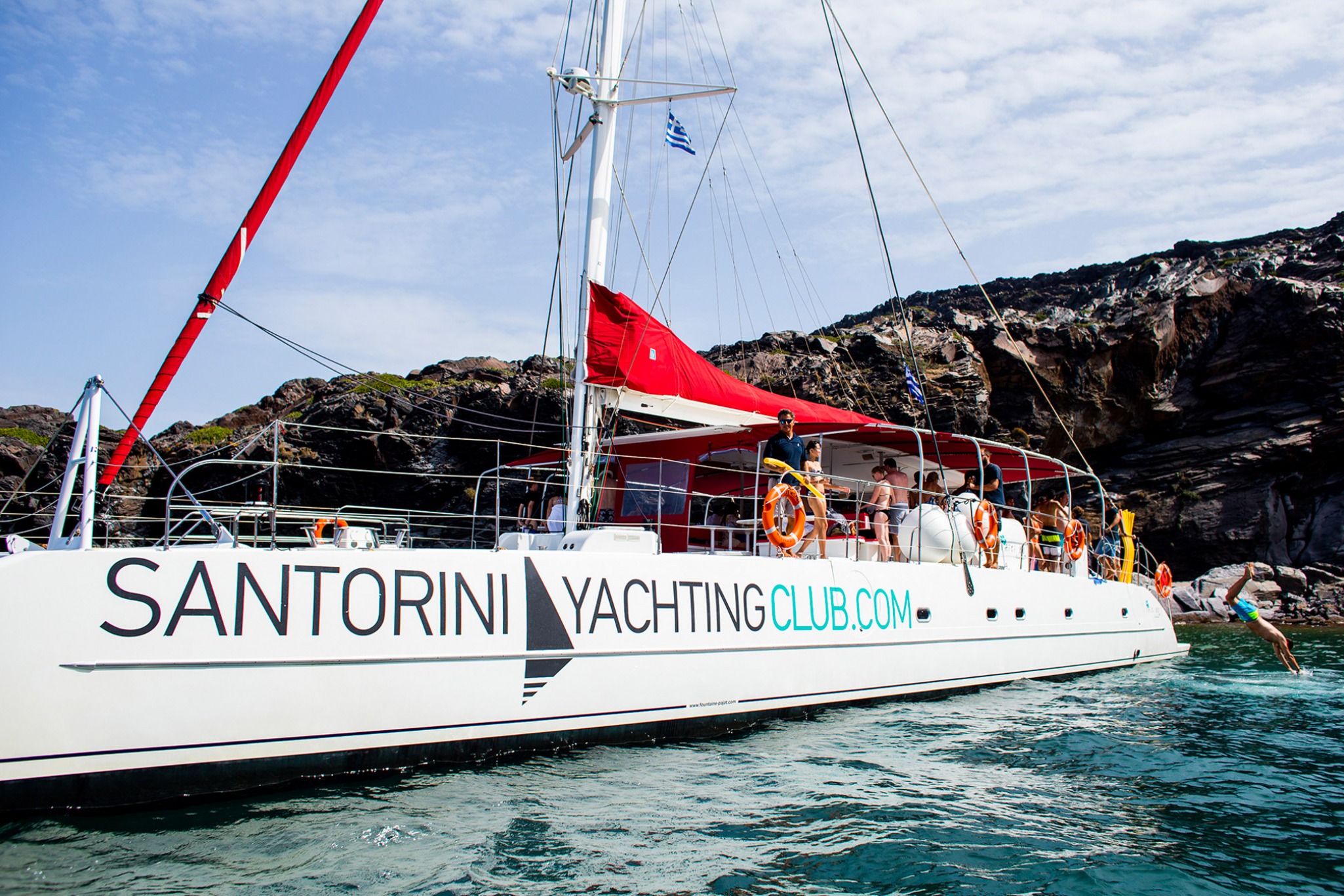 When looking for the best things to do in Santorini, most people only consider staying ashore and exploring the various activities the island offers.
But don't forget – beyond dipping your toes in (or diving into) the warm Aegean waters, the island's surrounding ocean is simply begging you to sail it aboard on of the Santorini boat tours.
By choosing to embark on one of our many Santorini sailing tours available, you'll get the opportunity to explore the island from a whole new vantage point.
Some of the best Santorini sailing tours even provide the option to dive into the deeper parts of the ocean.
Our Santorini Sailing Tour Highlights:
Transfers to and from a meeting point in your village
Day tours – enjoy the bright sun on the Aegean Sea
Evening tours – experience the sunset reflecting off the water and the island as you sail into port
See amazing sights – The Red Beach, White Beach, Indian Rock, the Volcano
Take a dip in the famous Hot Springs
Some tours even offer an authentic BBQ dinner on board (selected evening tours only)
11. Santorini Volcano Tour – A Blast from the Past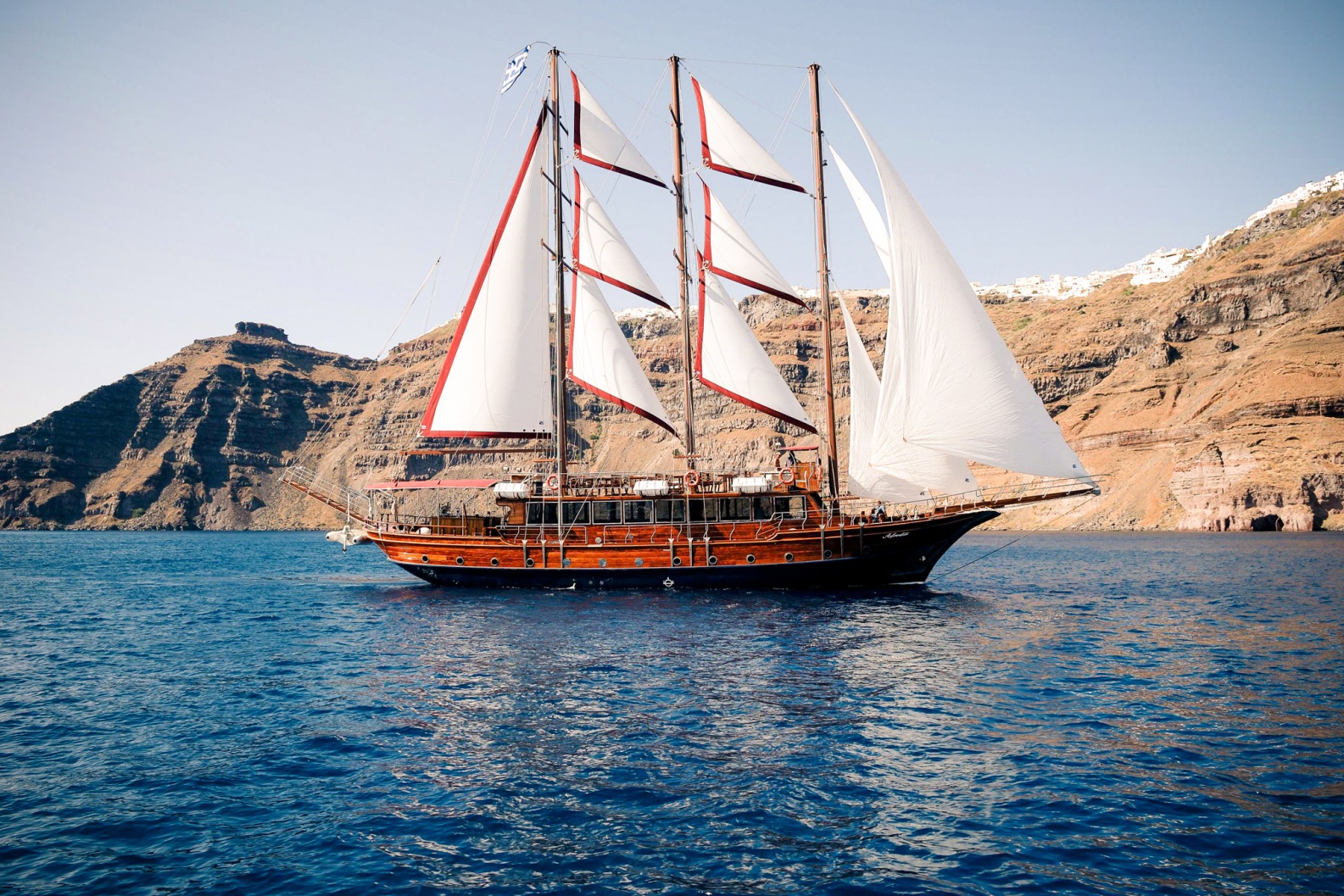 We now know that the volcano is what shaped the archipelago we know today.
Touring it will truly open your eyes to its impressive size!
The volcano on Nea Kameni is reachable by boat.
After sailing the Aegean Sea, you'll step onto the island and scale to the top.
This is your chance to stroll along the rim of the volcano that's responsible for the largest eruption in history.
A truly humbling experience – have your camera ready! Santorini Volcano Tour Highlights:
Several versions to choose from
Transfer to and from your boat – a traditional wooden vessel
Explore the volcano in close proximity
Relax in the nearby hot springs
Discover the island of Thirasia or anchor just offshore to enjoy a meal
Witness the beautiful sunset from ship or land – depending on which version you choose
12. Get Married
After seeing just how much this island paradise has to offer, this is possibly something you've already been thinking about if you're on the verge of tying the knot.
Just like with its Santorini wine tours, the island is also renowned for having some of the most dazzling wedding venues in the world.
The combination of the views, inimitable wine, fresh ocean air, and pleasant summer weather makes matrimony in Santorini like heaven on earth.
And with the number of Santorini elopement options available, you can make this choice at any point of your getaway.
And There You Have It… The Top 12 Things to Do in Santorini!
No matter the combination of places you visit, or the activities you choose, we have no doubt that your stay in Santorini will be nothing short of spectacular.
…And to answer the question of how many days in Santorini is enough…once you set foot in Santorini, you'll never want to leave.