Back to top
The Top 5 Santorini Attractions for Sightseeing
There are so many things to see and do to in Santorini, but there just isn't enough time to fit them all in. Even if you are planning an extended stay, there will most likely be something you missed this time around. To make it easier to choose, outlined below are the top 5 Santorini attractions to get in some good sightseeing when you're on the island.
Oia, Is Full of Delight Anytime, Day or Night
Oia is without a doubt, one of the most iconic areas of the island with its unique architecture and white buildings. Just walking through the village will give you a glimpse of the past as you traverse the winding, narrow streets and experience sights, sounds, and aromas of Greek culture.
When you see pictures of this beautiful archipelago, most often they are taken in Oia. There are many beautiful places here, but none as photogenic as this one. The village of Oia is very popular with island visitors and can seem quite congested all day long, but if you can survive the crowds, the sunset will make it all worthwhile. When the sun dips down in the evening, the village becomes washed in a magnificent glow.
For an even richer experience, you can hop on an evening sailing tour to see the sunset reflect off the white buildings of Oia. Those moments will take your breath away as you see Oia set on fire with vivid colors from the sun setting reflecting off the deep, dark Aegean Sea.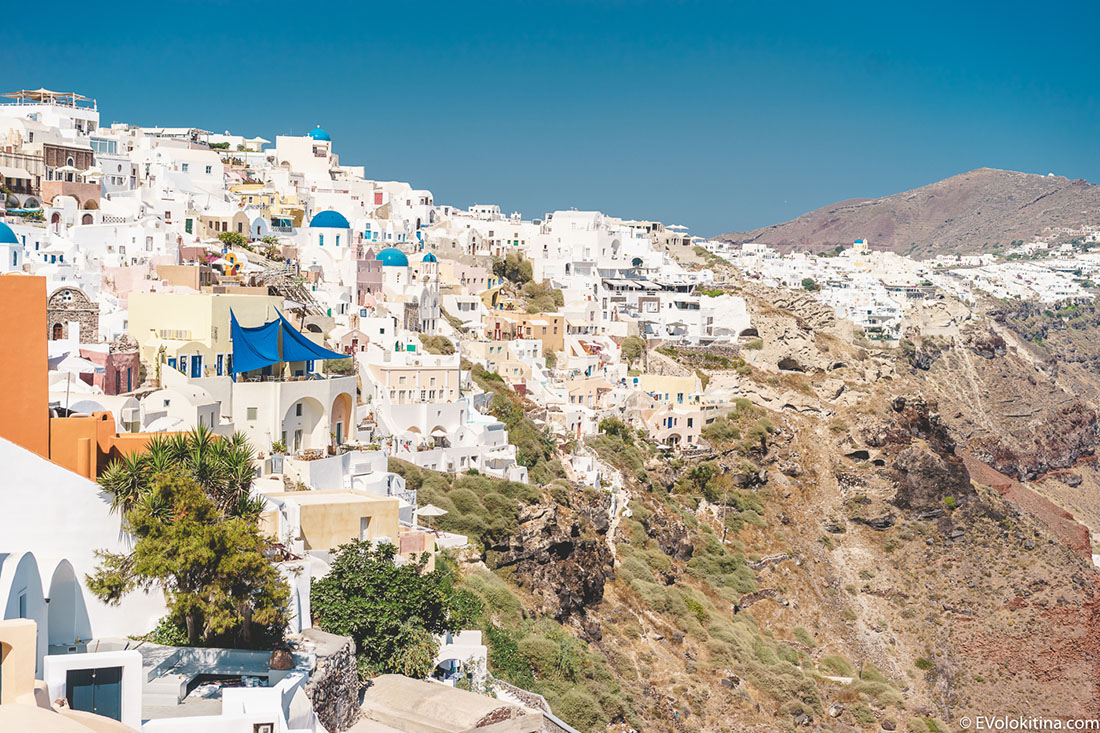 The Caldera; A Violent Past Made Santorini What it is Today
Much of Santorini's current land formations have come from centuries of the wind, waves, and one of the largest volcanic eruptions in history – the Minoan Eruption. This tectonic event was so large, it wiped out everything nearby and may have even caused damage in Crete.
The caldera can be viewed from many different points, but the best is Imerovigli village. This is the highest point on the island and offers the absolute best view of everything else below. You are probably going to want to take many pictures here, so don't forget the camera!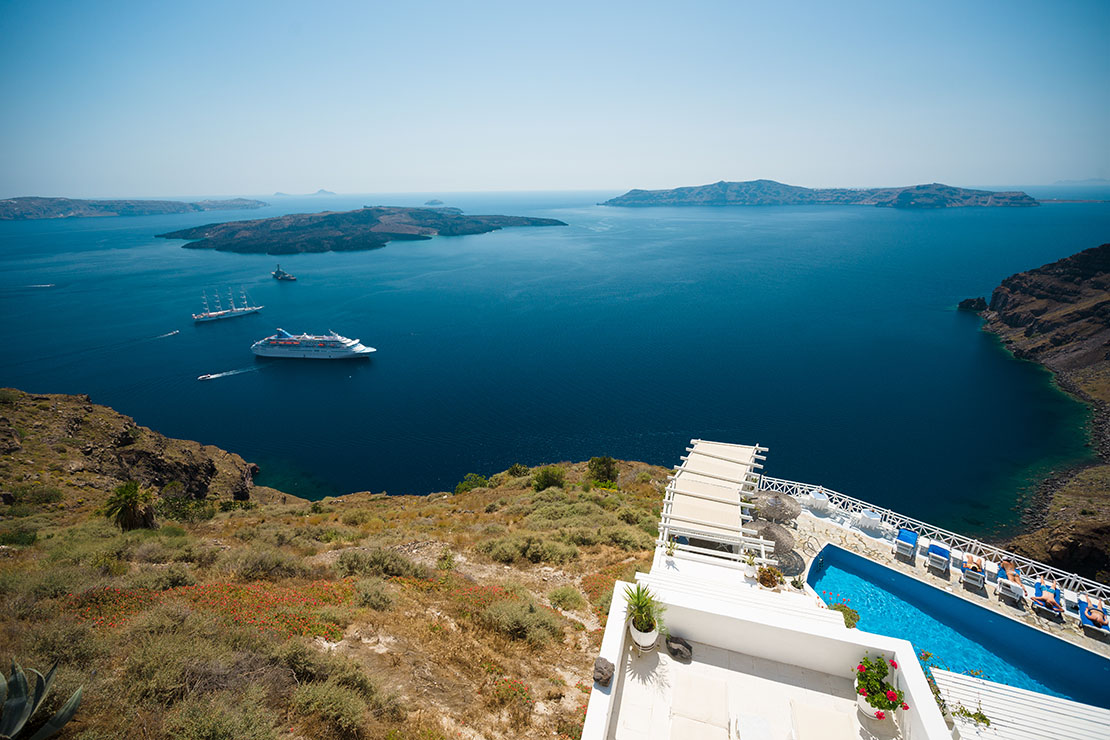 Red Beach and White Beach; Remote Access, Rich Color, and Relaxation
Two beaches that should be on any bucket list for a visit to Santorini are Red Beach and White Beach. They are aptly named, each full of their own vibrant color. These beaches are not easy to access, so getting there may take a little more planning on your part. The bold red sand and high red cliffs make for a beautiful color contrast with a clear blue sky and crystal clear waters. White beach is speckled with perfect white and black pebbles of varying sizes and the bright cliffs offer great photo opportunities.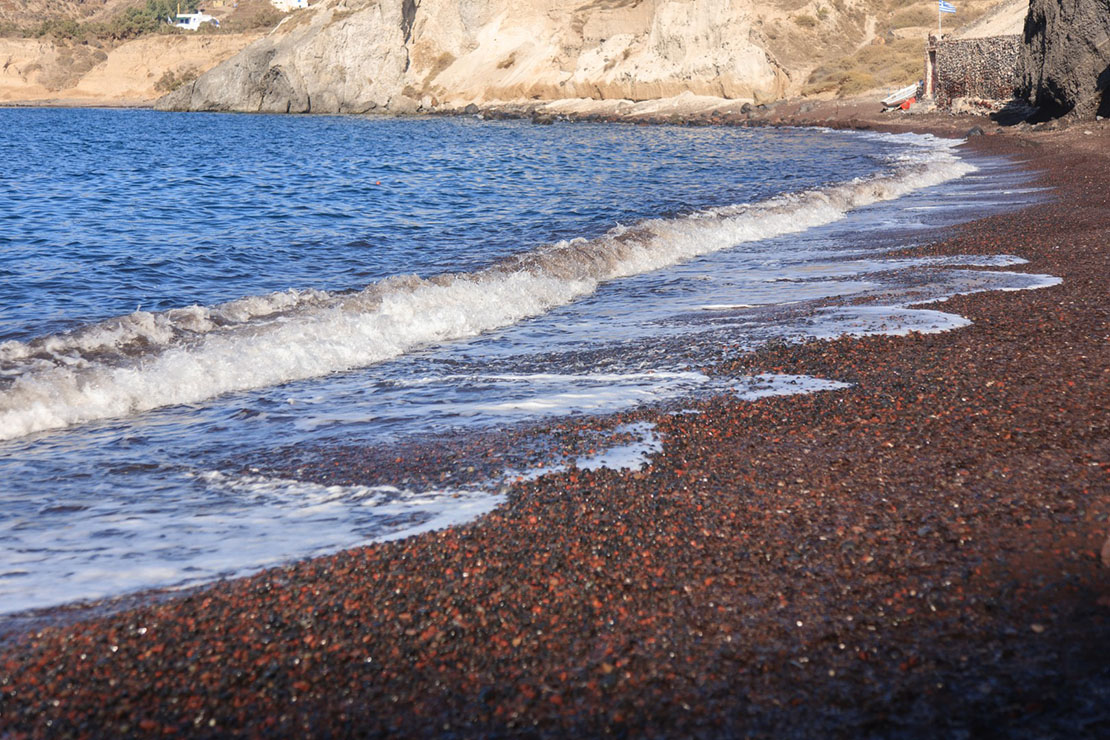 Akrotiri; A Well Preserved Treasure of the Past
Stopping by the ruins of Akrotiri will really give you an idea of what the island used to be like at the height of Minoan civilization. That is before the volcano erupted and blanketed everything in multiple layers of ash. Careful excavation has uncovered some pretty amazing items so far and taking some time to appreciate the lost islanders and what they went through is quite humbling.
Mesa Vouno; the Famous Rock Formation That Shines in the Dark
Mesa Vouno is so large, it's hard to miss. This giant rock formation is located between Perissa and Kamari so if you visit either of those beaches be sure to snap some pictures. If you think Mesa Vouno is impressive during the day, wait until you see it when the sun goes down. Thanks to the mineral deposits in the rock face, it actually looks like it shines and lights up a little bit in the moonlight.
The land itself is definitely something to behold, but the real point of interest is on top of Mesa Vouno: ruins of an ancient city by the name of Thira. If you can handle the hike (it takes a relatively fit person about 1 hour to reach the top), the sights alone will be well worth the effort. At the top, take in the sights of the ruins and imagine what it looked like all those years ago. Gaze out over the open sea and feel the Aegean breeze surround you.
So Many Santorini Attractions, So Little Time
The archipelago, though forever changed by one of the biggest volcanic events in history, is still a bustling culture full of life and new things to explore. If you get the chance to visit all 5 of these attractions in Santorini, count yourself lucky, give yourself a pat on the back and add on one more area of interest before you have to leave.
Santorini is just one island in the area. If you're up for more adventures, book a voyage to climb the volcano, visit the neighboring island for a dip in hot springs, or embark on a journey to the village of Manolas on the island of Thirasia. With so many activities to choose from, planning your stay can be overwhelming. If you are in need of suggestions, our friendly and knowledgeable staff is only a phone call away. Santorini is special and we want to make sure your experience on this gem of the Aegean Sea one that you will never forget.