Back to top
Top 10 Best Tours in Santorini 2022
Don't Visit Santorini Without These Excursions On Your To-Do List
Santorini is immensely popular for its breathtaking sunsets, white and blue vistas, and delicious Greek food.
But how do you make sure you have the best experience when visiting Santorini?
Are you more of a winery tour than a boat tour person?
Do you prefer to relax and soak up the sights, or satisfy your inner adventurer and be a part of the sights?
We've put together a list of the best private tours of Santorini in 2022 to inspire and guide you no matter your personality!
10. Santorini Taxi Tour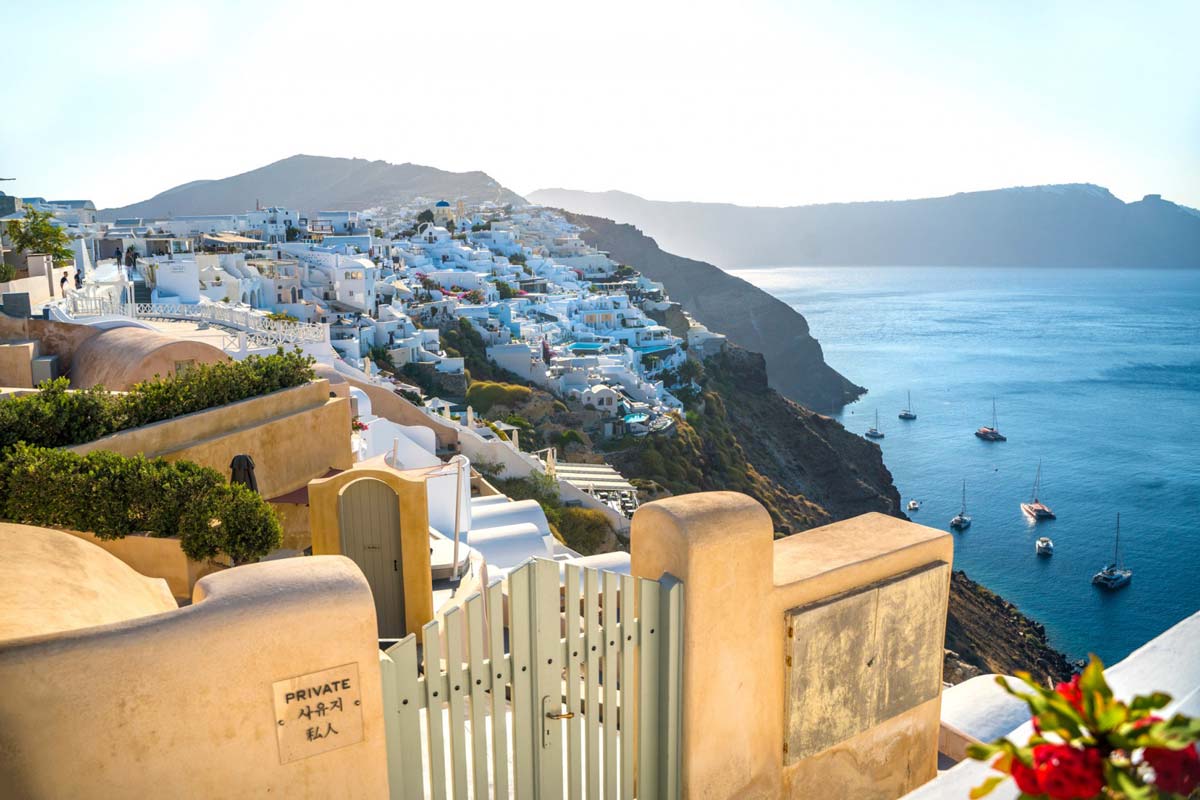 The Santorini Taxi Tour is a budget-friendly option that also gives you greater freedom by touring Santorini with a taxi. It's perfect for those who prefer touring the island with a local driver, making it easy to access the wide array of beautiful locations Santorini has to offer.
More experienced travelers who know exactly what they're looking for when visiting Santorini will be delighted to have a local who knows how to get to locations quickly, and can give recommendations for secret spots based on their interests.
Escape the crowds and focus on the sights you want to see, like the Black Beach of Kamari, or one of Santorini's famous wineries.
If you only have one day to tour Santorini, for instance while on a cruise that stops at the islands, this is an ideal way to ensure you aren't disappointed by bad directions or stressed about driving when you could be taking in the view from an air-conditioned Mercedes mini-van and chatting to a real Santorini local.
9. Santorini Shore Excursions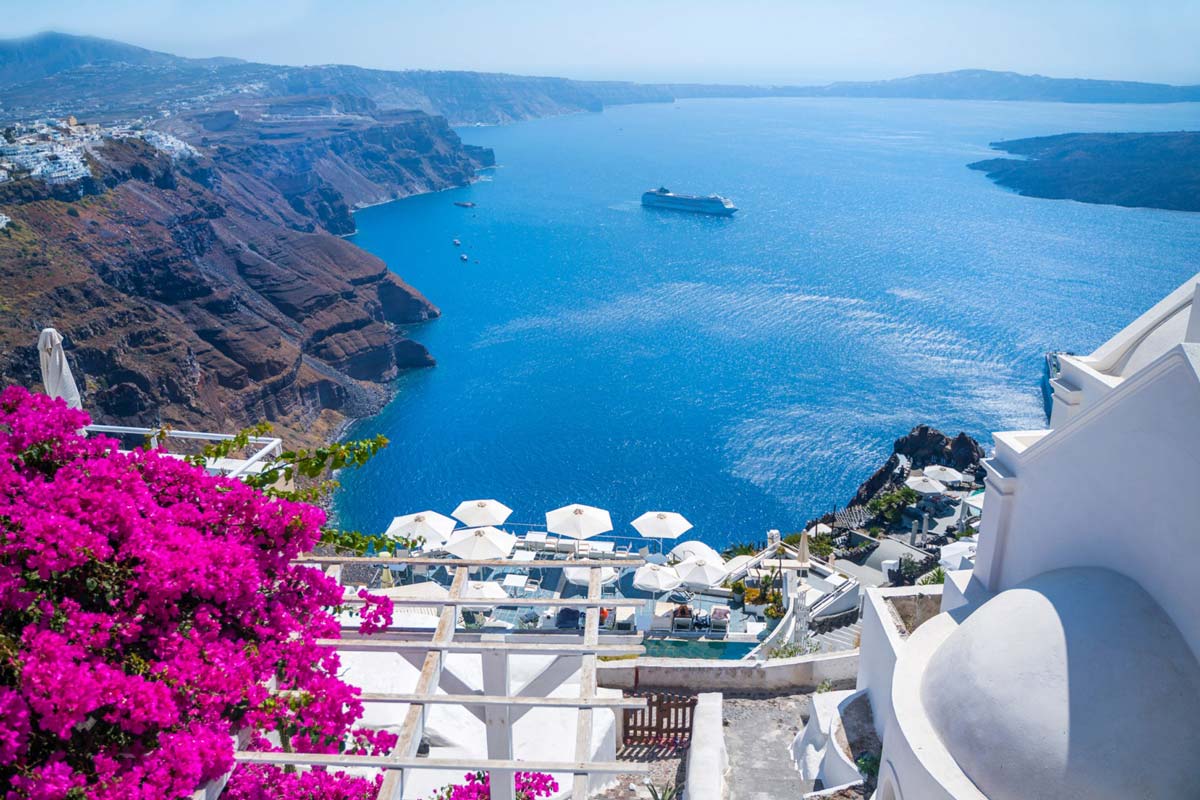 This guided tour will show you the best of Santorini, making the beautiful island a part of your memory for life.
See the classic sights the island is known and loved for, from the village of Oia to the highest mountain in Santorini, Prophet Elias.
The Santorini Shore Excursion is the perfect choice for visitors who aren't sure what to do in Santorini and would prefer a guided tour of the most iconic vacation destinations on the planet.
See for yourself why Santorini is such a popular hub for tourists from all over the world! This is the best tour if you want to get an overall view of the Island and its attractions.
After a day touring Santorini, you'll head to the famous Black or Red beach for a cocktail or lunch next to the gentle sea caused by Santorini's natural harbor.
We strongly recommend this tour for first-time travelers!
8. Santorini Private Wine Tour
This four-hour Santorini wine tour will introduce you to the best of the island's wineries and views.
From clifftop wine tasting to a tour of a vineyard, the Santorini Wine Tour is ideal for lovers of vino and making memories.
This experience is more than your typical vineyard hopping trawl though, as you'll also get to explore the educational side of how wine is made on Santorini too.
You will learn about the very specific conditions required to grow grapes on Santorini's volcanic soil, as well as their unique winemaking methods.
Some of the oldest grape varieties in Europe are grown in Santorini, and you can taste and buy the smooth vintages they produce on your tour.
Enjoy a few glasses of vino without worrying about driving – this tour comes complete with an air-conditioned car and a local, friendly driver to take you to and from every stop.
This winery tour takes you from the heights of the scenic cliffside winery near Calderawineries, to the depths of an underground wine museum tour.
Discover the secrets of winemaking on a tiny island with volcanic soil and other challenging growing conditions, and unearth what makes the wines of Santorini so popular.
All while sampling the delicious wines on offer! Now that sounds like an afternoon to put in your diary.
7. Santorini Private Food Tour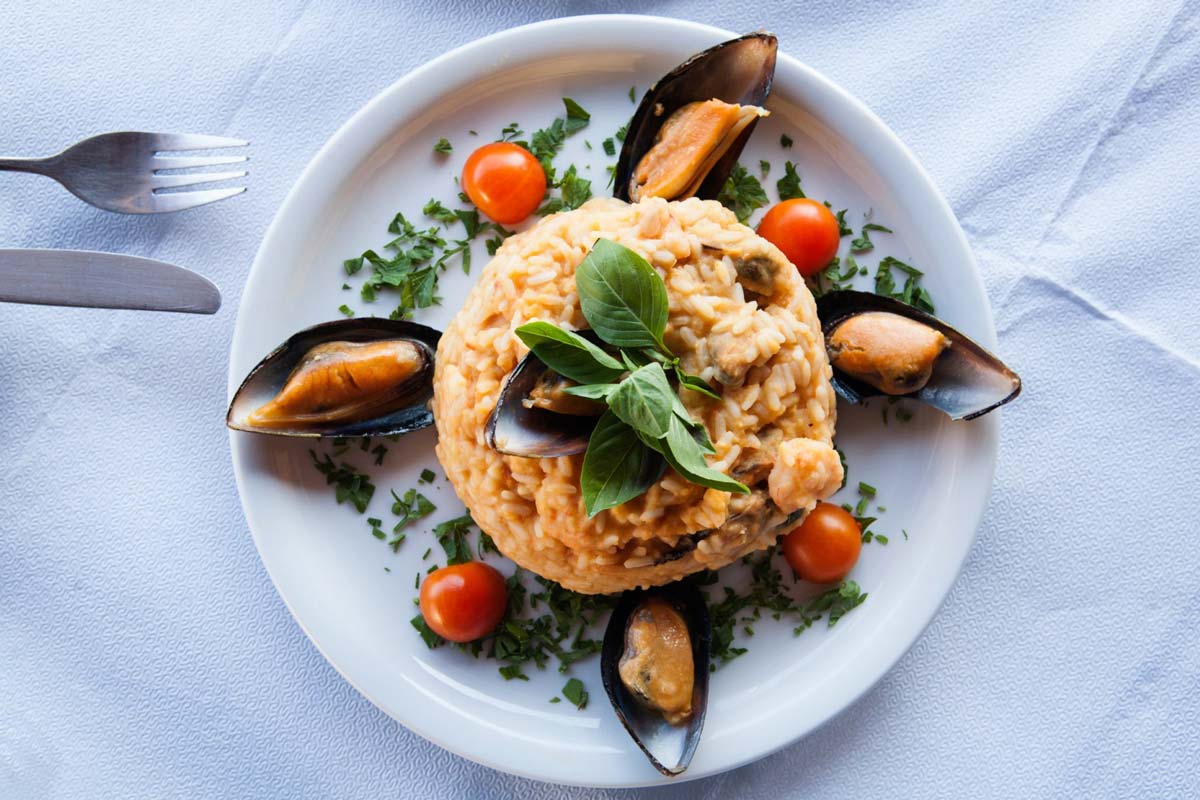 For the foodies out there, prepare to escort your tastebuds into a new dimension with the Santorini Private Food Tour.
Experience Santorini through your palate with traditional dishes freshly made from locally grown ingredients. This tour is five hours of culinary exploration through the best eateries in selected villages, a farmhouse, and even a lighthouse.
This Santorini excursion will take you away from the touristy restaurants and introduce you to Santorini food paired with excellent local wines.
You'll learn all about the local produce and how the climate and terrain contribute to the region's sweet and unique flavors.
Your local guide will take you to their favorite eateries to sample traditional meals that will melt in your mouth, while you experience the ambiance of small villages and friendly locals.
Embark on a Santorini food tour and make some unforgettable memories!
6. Santorini Helicopter Tour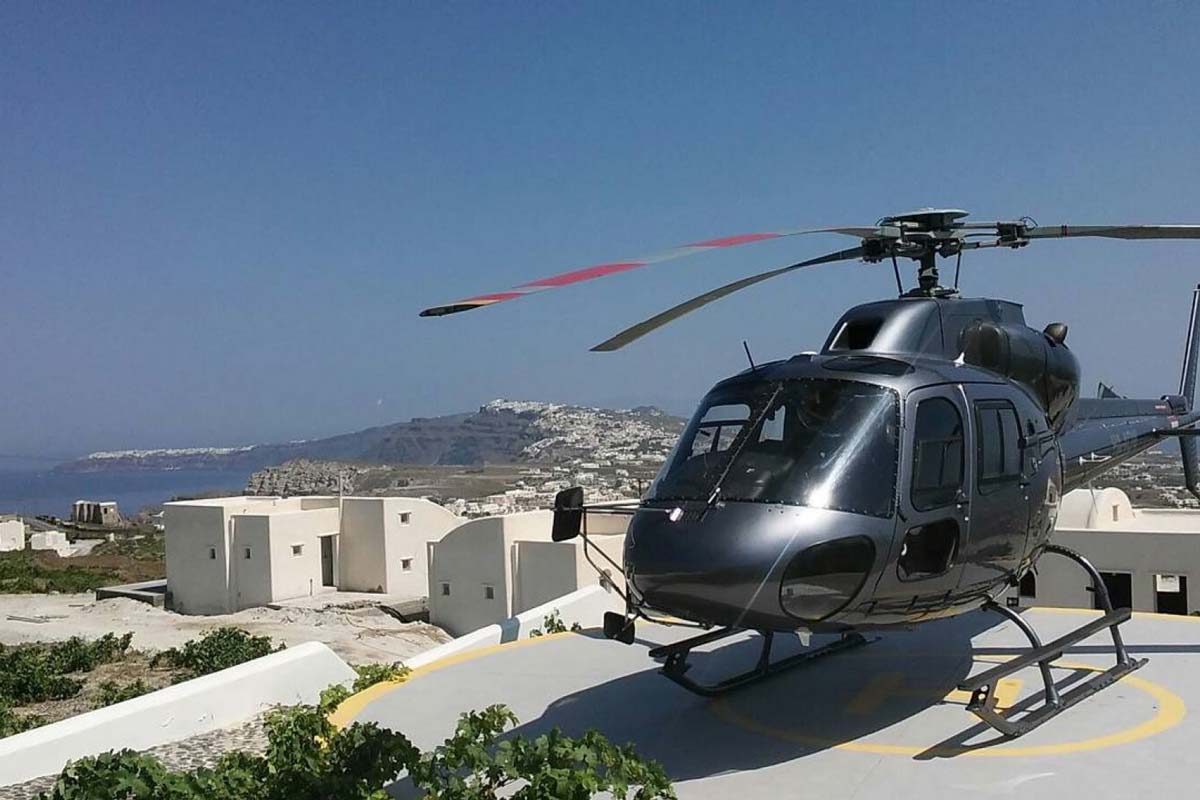 See Santorini from above with the 20-minute helicopter tour of your dreams.
Imagine swooping over the most famous sunsets in the world from the skies, while the landscape is painted orange and pink all around you.
It's possible with the Santorini helicopter tour, which will fly you over the highlights of the island without having to press through the crowds.
A life-changing experience, seeing Santorini from the air will let you peer into the depths of Caldera – the ancient volcano's lake – to understand its secrets.
This tour is your opportunity to see Santorini in a new way if you're a returning visitor, or the perfect introduction to the island and its archipelago.
5. Santorini Luxury Catamaran Tour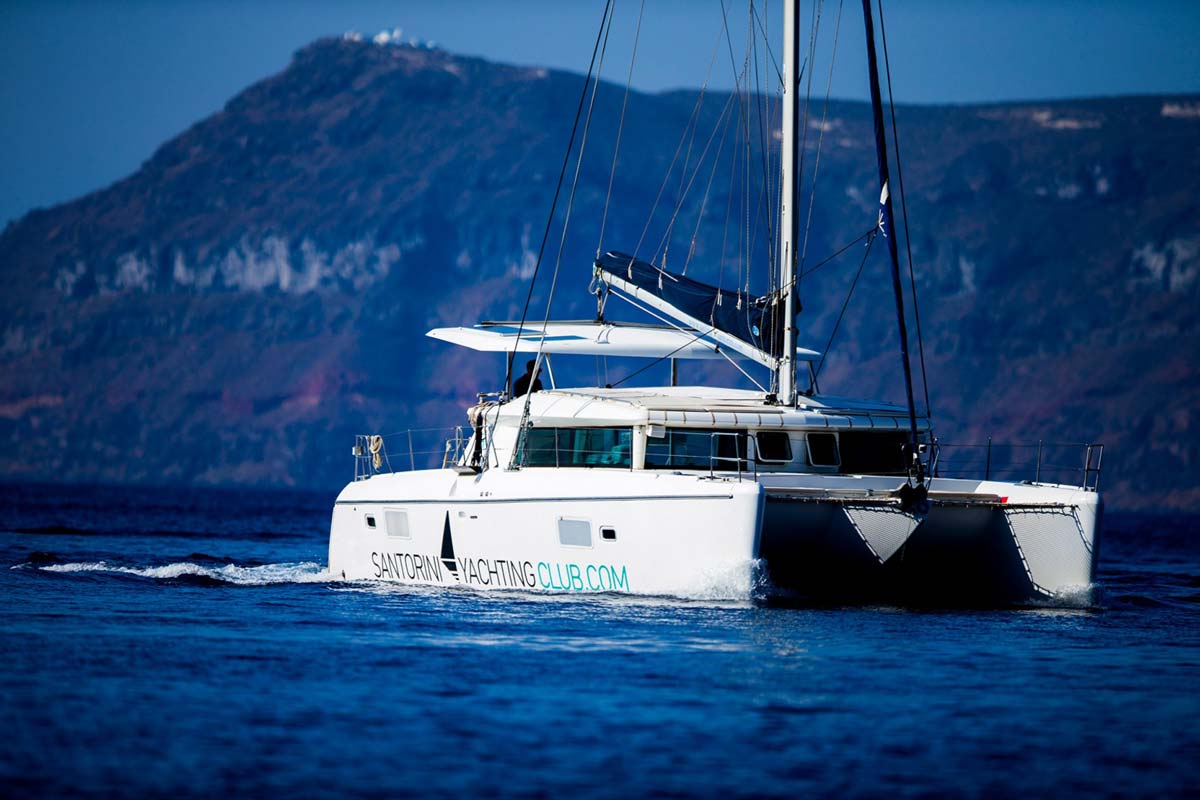 Head out to sea with the Santorini Luxury Catamaran Tour to experience places like the Red beach, White Beach, and hot springs – which are only accessible by boat.
A boat tour of Santorini is one of the more unique ways to experience the views, weather, and experiences that Santorini has to offer.
Lunch, dinner, and drinks on-board are provided, making this the ideal date night experience for your tour of Santorini.
You'll get to see the Red Beach, a sight unique to Santorini with red rocks formed through volcanic activity.
Speaking of volcanic activity, this Santorini boat tour takes you past Santorini's active volcano, as well as for a bathe in the hot springs.
Escape the crowds and spoil yourself to the Santorini Luxury Catamaran Tour of a lifetime.
4. Santorini Sailing Tour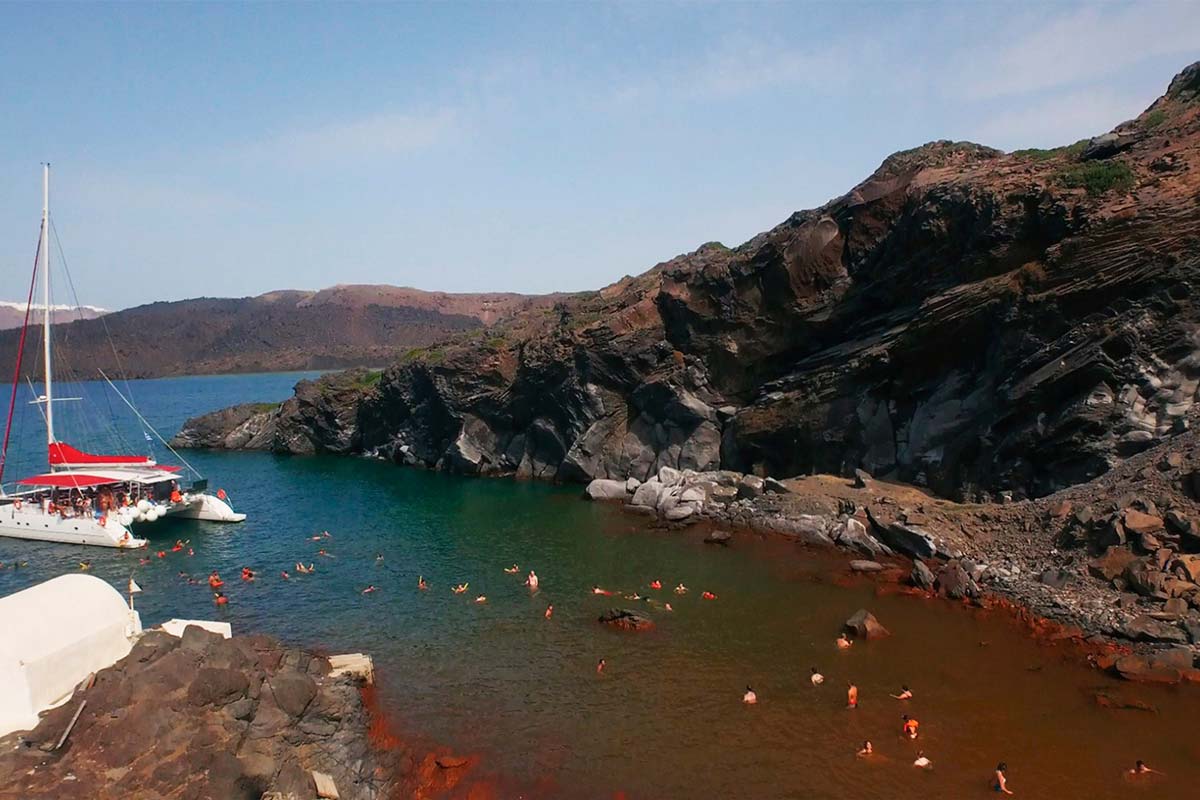 Get a coastal view of the island and soak up the fresh morning breeze, or head out for a sunset over the sea with the Santorini Sailing Tour.
You'll be picked up from your hotel and taken straight out onto the sea to view sights like the cliffs of Caldera – all with a drink in hand.
See sights that are only accessible by boat, like the White Beach and Indian rock, which is rock that has eroded the shape of an Indian man's face on its front.
Capture dreamy photos and get the island experience away from the crowds.
Hop overboard for some swimming and snorkeling in crystal clear water to cool off, and see the other inhabitants of the day: The undersea life!
This boat tour of Santorini is ideal for lovers of the outdoors and adventurers at heart.
3. Horse Riding Tours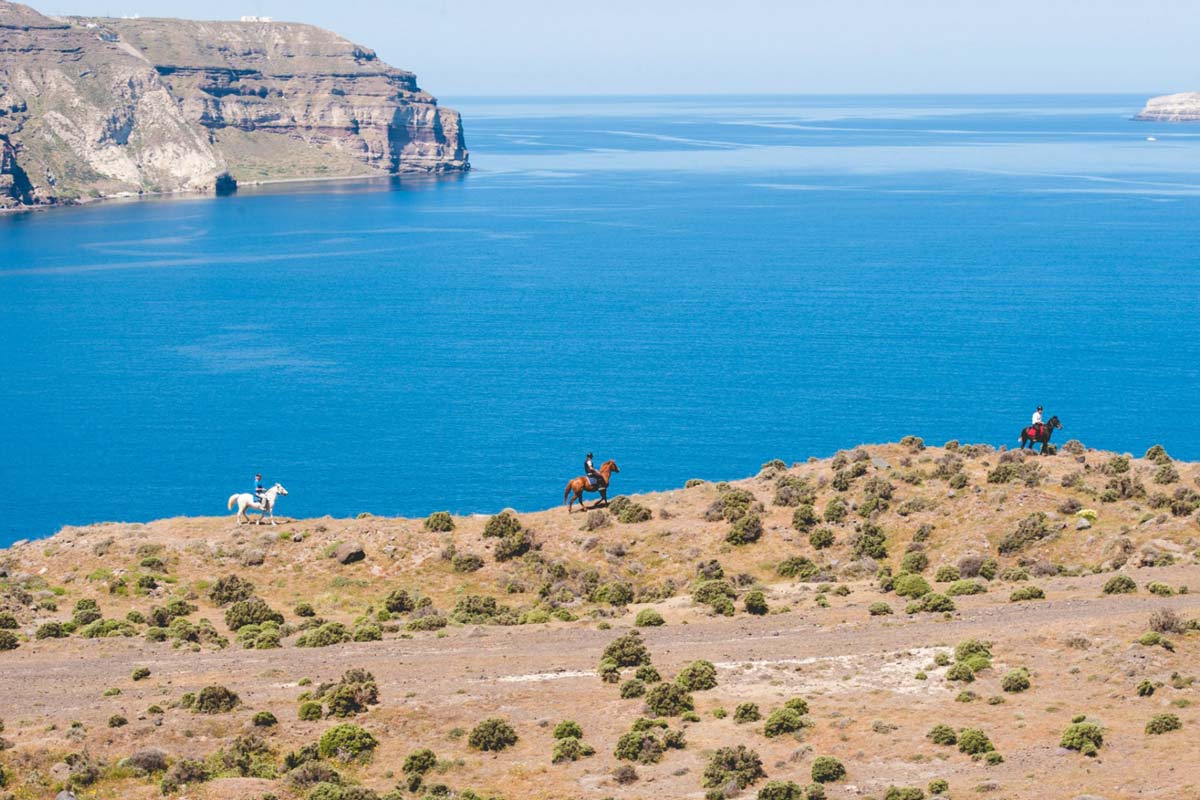 Experienced and amateur horse riders alike can book this horse riding tour to see selected Santorini sights from horseback.
Choose whether you want to embark on a beach or volcano tour.
On the beach tour, you'll get to ride through a local vineyard in the village of Megalochori and stop at the beautiful church of St. Anna before heading to Eros beach.
Ride your steed along the beach with the wind in your hair and the sea splashing underfoot before heading back to the stables.
On the volcano tour, instead of going to the beach after touring the village, you'll head to the Caldera.
This tour offers unparalleled views of the Aegean Sea and a more in-depth exploration of Megalochori than the beach tour. Both trips are two hours long and ideal for a morning horse riding excursion in Santorini.
2. Santorini Volcano and Hot Springs Tour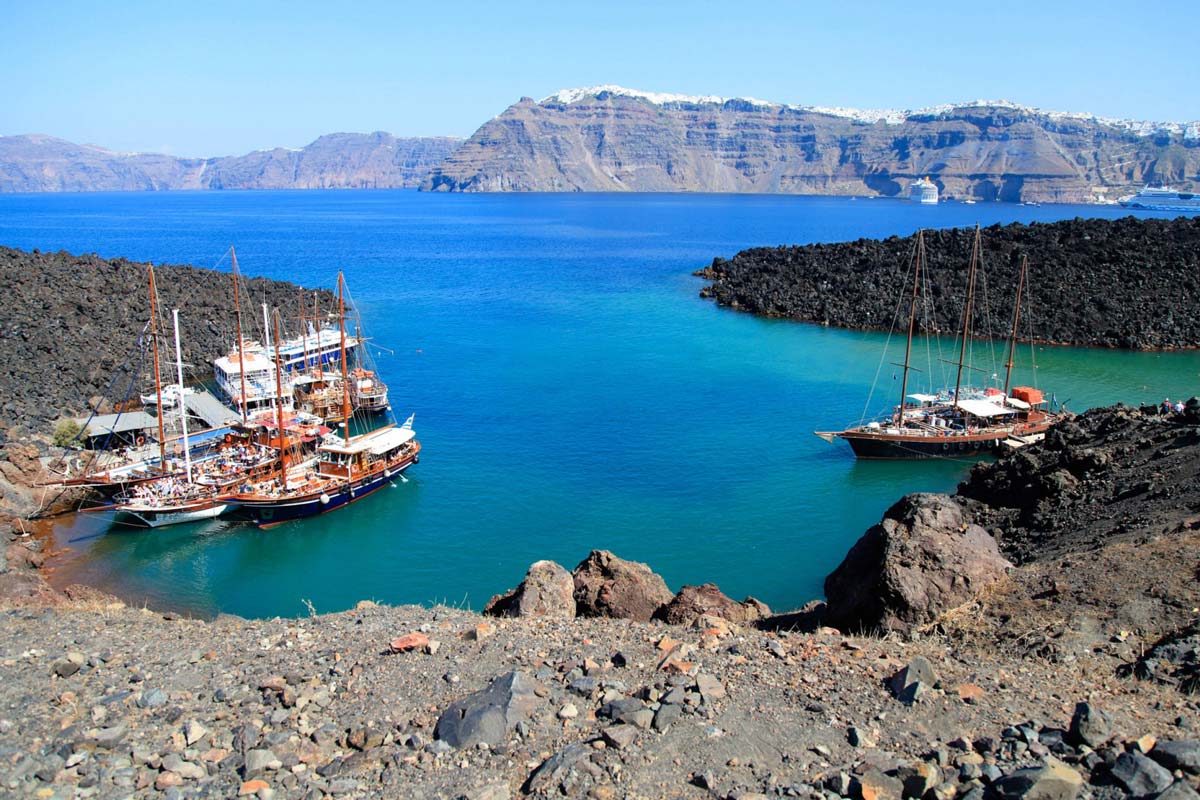 This Santorini Volcano Day Trip lets you explore the wonders of the archipelago in a truly unique way.
Take a traditional pirate vessel from Athinios Port to tour the Island of Nea Kameni, an active volcano and tourist-free haven.
Discover the volcano accompanied by your guide, and immerse in unparalleled views of Santorini and The Caldera from the top. From there, you'll venture to Palia Kameni Island to swim in the iron-rich waters of the natural hot springs, before stopping at Thirassa Island for a relaxed end to the day.
Here, you can take a dip, visit the village of Manolas, or hike to the top of the cliff. Finally, the boat takes you back to your port of choice.
1. Santorini Private Tour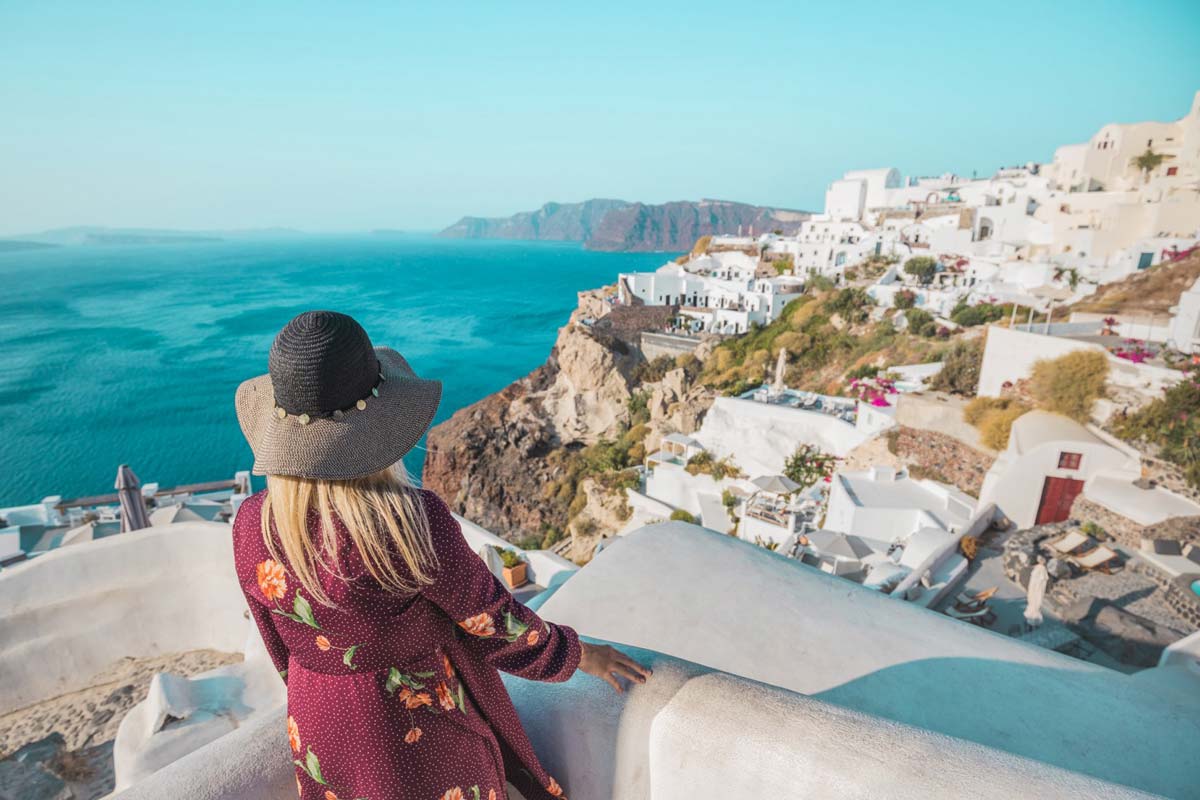 Number one on our list is the Santorini Private Tour.
It's undoubtedly the best value for money, letting you see the most popular sights in Santorini like the town of Oia, but also taking you to lesser-known spots to unveil the island's most treasured hidden gems.
The benefit of a private Santorini tour is that you get to choose where you want to go, instead of following a program.
This private Santorini tour accommodates a more intimate group of 1-6 people, meaning you dictate exactly where you go and how long you stay.
We recommend you bring a towel and bathing suit for a cooling swim under the summer sun.
Whether you want a winery tour of Santorini, or are a lover of history, local culture, or archeology, your private Santorini tour guide and driver will take you to the best tour spots Santorini has to offer.
And you'll see it all while being chauffeured in an air-conditioned Mercedes Mini-Van. Now that's what we call touring in style!
From sailing out to sea, to flying up above, to walking Santorini with a local guide, these top ten tours are our picks for the best experience of Santorini.
We hope to see you soon!